After a fortnight in Malaysia and Singapore, we jumped on a plane to Myanmar (formally Burma) for the next part of the trip. For years, no-one was allowed to visit this country but 2012 government reforms saw a change, and although some areas are still off limits, the borders have now been opened to visitors.
Completely different from the
party scene in Thailand
, Myanmar is very much still traditional Asia and has so far remained unchanged from tourism. Due to this, the friendly locals are fascinated by tourists and wherever you go they'll stop you for a chat to practice their English or even to have a photo with you!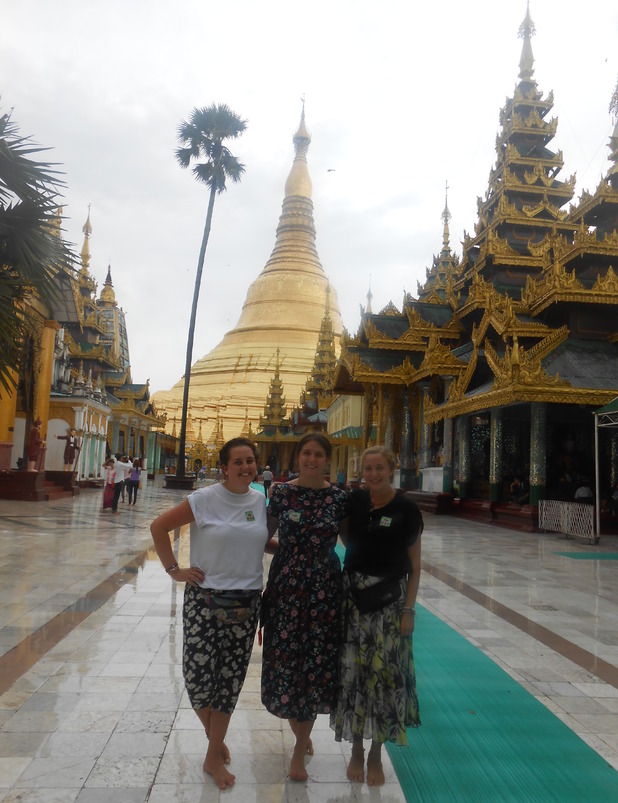 Our first stop was the former capital, Yangon, which is based in the south of the country. The main attraction in this bustling city is the grand and famous Shwedagon Paya, which definitely lives up to its hype. Counted as Buddhism's most sacred sites, its huge layout includes a stand-out 325ft zedi that's covered with gold leaf and real diamonds.
At Yangon we slept at the super-friendly
Ocean Pearl Three
that cost a reasonable £7 a night and was located close to the regular night market. Also nearby is the delicious
999 Shan Noodle House
, an eatery that serves authentic Shan dishes.
Hopping on a night bus, we headed to Mandalay and stayed at the
Ace Star Backpacker Hostel
. Crammed with culture and interesting sights, it has a lot to offer in terms of history, many of which can be found in the royal zone. Within this area is Mandalay Hill, which gives amazing views over the whole of Mandalay and we climbed up the 760ft hill for sunset.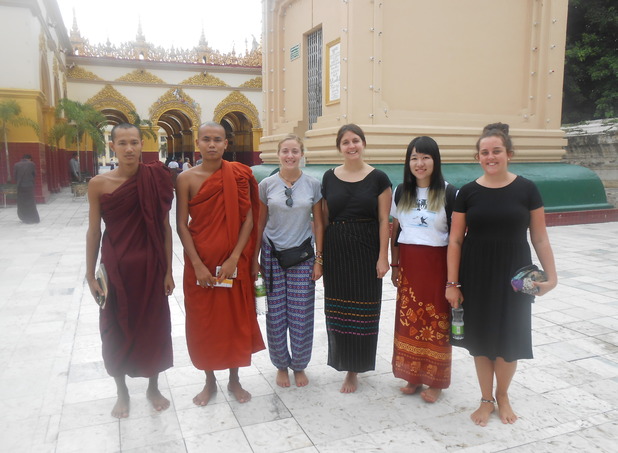 During our Mandalay stay, we also went on a trip with our hostel to visit various pagodas including the beautiful Sagaing Hill and Mahamuni Buddha Temple - where we met some of the local monks. In the afternoon we were taken over to Inwa (formally known as Ava), an artificial island that's the ancient capital of the country. Jumping on a horse and cart, we were transported to the various ruins and historical sites.
Our next plan was to get the train up to Hsipaw, as it's a ride that's highly recommended due to its beautiful scenery. However, this train leaves Mandalay at 5am, meaning a super early start, so we were advised to break up the journey with a stopover in Pyin Oo Lwin.
We spent one night in this small town, crashing at
Grace Hotel Two
. During the day we took a tuk-tuk to the Peik Chin Myuang Cave, which was built millions of years ago as a Buddhist pilgrimage site. Taking around 15 minutes to walk around, the cave is adorned with images of Buddha images and stupas. The site of the cave also includes waterfalls and water pools that you can cool down in and it's a big hit with both locals and tourists.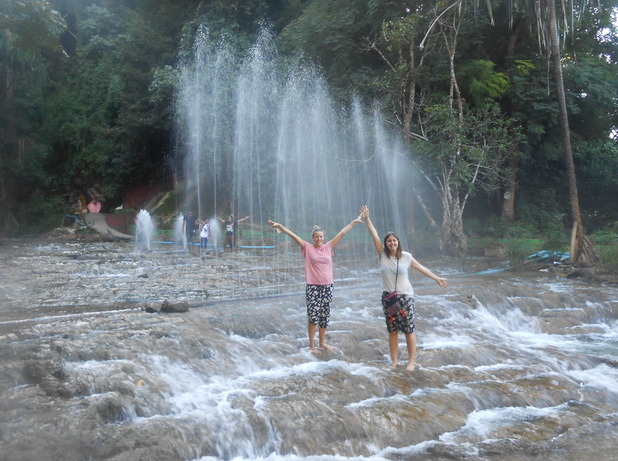 The next day we took the later train of 8am to Hsipaw and got to see just what all the fuss was about. Passing through tiny villages and lush green rolling hills, the journey was just as picturesque as we imagined and the highlight had to be crossing the Gokteik viaduct, a railway bridge that stretches 689 metres between two mountains and is said to be around 250 metres high.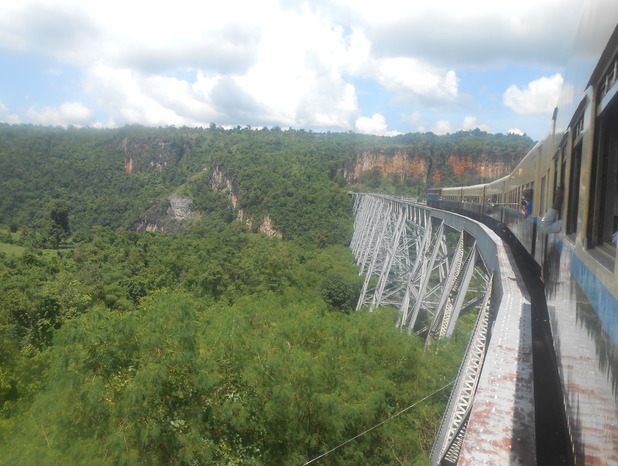 We eventually reached Hsipaw in the early evening and enjoyed dinner at
The Club Terrace
, before catching up on sleep at the welcoming
Red Dragon Hotel
. The next day, we paid £1 to hire bikes and explore this rural village. Perfect for soaking up local life, we made our way through quiet roads while passing pretty fields and rivers.
Hsipaw's beautiful nature means trekking is also a popular activity. Unfortunately our arranged trek was cancelled due to flooding, but if you are planning on doing one in Myanmar, this is a great place to do so and the
Mr Charles Hotel
was often recommended as a good company to do it with.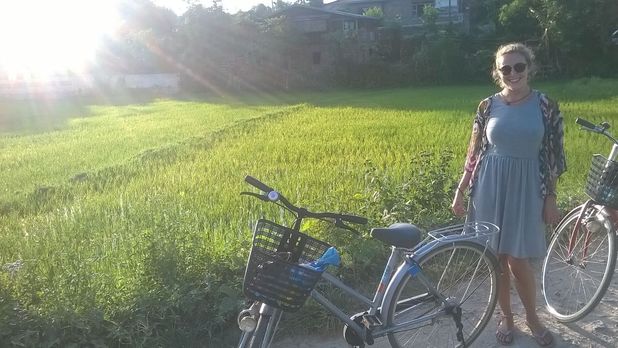 Continuing our journey, the next stop was Bagan, a popular place for pretty much every tourist that visits Myanmar. Home to over a whopping 2,000 temples, Bagan is often compared to
Cambodia's Angkor Wat
. Spread out across huge landscapes, these majestic monuments were built between the 11th and 13th centuries and are a must-visit.
There are several areas that you can stay in at Bagan and we went for the budget-friendly Nyuang Yu. We paid £4 a night to stay at
Winner Guest House
and hired bikes to make our way around the temples. Highlights included the incredible Ananda Pahto - which has four huge giant standing Buddhas inside - and the Shwesandaw Pagoda,a favourite sunset spot that you can climb to the top of.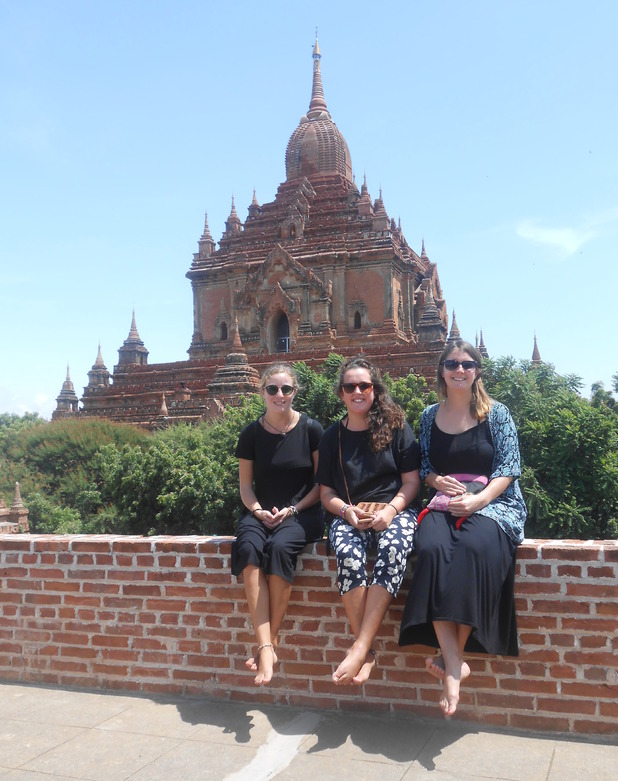 Hot air balloon rides are a great way to get a glimpse of Bagan and its collection of temples from up above. Our backpacker budget couldn't stretch to this but another popular sunset option is taking a boat on the Ayeyarwady River. We took a tuk-tuk to the Old Bagan jetty and paid £5 each for a ride on the river just before dusk.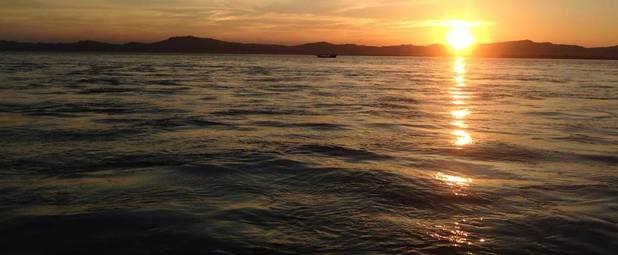 The final part of Myanmar was a quick visit to Nyuangshwe, an area which is close to the famous Inle Lake. After a disastrous trekking attempt in Hsipaw, we arranged to do another here, where we were led by a guide through small villages and fields. Taking in the lovely scenery, we were led up a hill that gave us a full view of Inle Lake and the surrounding areas.
More from Kathryn's Travel Blog:1. Quitting our jobs to go travelling in South East Asia!2. Giant water fights and feeding elephants - what we did in Thailand3. Island hopping and temple tours - our first fortnight in Cambodia4. Kayaking along the Mekong River and cooking crab in Cambodia5. Visiting the Cu Chi tunnels and sand dunes - taking on Vietnam6. Exploring the Phong Nha Caves and cruising along Halong Bay
7. Surfing in Bali and swimming with turtles: two weeks in Indonesia
8. Trekking, tubing and temple visiting - a fortnight in Laos
9. Travelling in Thailand - The Full Moon Party and snorkelling in Koh Tao
10. Supertrees and street art - two weeks in Malaysia and Singapore