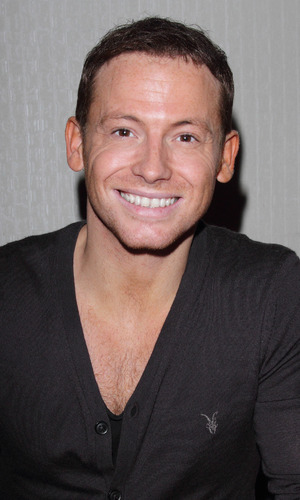 Former EastEnders actor Joe Swash is no stranger to our TV screens.
Aside from starring on the primetime soap as Mickey Miller from 2003 to 2008, the actor and TV presenter won the eighth series of
I'm a Celebrity...Get Me Out of Here!
in 2008.
He now co-hosts the ITV2 spin-off show for the jungle, and more recently, viewers saw him make a cameo on
Don't Tell The Bride
.
This weekend, Joe will join a star-studded line-up on Channel 4's game show
Celebrity Benchmark
. Fronted by Paddy McGuinness, the show sees 11 celebrities play, with a head-to-head at the beginning determining who will become the main contestant to win £50,000 for their chosen charity.
On Saturday's show, Joe goes head-to-head with Chris Ramsey to determine who will be the main contestant, but luck doesn't fall in his corner and he becomes one of the 10 celebrity 'Benchmarkers'.
We catch up with Joe to talk TV, acting and that
DTTB
appearance...
How did you find filming Benchmark?
"It was brilliant. That was one of the best things about doing
Benchmark
because it was fun and went on for ages but felt like we were there for five minutes. I'm a big fan of Paddy so to be part of his first stepping stone into gameshows is good to be a part of."
So, you just missed out on being a main contestant in the head-to-head question...
"Yes, I was gutted because it was a stupid question as well. I think the question was, 'How many people believe that Harry Potter books are part of the bible?' It was ridiculous! I thought it would be 2% and it was like 15%, so yes, I was pretty disappointed."
Are you a competitive person?
"I didn't think I was competitive but I do like to win and sometimes it does come out of me! I really wanted to be the main man on
Benchmark
but it wasn't to be."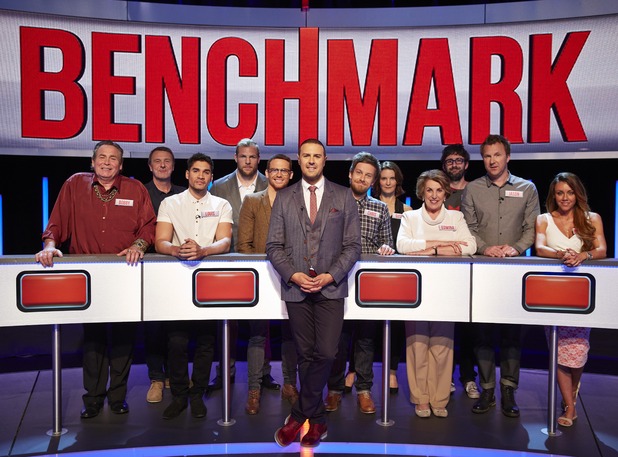 What charity were you raising money for?
"I was playing for the Ben Kinsella Foundation. One of my good friends that I grew up with, Brooke Kinsella, (who was also in
EastEnders
) well her brother got stabbed to death in 2008. I try to raise money for them because they're like family."
Tell us about your cameo on Don't Tell The Bride where you were asked to officiate the ceremony at Tracy and Dele's EastEnders-themed wedding...
"Basically, the producer is friends with my agent and they said, 'We're looking for someone, will you have a word with Joe?' but I was like, 'No, no, I'm not going to do that'. I didn't feel comfortable with it but my agent said he was going to let me think about it for a while. Then I was speaking to my little boy, telling him, 'Dad's been asked to get people married and but he said no'. And he said, 'What are you talking about dad? You can marry me when I get older' and stuff like that! So I changed my mind and thought, actually, it would be nice."
Were you nervous about it?
"I was sh**ing myself! I was so nervous. It was like I was about to get up on stage and do Shakespeare or something. I enjoyed it in the end though, it was really good. Dele and Tracy were pleased so that's all that matters."
Were you surprised that Dele and Tracy said they had always wanted to meet you?
"When anyone says they want to meet you, you're always like 'really'? I'm just me, you know. But it was really nice. It was something that I wasn't going to do but I'm glad that I did it."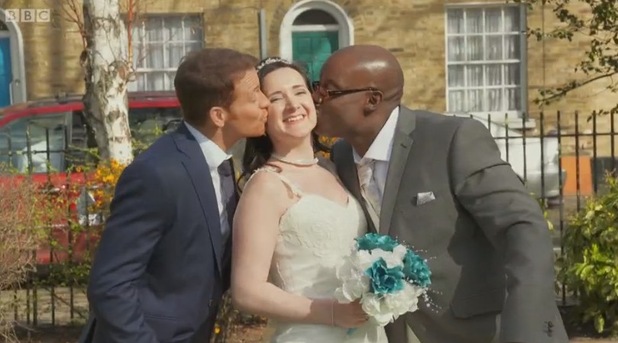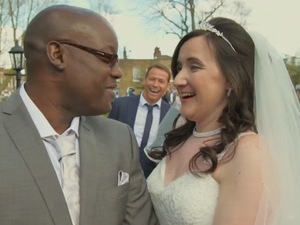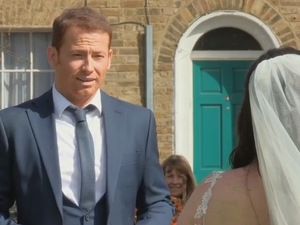 Do you miss being on EastEnders?
"I do miss it and I do love it. It's a good show.
Do you still get called Mickey?
"I'll be called Mickey until I die! I don't imagine there being a time where no one recognises me for being Mickey. I'm lucky that I've done the jungle, so now, instead of it being everyone thinking I was Mickey, it's like 50/50 between Mickey and
Joe Swash
. I've got no problem with that. It's part of my acting history that I'm really proud of."
Would you go back?
"I definitely would if the timing was right and the storyline was right. I'd definitely go back, I love that place. I feel like I've got undone business there. When I was there I was there for quite a long time, but I got ill and I didn't really have the storylines that I wanted to do like hard-hitting stuff. If I went back it would have to be doing it properly this time and getting some good storylines."
Would you like to do more presenting or acting in the near future?
"It's never been a conscious decision to do more presenting, it's just something that I fell into. I left
EastEnders
and went into the jungle, and got work and did presenting. I was never going to come out of
EastEnders
and do more acting as it's all a bit typecast for a little while. I'd like to do more acting to be fair. I do more presenting at the moment. My ideal person that I want to copy, the blueprint, is Bradley Walsh. I think he's amazing because he does
Law & Order
and he's brilliant actor, yet he does the entertainment stuff as well."
Celebrity Benchmark is on Channel 4, Saturdays at 7pmTry Reveal's digital edition on iPhone & iPad. Subscribe now & never miss an issue!
See a clip of Joe on Celebrity Benchmark below: