Billi Mucklow
certainly got her fans talking (arguing) this week after sharing a photo of her darling son Arlo getting up close and personal with a Staffie dog.
Arlo, three months, was sitting in the lap of his footballer dad Andy Carroll while the black mutt had a good old sniff of him and, boy, did it get some of her followers into a spin.
While some felt the picture was cute, others criticised the former
TOWIE
star and Andy for letting their son get so close to a dog.
Among the comments, one of Billi's followers blasted: "Do not have a baby's face close to a dog's face. Common sense you bloody idiot!" Another added: "Why do people do this? It might look cute but it's so dangerous plus unhygienic."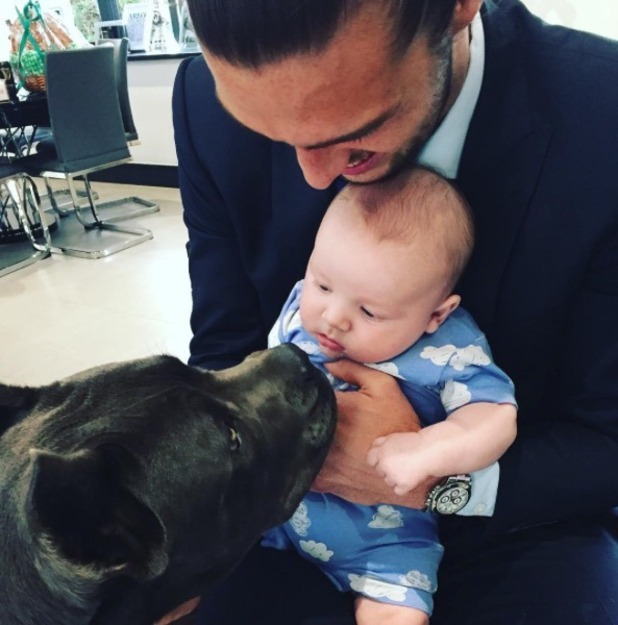 However, sitting on the other side of the fence, a dog-lover, hit back: "Anyone saying this is dangerous and unhygienic really needs to get a life. There are more germs on your mobile phone...as for the dog, he/she is beautiful."
Another insisted: "The baby is sat on a male's lap, who is in control."
Personally, I wouldn't let my baby daughter get so close to a dog because they
can
be unpredictable. And let's not beat around the bush here, they lick their bits several times a day. Ew.
However, if Billi and Andy feel comfortable with it, it's their choice. Billi clearly felt confident in her decision, as the photo has remained on her Instagram page despite 75-odd heated comments...
Meanwhile, I experienced a rare treat this week - an actual haircut sans baby! The days of making an appointment at a trendy Soho salon and casually sipping a latte with my stylist while she works her magic are - for now - a thing of the past. Sob.
Such an act now involves serious strategic planning - driving the baby into town, handing the baby, spare clothes, nappies, muslins, wet wipes (you get my drift) over to my husband as he gets off the train, him driving her home and me dashing, sweaty-faced, into the salon. Never mind latte, the word to use here is late. And then I had to get the bus home afterwards.
Worst bit, I found myself standing at the bus stop with my sensible, shorter hair (forget tousled tendrils when you have a new pair of grabby hands in your life) while singing a nursery rhyme out loud. Without a child by my side.
What has happened to me? Eek.
Last week,
after sharing a gorgeous picture of 5ive's Scott Robinson and his brood, I asked if you would like twins
. A whopping 65 per cent of you would love double the fun, while 22 per cent felt one bubba at a time is enough. And a rather lucky 13 per cent have twins already! This week, I want to know your thoughts on babies and dogs.
What do you think of Billi and Andy's photo? Answer in our poll:
I'm not a fan of mixing dogs with babies...
44.44%