In just 34 days a comet is set to destroy earth in new comedy drama starring Rob Lowe, Pauline Quirke and Mathew Baynton, You, Me And The Apocalypse.
Mild-mannered Slough bank manager Jamie is in a rut. Consumed by grief for his missing wife, everything soon changes when he's arrested on suspicion of cyber terrorism, and realises he must have an identical twin and mum Paula has some serious explaining to do.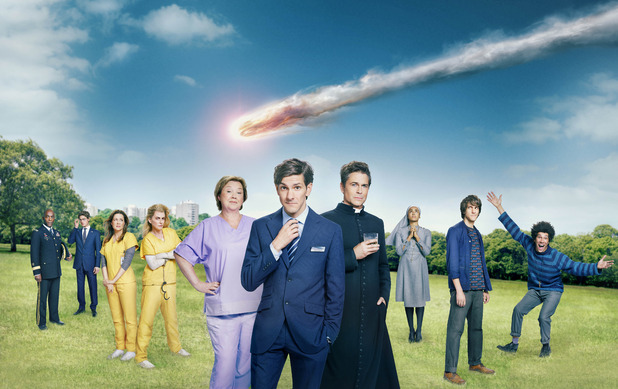 Halfway around the world in New Mexico, unassuming librarian Rhonda enters a maximum security prison for a crime she didn't commit. At the Vatican, foul-mouthed rebel priest Father Jude interviews the beautiful Sister Celine for a role in his office of the Devil's Advocate.
These are just some of the eclectic and seemingly unconnected characters whose lives will intertwine as the earth nears its final days, and people try to make it to a bunker deep below the suburbs of Slough.
You, Me And The Apocalypse, Sky1, 9pm