Leaving Thailand's party islands behind, we took an overnight bus to reach our sixth country, Malaysia. We started off our trip in Penang Island and stayed in the capital, George Town.
This vibrant and truly unique city has tonnes to offer in the form of history, culture and art. One of the top attractions in Penang is the quirky street art that can be spotted in various places over the old town area.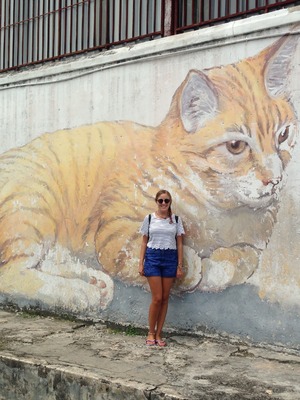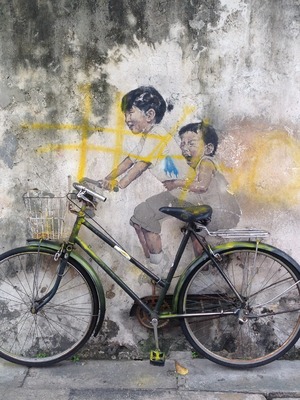 Artist
Ernest Zacharevic
started things off with his project 2012 work,
Mirrors George Town
, and since then the artwork has continued to grow. From giant ginger cats covering a whole wall, to an adorable illustration of two children playing on a bike, these pieces add a distinct character to this charming city.
Cafés are another big draw in George Town, but forget the usual greasy spoon kind. These cafés have all sorts of different appeals, including getting your selfie printed onto the foam of your latte or heading to
Coffee On The Table
for their special 3D coffee art.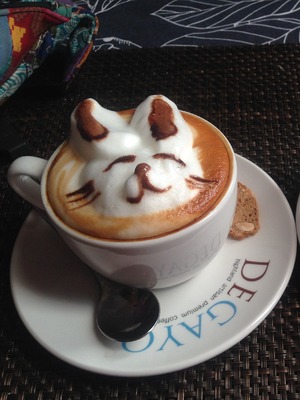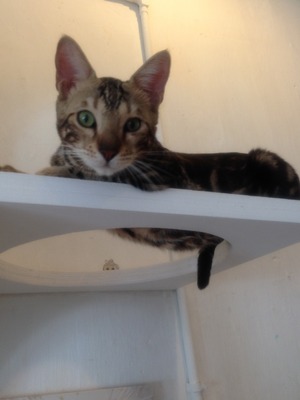 We also went to the aptly named
Purrffect Cat Café
, where kitty lovers can enjoy a spot of lunch before going into a separate room to play with the eight fluffy cats who live there. Adorned with cute feline artwork, this place was the perfect day out for a cat lover.
Next, we boated across to the super sunny Langkawi Island. Staying at the
Gecko Guesthouse
, we spent three nights on this gorgeous little island that's known for its brilliant nature. To get a glimpse of what it has to offer, we went on a guided boat trip through the island's stunning mangroves.
Floating down the Kilim River, we were treated to eagle-spotting and monkey-feeding in the pretty surroundings. Other parts of the trip included being taken to a local floating fishing farm - where we were able to feed the friendly sting-rays – and visiting the bat caves.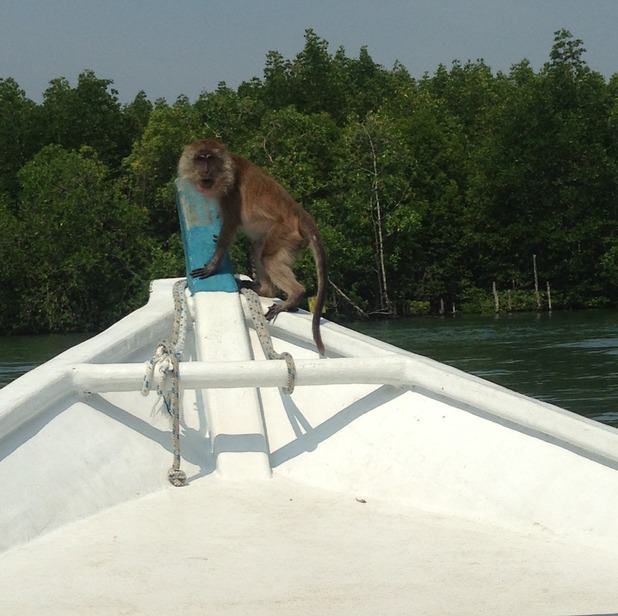 Our next destination was Melacca, where our friend from home, Kirsty, came out to meet us. This city is rich in history and ancient architecture; a must-visit is the famous Jonker Walk in Chinatown, a street that's crammed with quaint antique shops, art galleries and night markets.
Due to Melacca's hybrid of cultures and ethnicities, it has a whole range of different cuisines on offer. And if you head to Jonker Walk, there are plenty of stalls selling everything from Portuguese to Japanese.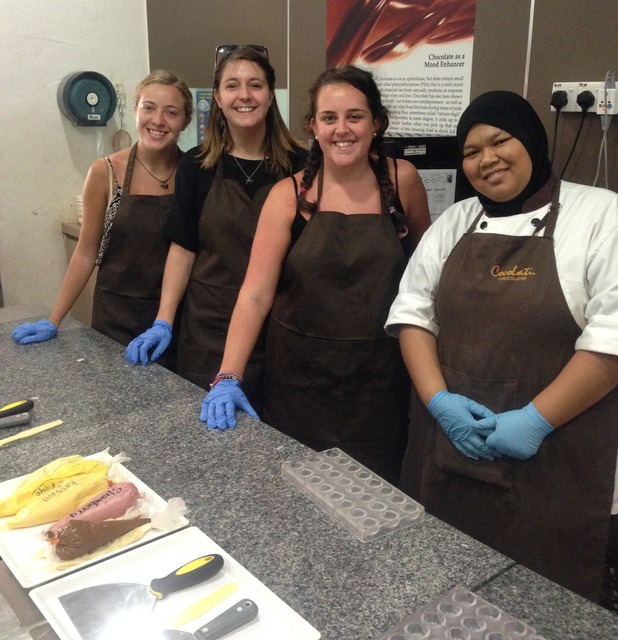 There's also
THC
– a chocolate shop that offers courses in making Belgian chocolates –so naturally we needed to give it a go! We were shown how to blend and melt the chocolate, before filling them with an array of flavours– including passion fruit, praline and vanilla.
Next, we took a bus to Kuala Lumpur, the country's bustling capital city. We stayed at the amazing
Reggae Mansion Hostel
, where we enjoyed drinks on their sky-high rooftop bar. As well as soaking up the atmosphere of KL, we also took a trip to the
nearby bird park
to check out a whole range of exotic feathery friends.
From Kuala Lumpur, you can get a six-hour bus to Singapore, so we decided to head there for the weekend. Arriving on Friday night, we met our friend Ciara, who's currently studying there, and took us to the incredible Supertrees in
Gardens Of The Bay
, by Marina Bay.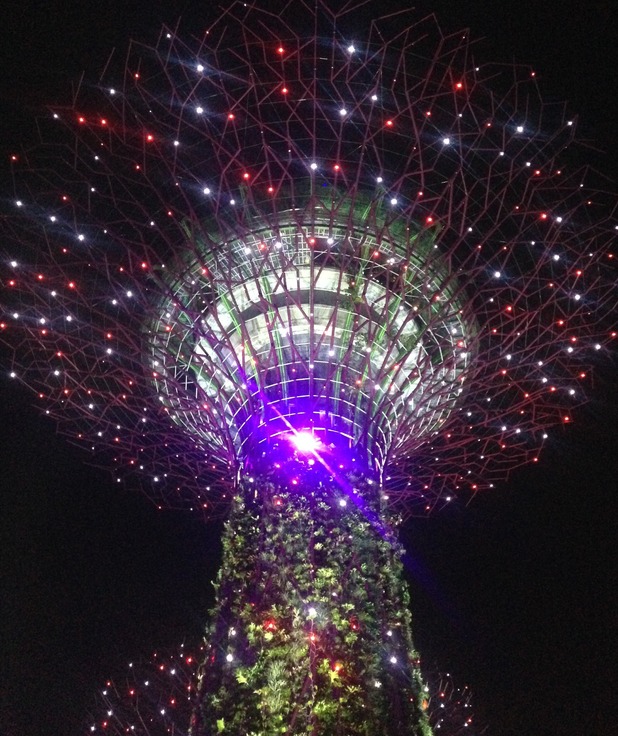 Standing between 25 and 50 metres tall, each tree is covered in a wall of plants and flowers, creating a vertical garden. As soon as dusk falls, the trees light up and at 7.45pm and 8.45pm there's the OCBC Garden Rhapsody Show, which is free to watch. This spectacular light show involves the trees changing a variation of colours while in synch to the music – it felt like something from a futuristic film and is a must-see if you're in Singapore.
In this area is also the
Marina Bay Sand Hotel
, which cost a cool $5 billion to build and is a staggering 207 metres high – David Beckham even fronted their ad campaign. At the top of the hotel is a club with an open terrace that has an impressive panoramic view of the Singapore skyline and is free entry for women before 10pm! We broke our backpacker budget and splashed out on a £12 cocktail while enjoying the fantastic sights.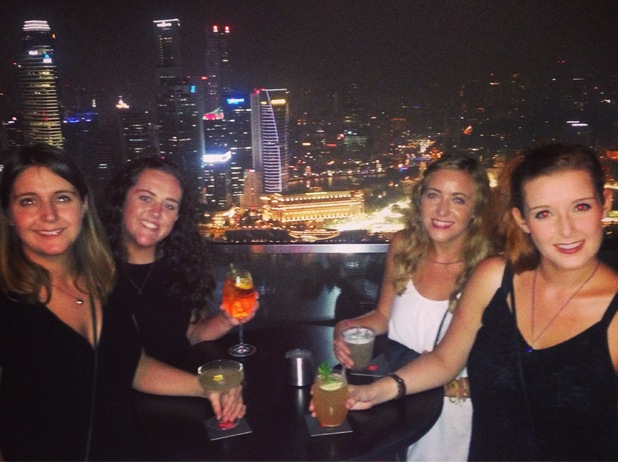 Shopping centres are also well worth checking out here and are a far cry from Lakeside! We went to
The Shoppes
in Marina Bay, which, inside, has an actual river with small boats that you can ride. It's also lined with pretty much every designer you can imagine – Celine, Versace and Burberry to name a few. The food courts are also pretty decent, serving tonnes of different types of Asian cuisines for reasonable prices.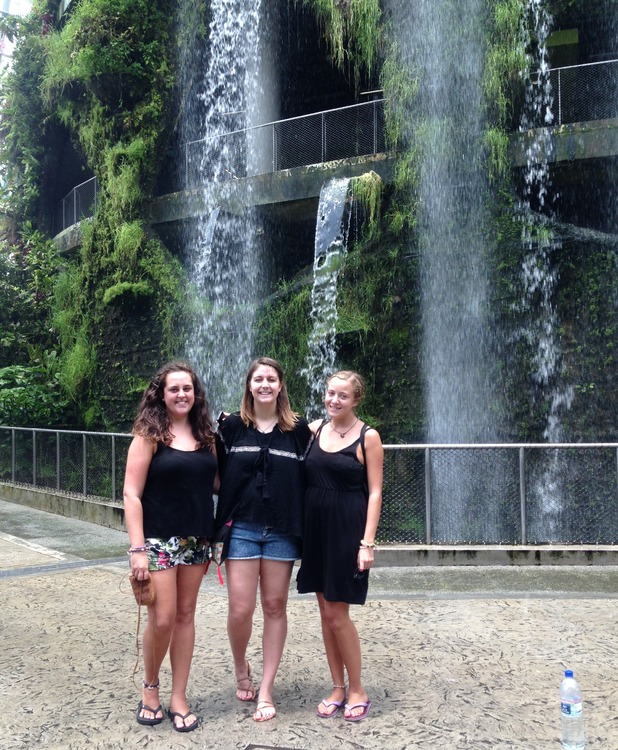 Singapore is big on nature and protecting the planet, so next to the Supertrees there is also the Flower Dome and Cloud Forest. Paying £8 for entry, we checked out the incredible Cloud Forest – a huge manmade mountain that's covered in tropical flowers and has the world's largest indoor waterfall. As well as amazing views, you learn about the environment and how global warming is changing our planet.
Another popular thing to do in Singapore is to go to Sentosa Island. This huge place describes itself as "the state of fun" and has a whole host of attractions, including Universal Studios, aquariums, waterparks and several manmade beaches. It's easy to reach on the MRT (Singapore's take on the Tube) and is perfect if you want to escape the city. We spent the day relaxing on the beach, before heading to the airport for the next party of our trip, Myanmar.
More from Kathryn's Travel Blog:1. Quitting our jobs to go travelling in South East Asia!2. Giant water fights and feeding elephants - what we did in Thailand3. Island hopping and temple tours - our first fortnight in Cambodia4. Kayaking along the Mekong River and cooking crab in Cambodia5. Visiting the Cu Chi tunnels and sand dunes - taking on Vietnam6. Exploring the Phong Nha Caves and cruising along Halong Bay
7. Surfing in Bali and swimming with turtles: two weeks in Indonesia
8. Trekking, tubing and temple visiting - a fortnight in Laos
9. Travelling in Thailand - The Full Moon Party and snorkelling in Koh Tao