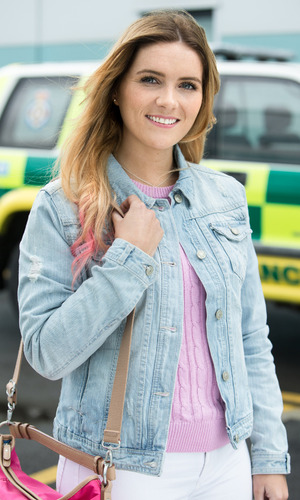 Former Emmerdale actress Chelsea Halfpenny is preparing to make her debut in Casualty this Saturday.
Only, it's not quite a debut. Chelsea actually starred in the BBC One hospital drama in 2004 when she was just 10 years old.
"It was set in Bristol then and I was playing a patient," she tells
Reveal
. "I was very inexperienced then but I remember it being a really nice cast and crew because I cried my eyes out once I finished filming.
"That's not changed a bit, literally, they've been the nicest people ever. It's very different but completely the same vibe."
Chelsea, who used to play Amy Wyatt in
Emmerdale
, has been cast as junior doctor Alicia Munroe in
Casualty
. "Considering it's quite a big role, I didn't audition too many times," Chelsea explains. "They obviously knew what they were looking for.
"I had one audition with the casting director, and the second audition was a screen test in the studios with Crystal Yu, who plays Dr Lily Chao. I had to do a full operation in the middle of the scene and I had lots of long words to say! It was difficult to say the least."
Chelsea says learning the medical jargon was challenging, especially during her audition.
"There's a medical advisor called Nick, who I worked with the most, and he sat there in the auditions," she continues. "I had learnt the lines and read them back so many times by myself, that I had guessed a lot of the pronunciations.
"When I arrived for the screen test, I had all the operation stuff to remember, but also I had to learn the new way of pronouncing the words! I couldn't do both - I couldn't multitask! I was so used to saying it the way I had previously learnt them. It was hilarious but it was so stressful!"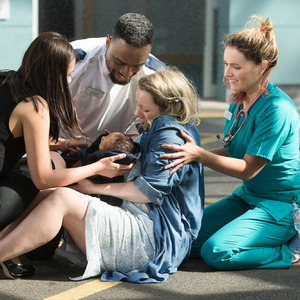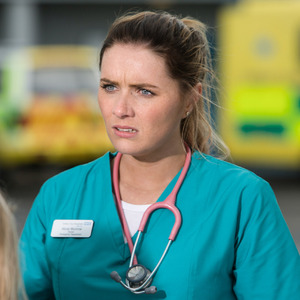 Speaking about her new character Alicia, Chelsea says: "She's a junior doctor and she's shadowing Lily. She's a very happy-go-lucky kind of girl, very positive and very friendly. She just wants to be friends with everybody. I think she could be seen as naive. She's a clever girl but doesn't realise how hard working in A&E is. But she's a quick learner and she soon puts her game face on and becomes a real professional pretty much straight away.
"She's very different to Amy in
Emmerdale
. It's actually nice to crack a smile every now and again!"
Chelsea played rebellious teenager Amy for three years from 2010 to 2013, and she still keeps tabs on the popular soap.
Amy says: "I watched the Summer Fate storyline. There was such an amazing build up to it and all my friends who are still there were telling me about the amazing time they had filming. I made sure I tuned it for that. I ran the producer Kate Oates and told her how much of an amazing job she did."
Speaking about the exit of Charlie Hardwick as Val Pollard, Chelsea adds: "I laughed at her last little speech, it was class, wasn't it? Especially when she said 'I am HIVal'. It was such an apt ending for such an amazing character."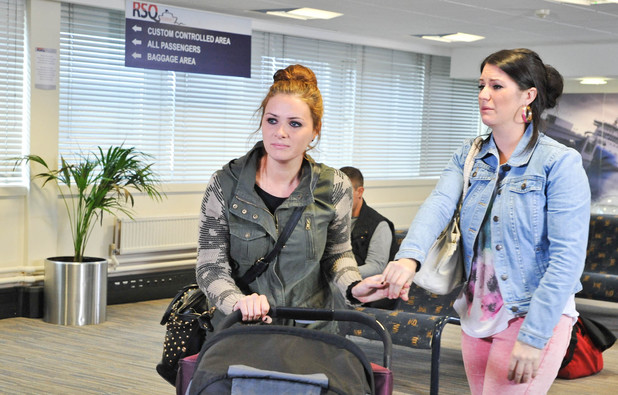 Having left the soap some two years now, Chelsea says she wanted to explore new dramas and play new characters.
"I definitely miss working at
Emmerdale
because all of my friends are there and I had such a lovely time," she admits. "But because you work there so much, you can't have big storylines all the time. I think I was looking forward to playing somebody different."
We have to ask, would she ever return to the soap?
"I don't ever want to make decisions right now for in the future," she explains. "I'm the kind of person to say 'never say never', but now I'm really enjoying being a jobbing actress and meeting new actors and directors."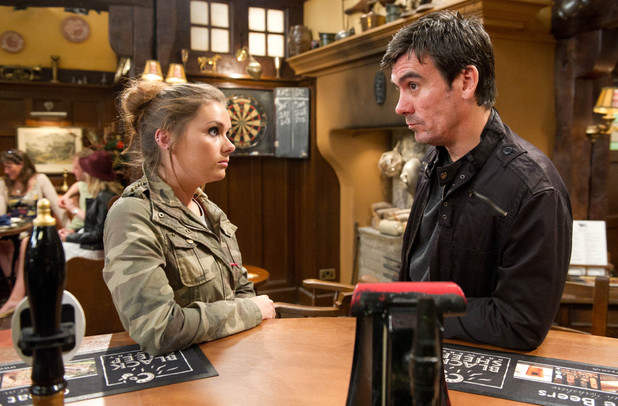 Listing period dramas and true-life dramas as roles she'd like to pursue, Chelsea continues: "It's really refreshing walking onto a new set and not knowing anything or anyone. Never say never, but for now, I'm enjoying this new chapter."
On that note, is Chelsea nervous ahead of her
Casualty
'debut' this weekend? "A little bit," she admits. "Probably for the first one because I've not seen any of it, so I'm slightly nervous, but I'm sure after the first one's done I'll be fine."
Watch Chelsea Halfpenny's arrival in Casualty on Saturday 19 September at 9.20pm on BBC One.
Watch a promo below:
Try Reveal's digital edition on iPhone & iPad. Subscribe now & never miss an issue!