Our next stop through South East Asia was Laos and we started the journey in the country's capital, Vientiane. Surprisingly, for a capital, there's not a great deal going on and it had quite a sleepy, slow-paced feel.
There were still a few sights to see, one being the
Wat Si Saket temple
, which is famous thanks to its surrounding walls that contain thousands of Buddha images and statues.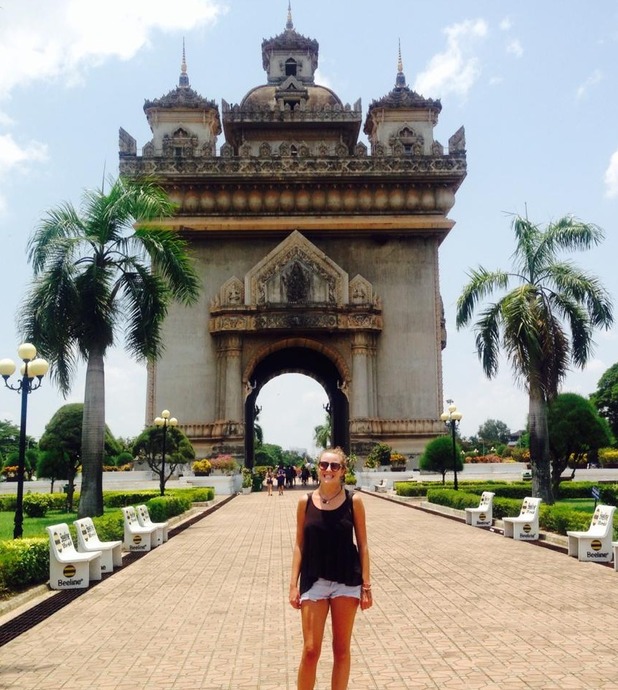 Another stand-out was the grand
Patuxai
monument, which was built as a tribute to those who lost their lives during the war against France. Inspired by Paris' own Arc de Triomphe, you can climb all the way to the top for panoramic views of the city.
After two days we moved on to Vang Vieng, which is one of the most popular places in Laos to visit - particularly for backpackers - thanks to tubing. While the actual town consists of just a few restaurants and bars, the riverside is where all the action takes place.
Tubing basically involves sitting in a rubber ring and floating down the river, which all sounds pretty relaxing until you throw alcohol into the equation. Bars are scattered along the riverside, where staff will throw out some rope to pull you in to join the party, before everyone gets back in their tube and floats down to the next bar.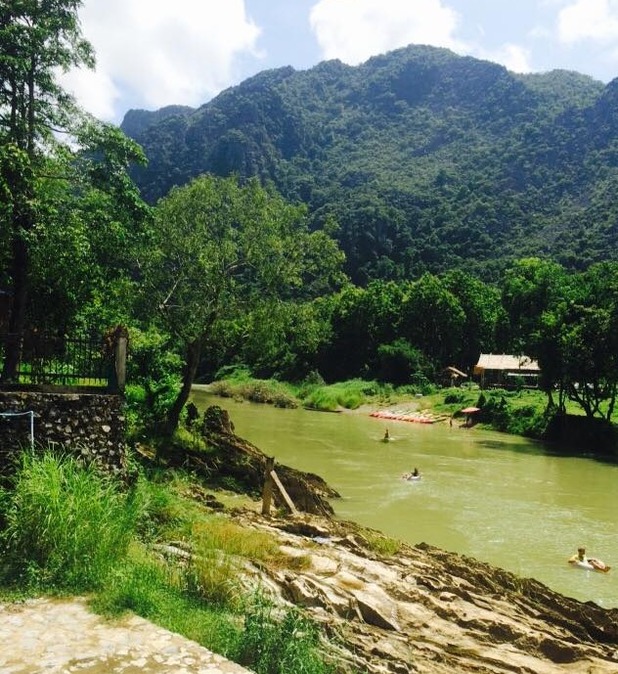 We did tubing two days' in a row and it was just as fun as it sounds. After spending your afternoon enjoying drinks and music in the bars, you have to jump back in your tube and float all the way down to town before the sun sets. The party then continues in
Sakura
bar, which stays open until the early hours.
In the past, there have been a number of deaths linked to tubing, as booze and water can ultimately be a dangerous mix. But in recent years the government have worked to make things safer and restricted the number of bars that can be open each day, meaning it's just as fun but a lot less harmful.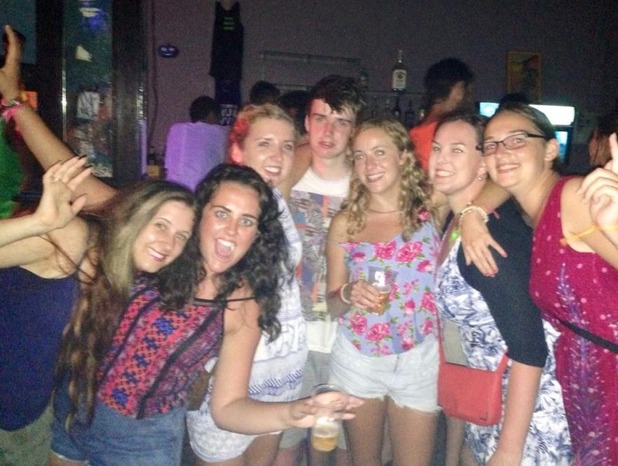 Leaving the partying behind, our next stop was the super pretty Luang Prabang. Adorned with French architecture from the colonial period, walking through this town almost feels like stepping back in time.
As it's a UNESCO World Heritage site, this charming town has plenty of sites to see. We checked out the
Royal Palace Museum
, a former royal palace, which was built in 1904 for King Sisavang Vong. Amongst the tropical grounds is also the
Haw Pha Bang
, a beautiful ornate temple built to hold the Phra Bang Buddha, a highly sacred statue that belongs to Laos.
Aside from its cultural sights, Luang Prabang is also well-loved for its selection of delicious restaurants and eateries. Its French past means there are plenty of bakeries around and a must-visit is the
Le Banneton
, which serves scrumptious croissants and baguettes. Of course, there are lots of local Laos dishes on offer too - we sampled bowls of spicy noodle soup at a street stall for just £2.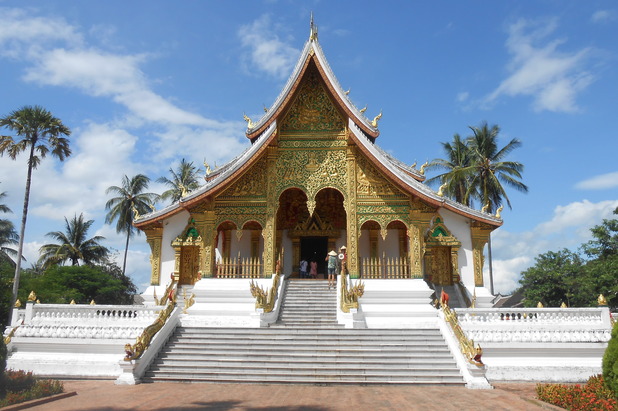 When dusk settled, we often headed to
Utopia
bar for a night-time tipple. Decorated with pretty fairy lights and comfy cushions, this riverside watering hole is a great place to unwind and enjoy a Laos beer or two. Other evening activities included visiting the night market, where we picked up cute elephant make-up bags and pretty paper lanterns.
Rounding things up in Laos, our last stop was Nong Kiaow, a small northern town. Full of welcoming locals and surrounded by a landscape of magnificent mountains; this is a great destination if you want to experience rural Laos.
While we were here, we booked to do a homestay and trek with the tour company
Jewel Travel
. Costing £40 each, this two-day-trip involved staying with a family in the tiny village of Na Luang, but first of all, we had to get there...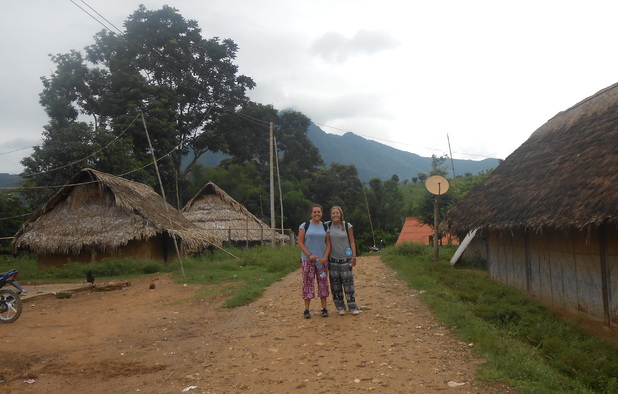 Setting off first thing in the morning, we walked through water streams, up hills and around rice fields, accompanied by our guide, Pham. Surrounded by the picturesque Laos countryside, the trek was pretty tiring at times, but if I – whose exercise regime consists of one week in the gym in January – can do it, then anyone can!
We eventually arrived at Na Luang early afternoon and were greeted by the local family who we were staying with. After a quick lunch, we were taken down to the village's local river to catch fish for the evening meal.
Back at the village we were desperate for a wash to freshen up from the day's activities, but forget having a shower, we were led to a fresh stream of water to get clean. And rather than every home having its own toilet, there is just one in the whole of Na Luang that everyone has to share.
Later, we all gathered around a table to enjoy our freshly caught fish, along with traditional Laos dishes like spicy spinach and sticky rice. Our evening finished with a spot of guitar playing from some of the locals, before heading to our beds for an early night.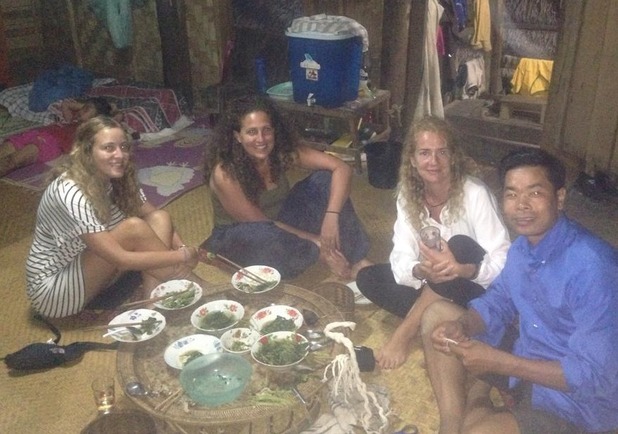 The next day we tucked into a brekkie of more rice and spinach, before setting off for the second part of the trek. On the way, we stopped off at two other small villages where we met some of the friendly locals. After a further two hours, we eventually arrived at the nearby Ou River and hopped on a boat that took us all the way back to Nong Kiaow.
Exhausted and muddy, it felt amazing to be back at our hostel with hot, running water! The whole experience was fun and a great insight into how the locals live – as well as making us feel super grateful for the little comforts we take for granted.
More from Kathryn's Travel Blog:1. Quitting our jobs to go travelling in South East Asia!2. Giant water fights and feeding elephants - what we did in Thailand3. Island hopping and temple tours - our first fortnight in Cambodia4. Kayaking along the Mekong River and cooking crab in Cambodia5. Visiting the Cu Chi tunnels and sand dunes - taking on Vietnam6. Exploring the Phong Nha Caves and cruising along Halong Bay
7. Surfing in Bali and swimming with turtles: two weeks in Indonesia