Tamara Ecclestone
and baby daughter Sophia are partial to travelling everywhere by private jet - and a recent holiday to Mykonos was no exception.
Aged just one, it's clear Sophia is already experiencing the finer things in life and was pictured tucking into a freshly baked croissant (which appeared to be the size of her
actual
head) as she flew in style for her umpteenth holiday this year.
It sure beats a soggy sandwich and a packet of Wotsits in the back of the family car. Molly, I should break it to you now: We are not heirs to the Formula 1 fortune. Soz about that.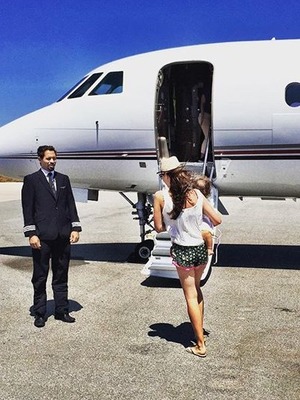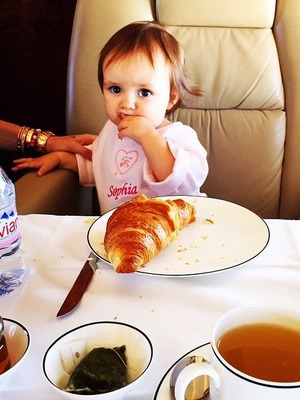 Earlier this week, without the luxury of a private jet, I arranged a trip to Hampshire to meet up with my BFF and her baby and decided to travel by train.
It's better for the environment and the Government is always encouraging people to use public transport, right?
However, our local station - that is walking distance from our house (which is probably the size of Sophia's Wendy house *sigh*) - features two flights of stairs, making it impossible for a mum, baby and buggy to negotiate, let alone a wheelchair user.
Tweeting South West Trains to ask for their advice on how Molly and I get to the platform without the help of a burly young man with bulging biceps, I was flabbergasted by their response.
I was advised to DRIVE THREE MILES to another station in the OPPOSITE DIRECTION which has a ramp, pay £10 for RIP OFF parking and pay more for my ticket due to the fact said station was in the OPPOSITE DIRECTION. As you can tell from my prolific use of capital letters, this both annoyed and amazed me no end. Would they dare suggest someone in a wheelchair do the same?
South West Trains assured me: "We're working towards step free access at as many places as possible, but this takes time as many stations need altering." I assured them I would be driving to Southampton.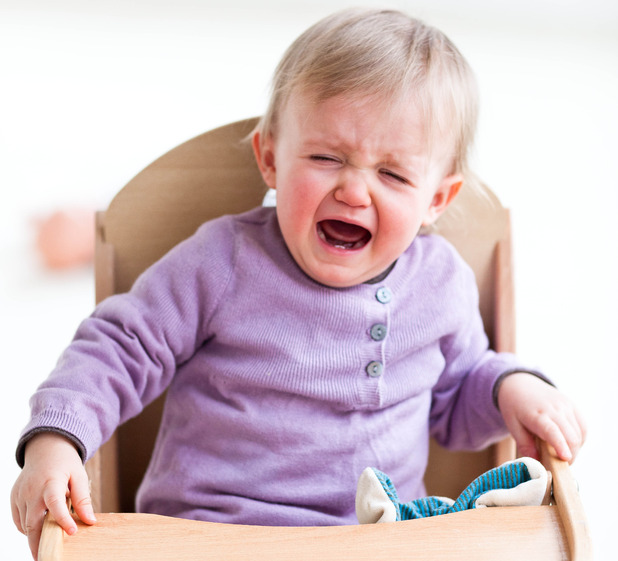 We had a lovely day, my friend and I, eating lunch with one hand at breakneck speed while jiggling our whinging babies with the other as disgruntled diners looked on. "She's four months old, what do you expect?!" I felt like yelling as one sour-faced woman glared when Molly decided she did NOT want to go back in her pram.
To think we used to chatter for hours over a leisurely wine-fuelled meal (and probably glare at crying babies #oops).... But what's a lunch without indigestion and a lemonade, eh? And think of all that time we saved...
Meanwhile, last week I asked
whether you would find out the sex of your unborn baby like Coleen Rooney
. It was a close one, as 51 per cent said you would, while 49 per cent said you'd leave it as a surprise!
This week, I'm asking whether you're guilty of being a sour-faced diner....
Have you ever tutted at a crying baby while in a restaurant? Answer in our poll!
Yes - I'm 'fessing up...
59.09%
Nope - I understand; babies cry, it's what they do!
40.91%