Leaving Vietnam, we found ourselves once again in Bangkok to catch a flight to Indonesia, with our backpacking pals, Grace and Scarlet. Our first stop was Kuta in Bali, a surfer's paradise that is known for its cheap bars and party nightlife. Unfortunately tourism means Kuta now resembles something similar to Magaluf and it definitely wasn't the beautiful Bali we envisioned.
However, this is the perfect place for catching some waves, and amateurs like us could even have a lesson. Keen to give it a go, we found local surf instructors on the beach who charged us £12 for a two-hour lesson and promised we'd be able to stand by the end of it!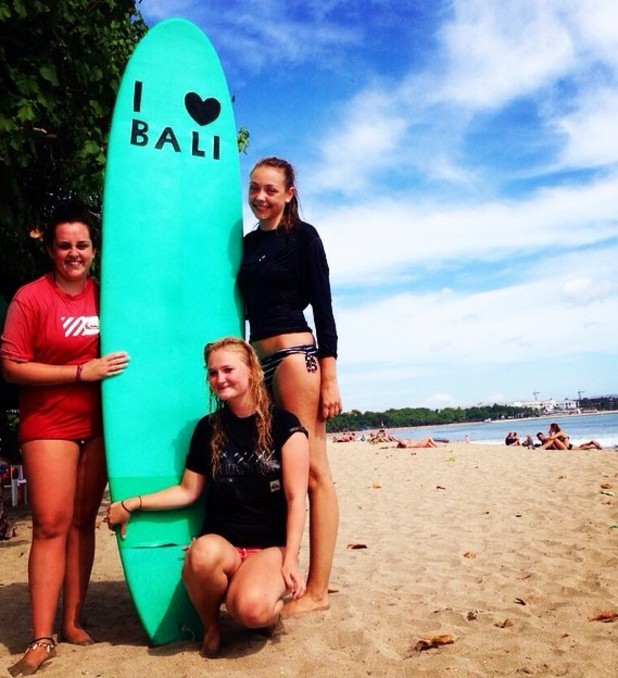 The lesson began with us heading to the sand, where our instructors taught us the correct way to stand up on a surfboard. After many practices, we headed out to the sea, where we spent time attempting to jump on top of the board as the waves came in. And although I can't see myself becoming a pro anytime soon, it was great fun, and we all managed to stand a fair few times.
Two nights in Kuta were more than enough and our next destination was the uber pretty Lombok. Exotic palm trees, lush greenery and gorgeous beaches set the scene on this island. As well as spending time relaxing on the beach, we took a trip to monkey forest, where you can spot plenty of these cute animals hanging out.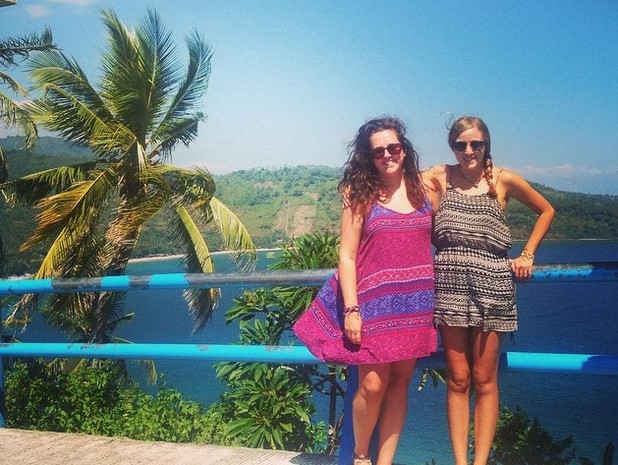 Moving on, we reached the next stop, Ubud. Based in Bali, this welcoming town is another popular holiday spot and is crammed with tasty restaurants and cafes. It's also a shopoholic's dream, thanks to its array of super cute boutiques selling delicate jewellery, chic dresses and cool gadgets.
There's plenty to see on the outskirts of Ubud, so we hired a car for the day to check out the surrounding area. We drove up to the impressive
Tegalang Rice Terraces
, where you can take in the views of the green rice paddies and even stroll through them. Unfortunately it has turned into a bit of a tourist trap, with lots of cafés and stalls, but it's still worth going for the brilliant scenery.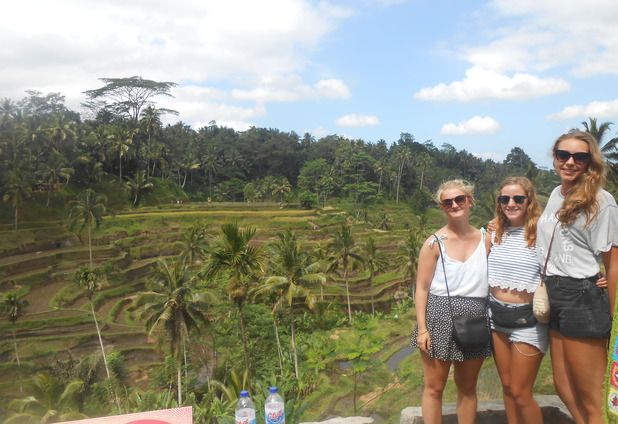 Ubud is also famous for its waterfalls and after a quick lunch, we headed to Tegenungan Village to check one out. It took a good 20 minutes of steep climbing to reach it, but we were more than impressed when we took in the sights of this incredible waterfall.
After trying out cookery courses in both
Cambodia
and
Thailand
, we decided to give one a go in Ubud. This time trying out Balinese food, we went to the
Kampung Resort
, where we were taught how to make the likes of satay chicken, steamed fish in banana leaves and yellow rice. The lesson took place in an outdoor kitchen and before we got started we picked freshly grown fruit and veg from the hotel's garden. And after our hard work we got to feast on the delicious results!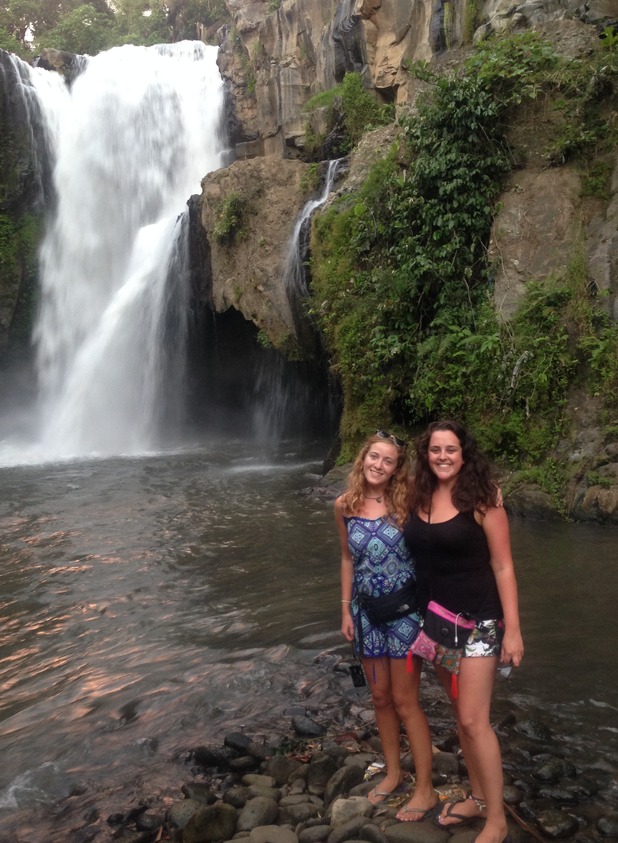 Our last ten days in Indonesia were spent on the amazing Gili Trawangan Island – which is a two-hour boat ride away from mainland. This tiny island has a laidback, slightly bohemian feel, and it was a beautiful place to spend some time relaxing and unwinding.
Areas of the sea surrounding Gili T are very popular for diving and you can see a whole array of fish and sea-life under water. We were taken on a snorkeling trip on a glass bottom boat and driven to some of these areas. As we swam, we spotted tonnes of pretty fish and exotic coral, as well as three turtles.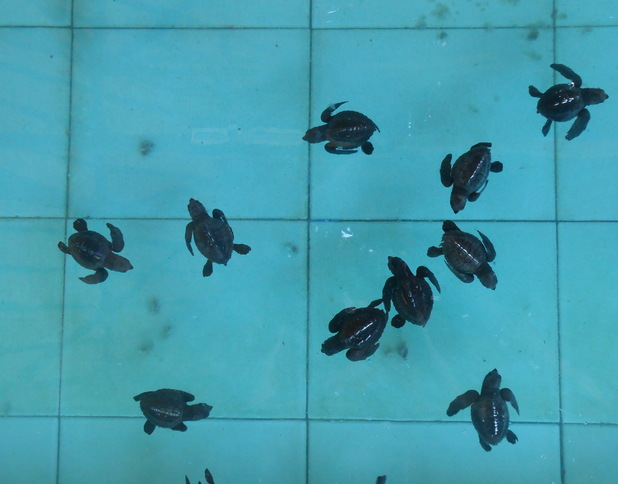 The island also has a
turtle sanctuary
that's dedicated to rescuing the animals' eggs before they are snatched up by people wanting to sell them for a profit. The project provides a safe place for the eggs to remain until they hatch and are big enough to be released into the sea. We couldn't resist dropping by to get a glimpse of the cuties!
There are no cars or motorbikes on the island – just push bikes and horses and carts. It takes just one hour and a half to cycle around the whole of Gili T and you can hire a bike for 24 hours for just over £1.
For two days we biked around exploring the whole island and checking out the best beach spots. One favourite was Sunset Beach, where you can head to for a cocktail as the evening draws in and even grab a snap on the various swings that are placed in the sea.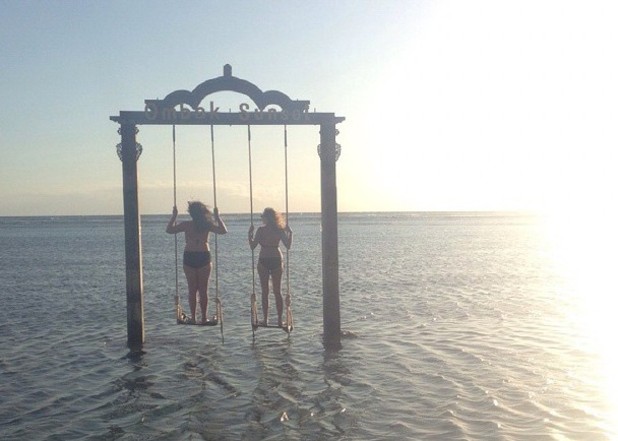 The island may have a chilled daytime feel, but its vibrant nightlife also makes this a place to party. Local bands play reggae-style music in some bars, while others had a more upbeat atmosphere with plenty of cocktail offers and dance tunes. And if you want a night off the alcohol, several restaurants even host an outdoor cinema, where you can catch a flick while sitting on the beach.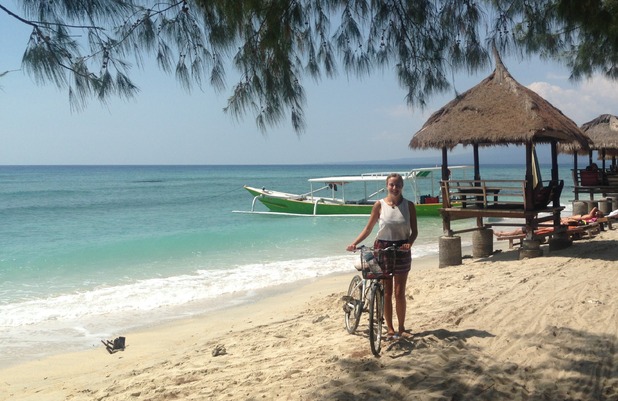 Our ten days flew by, and although sad to leave this beautiful place, we were excited for our next destination, Laos.
More from Kathryn's Travel Blog:1. Quitting our jobs to go travelling in South East Asia!2. Giant water fights and feeding elephants - what we did in Thailand3. Island hopping and temple tours - our first fortnight in Cambodia4. Kayaking along the Mekong River and cooking crab in Cambodia5. Visiting the Cu Chi tunnels and sand dunes - taking on Vietnam6. Exploring the Phong Nha Caves and cruising along Halong Bay