Rebecca Adlington
and husband Harry Needs welcomed their first baby into the world in June and this week the tot enjoyed her first swim!
I'm not yet brave enough to take my bub for a dip in the pool - she's slippery enough in the bath - but with an Olympic gold medal winner holding her tight, I'm sure baby Summer took to it like a duck to water.
I'm actually rather obsessed with Becky and Harry after watching them prepare for parenthood on a recent episode of ITVBe's
Seven Days
. And what I really want to know is whether their beloved pet dogs are still as spoilt as ever now Summer has graced their lives.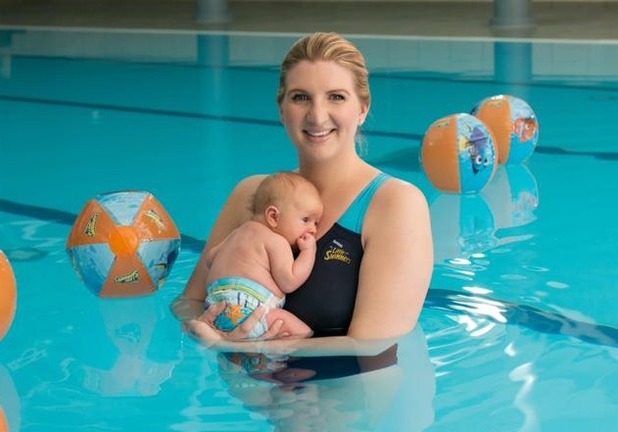 My pet guinea pigs, or "our girls" as my hubby and I called them BM (Before Molly), are probably packing their bags as we speak. A handful of food thrown in their direction each day while I'm jiggling a crying baby is not what these pampered pets are used to. In fact, I can't even remember their names.... (JOKE).
Rather than swimming, I have chosen to ditch the post baby pounds by signing up to mum and baby fitness classes at a local club called
Busylizzy
. This week, Molly and I worked up a sweat at aerobics. Well, I did, she just laid on a playmat and kicked her legs with her mates. The idea is that new mums can get back in shape without the need of a crèche, and you can stop and tend to your baby whenever you need to.
I must say, it was truly remarkable how many mums suddenly needed to comfort their not-crying little ones the minute the instructor declared it was stomach crunching time... The class was then followed by a trip to a frozen yoghurt cafe where copious amounts of salted caramel fro-yo was consumed. Well, the
thought
was there and I needed to regain my strength after my workout. Plus, yoghurt is good for you, right?
Meanwhile, last week, I asked for your thoughts on
THAT Moschino outfit Billi Mucklow had dressed baby Arlo in
. Unfortunately for the former
TOWIE
star, 73 per cent of you felt it was a touch tacky. However, 17 per cent liked it. And 10 per cent just couldn't decide. This week, I want to know who you've loved watching on
Seven Days
.
Who has been your fave celeb couple on the latest series of Seven Days?
Rebecca Adlington and Harry Needs
65.76%
Sinitta and Jason Gales
7.39%
Jake Quickenden and Danielle Fogarty
6.61%
Michelle Heaton and Hugh Hanley
4.28%
Tom Parker and Kelsey Hardwick
4.67%
James and Ola Jordan
11.28%