Billi Mucklow
recently became a mum to gorgeous son Arlo with footballer fiancé Andy Carroll and, like most new parents, she has been quick to share pictures of her first born on Instagram.
Let's face it, it is perfectly normal to have 5,647 baby pics clogging up your iPhone all before they are four months old.
However, last week former
TOWIE
star Billi found herself getting flak for dressing Arlo in a rather, erm, eye-catching Moschino babygro, bib and shoe combo....which no doubt cost around £5,647.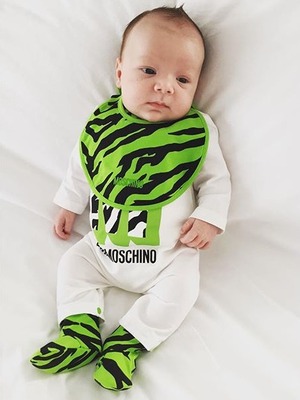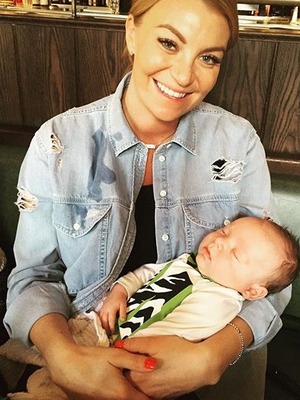 Some followers branded the garish zebra-print ensemble "tacky" and "awful", but Billi stood firm and later shared a second snap of Arlo in the getup while she cradled him in her arms. (Note the baby sick on her shoulder...we've all been there, Billi!)
Hmmm, can't say
I
would've picked this outfit for my baby, even if she was a boy. It does kind of scream, 'Look how much money my mum and dad have!' along with, 'I'm gonna own my own house and Ferrari by the time I'm 17!'
Sorry Billi, your little one is a total cutie but his threads kind of reinforce the fact that money can't buy taste. Why not pop yourself down to Primark, they have some lovely baby clothes and they are a fraction of the price.
Meanwhile, it's been an exciting week in our household. Not only can Molly roll over - mostly choosing to faceplant her mattress at 2am *shudder* - but my pram cup holder has arrived!
Now, like most people, I believed a cup holder for a buggy was pretentious. However, that was before my pristine
Uppababy
began smelling like my local branch of Costa. Turns out attempting to navigate your way to Rhyme Time while sipping on a frappe is actually rather hazardous #oops.
Last week, I asked whether
- like Lily Allen - you would use Tinder to make mummy mates
.
Unfortunately for Lil, only seven per cent would sign up in hope of making friends, while 93 per cent would rather use a site like Mummy Social. This week, tell me your thoughts on Arlo's Moschino outfit.
Do you like baby Arlo's Mochino outfit? Answer in our poll!
Yes, I think it's cool!
18.18%
No, it's not my taste...
71.21%