Continuing our way through Vietnam, our next stop was Hue, the country's former royal capital. Located on the Perfume River, it's the ideal destination for history lovers thanks to its century-old Citadel walls and ancient tombs.
We took a tour through our hostel,
Hue Backpackers
, where we were transported to the magnificent tombs and palaces that are based just outside the city. As well as taking in the impressive architecture, our guide told us about historical background behind each building and the kings that they belonged to.
After two days in Hue, we hopped on a bus to Phong Nha-Ke Bang National Park. Unlike other places in Vietnam, Phong-Nha is still very new to tourism and there are just a handful of places to stay in the small village – we opted for the backpacker-friendly
Easy Tiger
.
But what's starting to draw in the crowds here is the beautiful surroundings of the national park. Classified as a UNESCO World Heritage Site, it's an explorers' dream, with picturesque mountains – one being the oldest in Asia - and hundreds of caves all waiting to be ventured.
The caves are the main attraction in Phong Nha and it was only in the 1990s that they were first properly explored. The world's largest cave,
Son Doong
, was just discovered here in 2009. Unfortunately visitors have to shell out a whopping £2,000 to gain entry to this famous cave, and our backpacking budget definitely didn't stretch that far!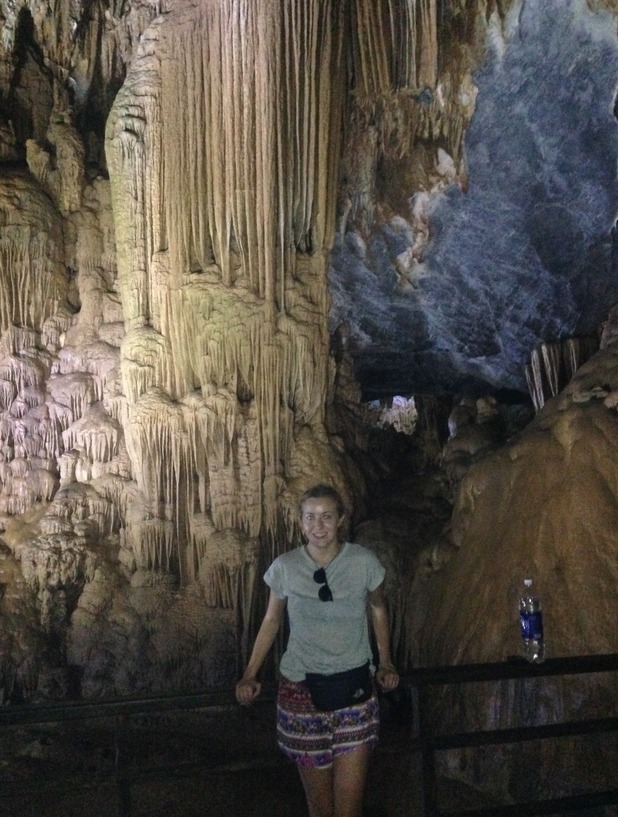 Instead, we went on a day trip with Easy Tiger where we checked out both the Paradise and Dark caves. Things kicked off with the Paradise Cave, a grand and spectacular cave that stretches out a huge 31km wide. After stepping down the narrow wooden staircase, it felt like we had been transported into another world as we made our way through this natural beauty.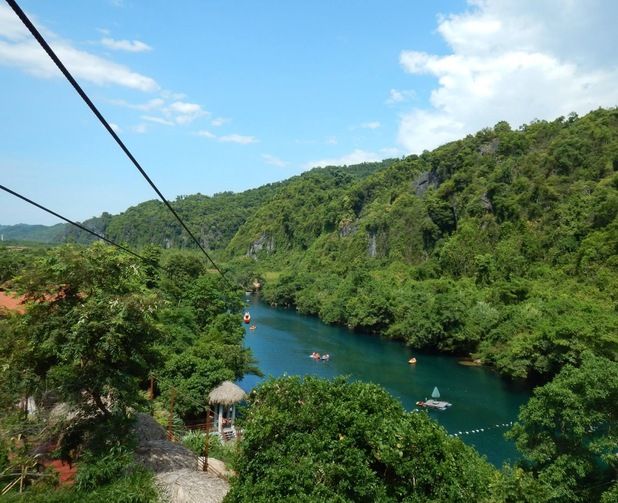 But the highlight of the day had to be the Dark Cave. Set around a brilliant blue river, we zip-lined across the water to the cave's entrance, before swimming through the cave in pitch black, aside from the small light on our helmets. Following our guide, we were taken through narrow and dark passages until we reached a small section that was jam-packed with mud! We waded through the waist-deep mud and even floated in it – a pretty surreal experience.
On the way back, we all turned off our lights and swam in entire darkness, before kayaking back to mainland. It was without a doubt one of the best trips we've done – even if you do get pretty muddy!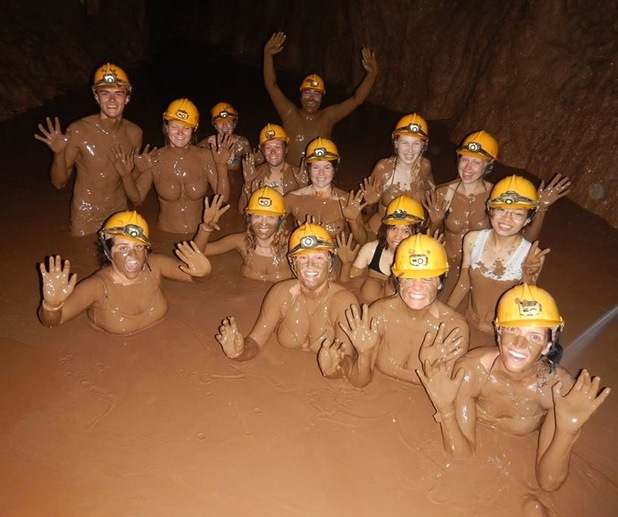 Heading further up the country, we reached the northern region's main city, Hanoi.
And just like Ho Chi Minh
, the locals' love for motorbikes meant traffic was chaotic and in the masses. We crashed at
Hanoi Rocks
, which is set in the old quarter and surrounded by bustling night markets and food stalls.
There are plenty of museums to check out in Hanoi and during our stay we paid a visit to the
Vietnamese Women's Museum
, which showcases a woman's role in society throughout the decades in Vietnam. Another must-visit was the
Hoa Lo Prison Museum
, a site that shows the last remains of this former prison and explains how American soldiers were kept there during the war. You can also walk around the eerie cells where prisoners were once held.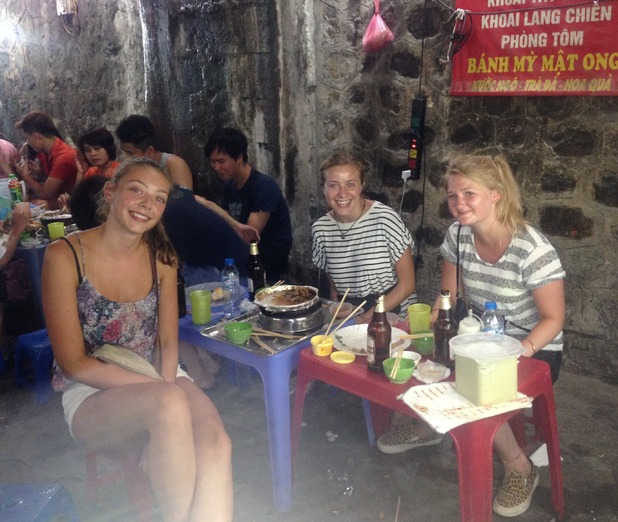 Vietnamese food is delicious and cheap, and this was no exception in Hanoi. Favourites were
Banh Mi 25
– a tiny stall that sells the best-ever Banh Mi – a French baguette filled with the likes of meat, fresh vegetables and pickles. And on another occasion we dined at a local street food stall where we were given all the ingredients and equipment to cook our very own Vietnamese hot pot.
From Hanoi you can easily get to Halong Bay – an incredible place where over 3000 islands are dotted around in the crystal blue water. Its popularity means there are simply hundreds of different tours available, whether you want to party or relax. We went for the
Castaway tour
, that's run by the Vietnam Backpackers Hostel chain and is aimed at younger travellers.
For £120, we spent two nights on a desert island, took a boat trip around Halong Bay and got to do an activity of our choice. While it may seem like a lot of money, this also included all your meals during the stay, and we had such a great time that it was well worth the money.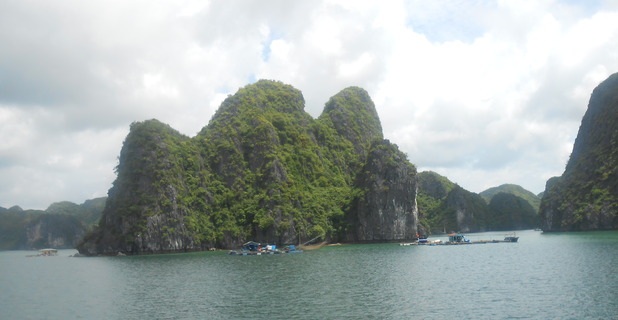 After arriving on the first day, we checked in to our beach-side bungalow before doing our chosen activity – we opted for tubing, but you can also do rock climbing or wake boarding. That night was spent partying with fellow backpackers, meaning the next morning we woke up feeling a little worse for wear for our boat trip!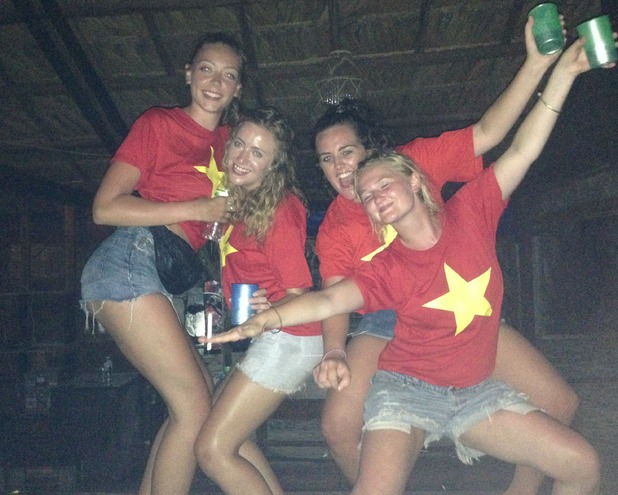 We sailed around stunning Halong Bay, where we learned about the history and nature behind it. Amongst the islands, there are also teeny tiny floating villages where locals have lived for their whole life – some of who have never even been to mainland. Later on in the day, we took kayaks out to the water, before finishing off our trip with a few drinks on board.
And after even more partying on the island, we felt more than ready to get back to Hanoi and move on to the next part of our journey, Indonesia.
More from Kathryn's Travel Blog:
1. Quitting our jobs to go travelling in South East Asia!
2. Giant water fights and feeding elephants - what we did in Thailand
3. Island hopping and temple tours - our first fortnight in Cambodia
4. Kayaking along the Mekong River and cooking crab in Cambodia
5. Visiting the Cu Chi tunnels and sand dunes - taking on Vietnam