Reveal says: Very funny, crude, rude but utterly brilliant!
So first a disclaimer: I haven't seen the first
Ted
. I was a
Ted
virgin going into this screening. My only knowledge of
Ted
was it involved a naughty teddy bear voiced by the guy who created
Family Guy
. Who is a genius in my mind, so that was a good start!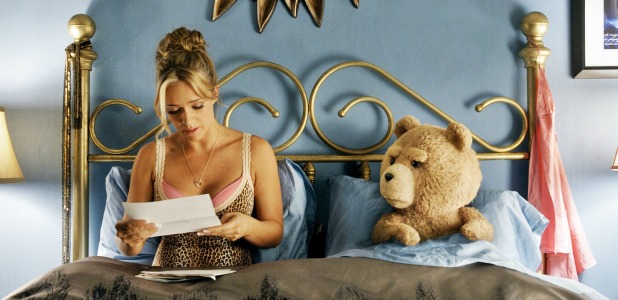 The verdict? I have never, ever heard so much laughter in a cinema EVER! No joke! Or, yes, lots of jokes, even. And that's no exaggeration. From the second Ted ambled on screen and the story started it was honestly laugh a minute.
If you're of the delicate type then perhaps this sort of humour may not be for you: think penis-shaped bongs, a
very
messy incident at a sperm donation centre and way too many to count crude jokes. One absolutely brilliant one involving Gisele's hunky husband Tom Brady. On the other hand, if you love
Family Guy
and naughty humour then book your seats pronto!
It's not giving too much away to say the basic storyline starts with Ted (voiced by Seth MacFarlane) and girlfriend Tami-Lynn (Jessica Barth) not-so-happily settling into married life. Arguments, fights and a few nasty war of words ensue until Ted comes up with the perfect solution to fix their problems: a baby!
Oh, Ted, a baby isn't a quick fix... And it especially isn't in this case because, well, Ted is a teddy bear. He's devoid of certain anatomical features one may require to have a baby. That leads Ted and best pal / internet porn addict Johnny (Mark Wahlberg) down a path that ends in poor old Ted being declared property and not having any rights!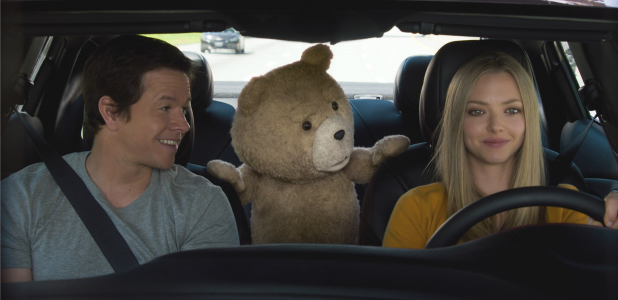 The solution? Hiring newly-qualified lawyer Sam L Jackson (Amanda Seyfried) to help them figure out how to declare Ted a person who can marry, adopt, have a job, pay taxes and all that, while smoking lots of pot and making fun of her in what is SERIOUSLY a laugh out loud moment!
Ted is the star of the show - obviously! He's a talking teddy! But our favourite character was Sam. She's just fantastic. Kind of like Karen from
Mean Girls
while high. And it's brilliant how actress Amanda is so willing to take the mickey out of herself and her appearance. We won't give away any of the jokes but you'll know them when you see them! And
Mamma Mia
star Amanda gets to flex her vocal chords in the movie, performing a charming Disney-esque song by the light of a campfire.
This is a movie about a talking teddy bear and his slovenly best friend who smoke drugs, watch porn and generally get up to no good. It does exactly what it says on the tin: it's very funny, very crude, very rude but utterly brilliant and very clever in so many parts! It pushes the boundaries when it comes to shock jokes and scenarios but it makes them work!
Our only criticisms are that the movie is perhaps a tad too long and some of the jokes are very American. We got the feeling quite a few members of the audience didn't know who Tom Brady was. And there is a joke involving a US Monopoly board that it felt not as many people in the cinema got as they'd hoped.
That being said, we would happily go see it again ASAP. Oh, and if anyone rolls their eyes at you for wanting to see a movie about a talking teddy, just remind them that
Ted
is actually an Oscar-nominated movie!