Five guys and one big city - what could possibly go wrong?
Well, quite a lot if you're up-and-coming movie star Vincent Chase, former pizza boy-turned-talent manager Eric Murphy, Vince's half-brother and C-list actor Johnny 'Drama' Chase, and Vince's childhood friend and driver, Turtle.
Oh, and how could we possibly forget Ari Gold, Vince's former movie agent.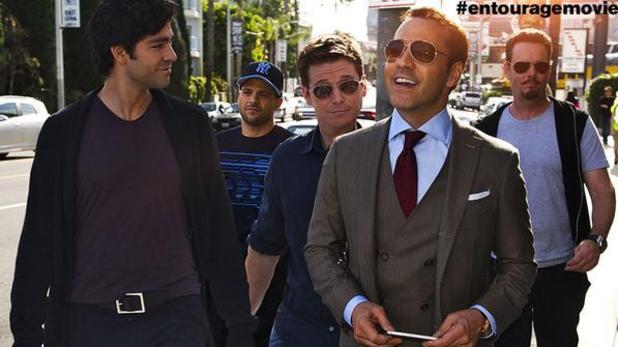 Following on from their hit HBO series, this film picks up where the last series ended, just some six days later. But you needn't have watched the TV series to keep up with the film. Vince (
Adrian Grenier
) jets from Los Angeles to Paris in order to marry the woman of his dreams. Only it doesn't turn out so well and he ends up cruising the Mediterranean on a large yacht while surrounded by girls in bikinis. Of course, Vince isn't alone, he's with his entourage.
The film sees Vince setting his sights on directing and starring in a new movie after Ari - who now runs a major studio - calls him up with an opportunity. Only what follows is Vince's struggle to be taken seriously as a movie star and his lack of financial backing. Meanwhile, his entourage also have their own struggles, as they find that women, money and loyalty are three very conflicting factors when living in Hollywood.
If humour is what you're after, then this film doesn't stop short of innuendos, jovial insults and hilarious scenes, most of which come from Drama (Kevin Dillon) and Ari (Jeremy Piven). Drama's humiliation at an explicit video going viral and Ari's counselling session are just some gems to look out for.
There's plenty of cameos too. Favourites include football legend Thierry Henry, actors Liam Neeson and Kelsey Grammer, and US rapper T.I. In fact, journalist and TV presenter Piers Morgan makes two appearances in the film. With other cameos featuring Pharrell Williams, Calvin Harris and Jessica Alba, it's certainly not short of a game of 'spot the celeb'.
However, there's nothing complex or challenging about
Entourage
's plot. This film pretty much lives up to the stereotypes of men chasing women, having sex, spending money and driving fast cars. But,
Entourage
is an enjoyable film. It's funny, surprising and full of laugh-out-loud moments, and if that's all you're after, then you won't be disappointed.

Entourage is out in cinemas now.
For exclusive competitions and amazing prizes visit Reveal's Facebook page NOW!