Our next stop in Cambodia was Phnom Penh, the capital city. Bustling with locals, tourists and traffic, this jam-packed city was a huge change from our previous week of island hopping – crossing the roads here was an experience in itself!
We opted to stay at the backpacker-friendly
Mad Monkey
hostel. Owning four hostels in Cambodia, this small chain was set up by a group of expats who quit their jobs to set up their own business. As well as ensuring fair employment for their Cambodian staff, they fund clean water projects for locals. And aside from their good ethics, the rooftop bar and party atmosphere made this the perfect pit stop in Phnom Penh.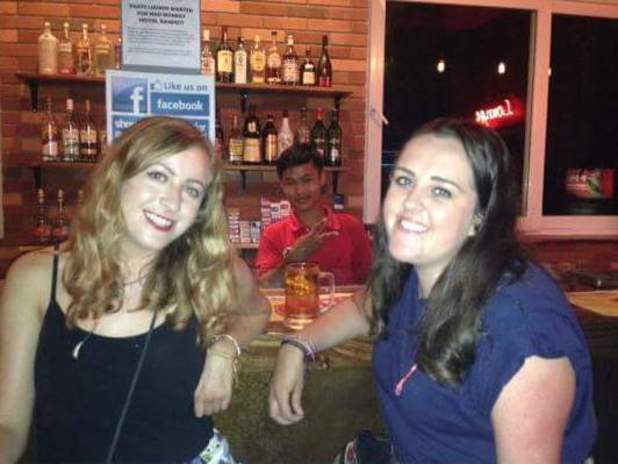 One of the main landmarks in Phnom Penh is the
Tuol Sleng Genocide Museum
. Cambodia suffered tragedy during the 70s when the Khmer Rouge took over the country, committing a genocide that killed over one million Cambodians. Once a detention and torture centre, this museum outlines exactly what happened during this awful period.
Visiting the museum was very emotional and tough going, particularly as it goes into great detail of how almost a quarter of the population were brutally tortured and killed. But it's worth going to learn more about the country's history and also see how it has positively evolved in the last 40 years.
Around half an hour drive from the centre of Phnom Penh is the
Killing Fields
, which is where the Khmer Rouge murdered many of their victims. Again, this was another extremely sad experience, but it does help you really understand what these people had to endure.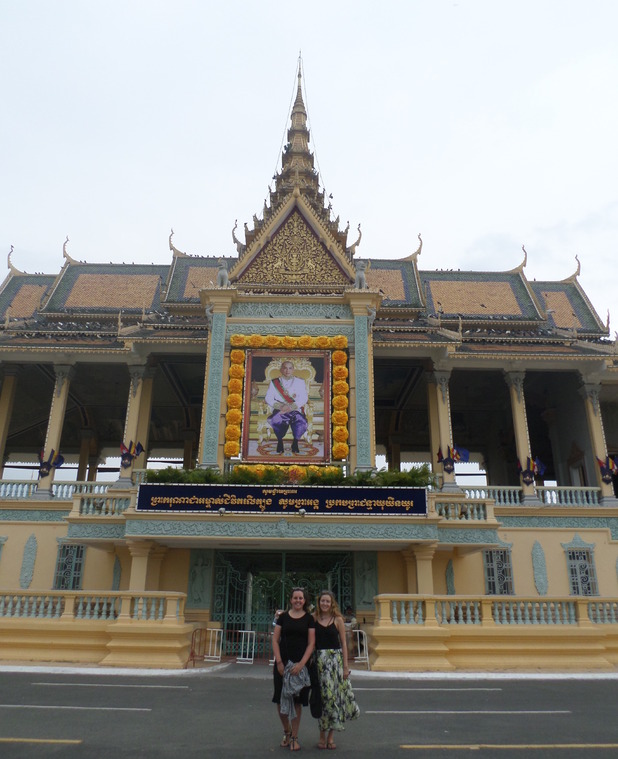 Another must-see in Phnom Penh is the exquisite
Royal Palace
, which you can visit for £4.50. Unfortunately there are a few sections that aren't open to the public, but it's still well worth visiting this grand and ornate building. Just make sure your knees and elbows are covered up, otherwise you won't be allowed inside!
From Phnom Penh we took a bus to the tiny Kratie. Low season meant this quiet town was even less busy than usual and we only spotted the odd fellow tourist while out and about. Our main reason for stopping by was to see the dolphins that live in an area of the Mekong River there. You can take a boat out and spot these animals, but we decided to make life a little bit harder for ourselves by kayaking 5k to the area.
The kayaking tour was led by the company
Sorya Kayaking Adventures
and made for an extremely fun (if not, a little tiring!) day out. With no-one else on the river but our group, we took in the beautiful natural sights as we made our way down. The journey involved witnessing the amazing floating forest of trees and stopping off for a dip in the cooling water. Finally, we reached our final destination just as the sun set, where we could spy dolphins peacefully making their way across the river.
Two nights in Kratie was plenty and we soon found ourselves on the road again, this time heading to Kampot. This riverside town is a great little place for relaxing and unwinding. Once again we crashed at another Mad Monkey hostel and this one had the added bonus of a pool. We spent a few days topping up our tans and also took a boat trip along the river, taking in the striking surroundings as the sun set.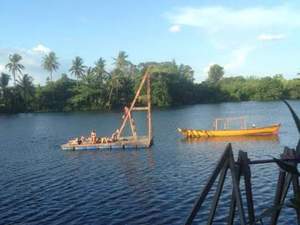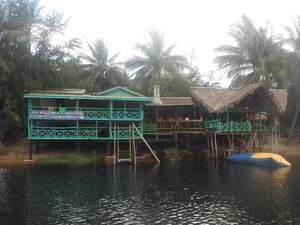 We'd heard good things about
Arcadia
, another hostel in Kampot that's situated right on the river in a remote jungle area, so decided to head over and see what the fuss was about. Overlooking the water, this fun-filled destination has plenty of activities to enjoy including kayaking, boat cruises and tubing. Making the most of the water, there's a floating pontoon that you can relax on, plus a 6m high for jumping and diving from. It was the perfect place for enjoying plenty of river activities before drinking with other backpackers come night time.
With our one-month visa soon to run out, we made one more trip before leaving Cambodia. The final destination was Kep, a dainty seaside town that's a 45 minute drive from Kampot. A serene and small area, our three days mainly consisted of visits to the beach, as well as taking a boat over to the teeny tiny Rabbit Island.
Kep is famous for its fresh crab and a handful of restaurants can be found on the seafront offering dishes with just-caught crab. One of the eateries -
The Democrat Restaurant
- runs a crab cookery course, so we decided to give it a go. We were taken to a local market where we picked up herbs, spices and vegetables, before heading back to the kitchen to get cooking.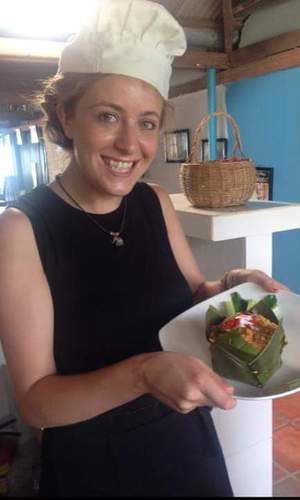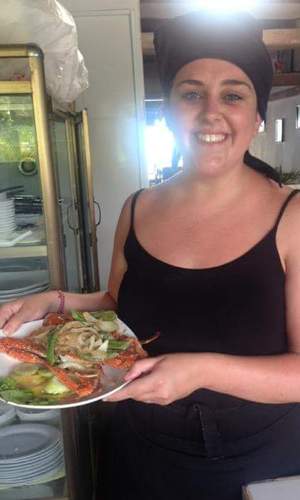 We were taught how to make two dishes – crab amok – a traditional Cambodian blend of spices and fish – and crab with the renowned Kampot pepper. Our teacher and restaurant chef Mr Lee, showed us how to prepare the crab, before taking us through the steps of each meal. After feasting on our culinary creations, we hopped on a bus for country number three, Vietnam.