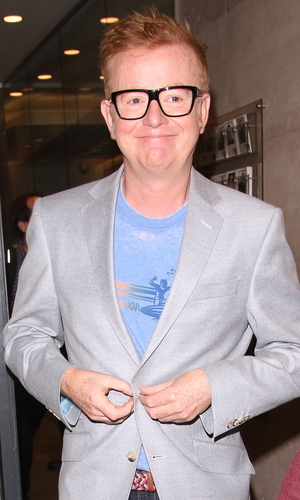 It's not long until TFI Friday returns to our screens with a 90-minute special, and it seems no one is more excited than host Chris Evans!
The show, which was originally broadcast from 1996 until 2000, will be making a return almost 20 years later.
Ahead of its return, Chris speaks about why he's decided to bring it back, what we can expect from the special, and why hosting the show was so memorable...
What made you want to bring TFI back? Why is this the right time?
"I never got to say goodbye to it as I left when there were still 10 shows to go. Let's call it closure. This just feels like the right time, many of us who were involved with 'the scene' at that time are back doing what we love and people seem to like it."
TFI viewers had a very special relationship with the programme. What elements can they expect to see again?
"Lots of the old favourites will be back - Freak or Unique, It's Your Letters and Show Us Your Face Then - plus lots of new stuff that we already don't have time for."
The show was always famous for attracting the biggest names in music. Any hints as to who we might see on this time around?
"Definitely Blur, Blur and Blur. Oh, and have I mentioned Blur."
Who were the best guests you ever had on the show? And who were the most troublesome?
Best guests: Jarvis Cocker, Peter O'Toole - the coolest mad of all time, U2 Live In Dublin, Jenson Button the week before he drove in his first ever Formula 1 race. The cast of American Pie the week the movie opened in Great Britain - they had no idea how big it was going to be. Courtney Cox was pretty high maintenance; she arrived with a 100-page contract for me to sign concerning what I could and couldn't ask her during the interview. I told her people where to shove it. She came on anyway and couldn't have been nicer. Showbusiness???"
What was your favourite segment on TFI?
"My favourite segment was The Naked Parade - pre varicose veins. Yes, we really were completely naked."
What was the best thing about being involved with TFI?
"Being at the centre of music and movies in the 90s. Which were our 60s."
Do you think TV has become less anarchic since TFI?
"Some TV is equally, if not more anarchic. We weren't that outrageous, just original. The two are often confused."
TFI Friday returns to Channel 4 on Friday 12th June.
For exclusive competitions and amazing prizes visit Reveal's Facebook page NOW!