After a quick overnight stay in Bangkok, we crossed over the border to Cambodia via bus. Unfortunately this journey often involves many scams, where locals and bus companies pose as officials and try to get money out of tourists at the visa border. But luckily we booked our tickets with official company, Transport Co. and encountered no issues. We bought the tickets through Thai Ticket Major, which was a safe and secure site.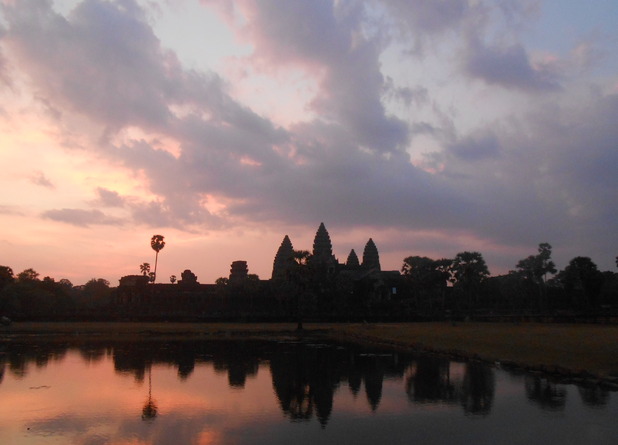 Our first stop was Siem Reap, the closest city to the country's ancient temples that includes the world famous Angkor Wat. The temples are all pretty spread out, so the best way to get around is with a good ol' tu-tuk. We paid £30 for our driver to take us around for three days, where we were transported to both the main and lesser known ones.
Seeing Angkor Wat as the sun rises is a must, so we had one very early 4am start to witness this spectacular sight - it was well worth missing a few hours of sleep! Other impressive temples that we checked out included Bayon and Banteay Srei. A three day pass for access to all of the temples costs around £27, or you can get a one day pass for £13.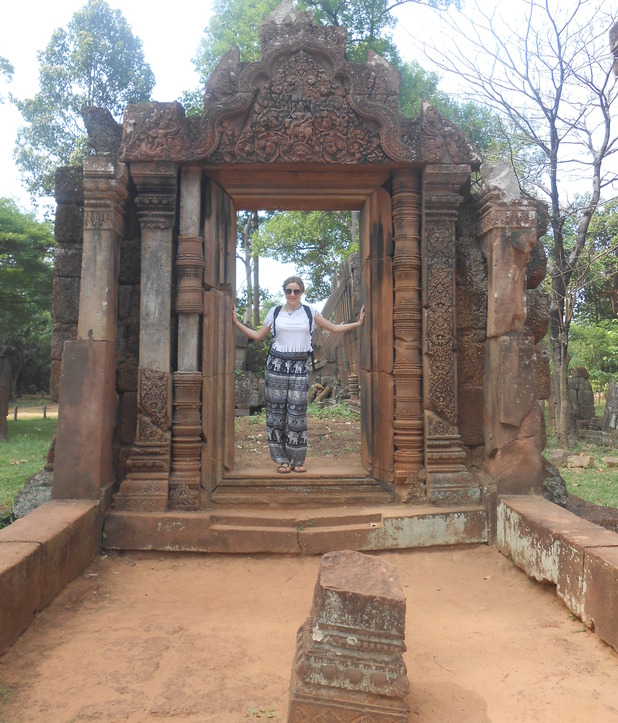 A few days in Siem Reap was plenty of time to get everything done and next we made our way down to Battambang - the country's second largest city. This welcoming city is less touristy than Siem Reap and was a great way to experience local life in Cambodia. We stayed at
Here Be Dragon
, a hostel ran by two British expats that offers a whole host of activities from a weekly pub quiz to watching
Game of Thrones
on the rooftop.
As well as sampling the local food, we also dined at
Buffalo Alley
, a nearby tapas eatery which is run by uni students from the city. It boasts welcoming staff and tasty food, and, if you're feeling brave, you can sample a shot of their rice wine that's stored in bottles with creepy crawlies like tarantulas and cobras - eek! We tried one of the spider options, but made sure none of the insects were in our actual glass!
There's not a great amount to do in Battambang itself, but we did experience the bamboo train. In the past they used this to transport food from village to village. Nowadays, it's an attraction for tourists who can take a ride on what is essentially a plank of bamboo sticks and small engine. It's a fun way to see scenic countryside and for £3.50 a ride, you can't go wrong.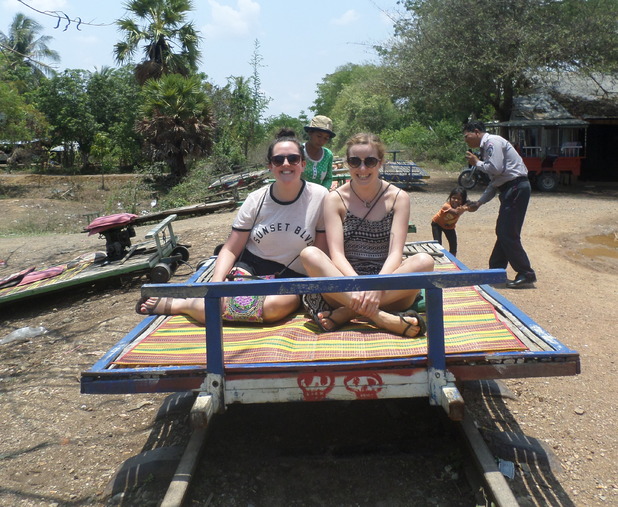 On the outskirts of the city there's plenty of gorgeous scenic mountains and caves to visit. One afternoon, we went on a tour where we hiked to the top of Phnom Sampeau mountain, which is home to a beautiful Buddhist temple and breathtaking views of Cambodia.
Along the way up we stumbled across a tiny village where a group of monkeys were causing havoc with the locals. The tour ended at the province's famous bat caves, where we watched the sun set before thousands of bats flew out into the sky as dusk settled.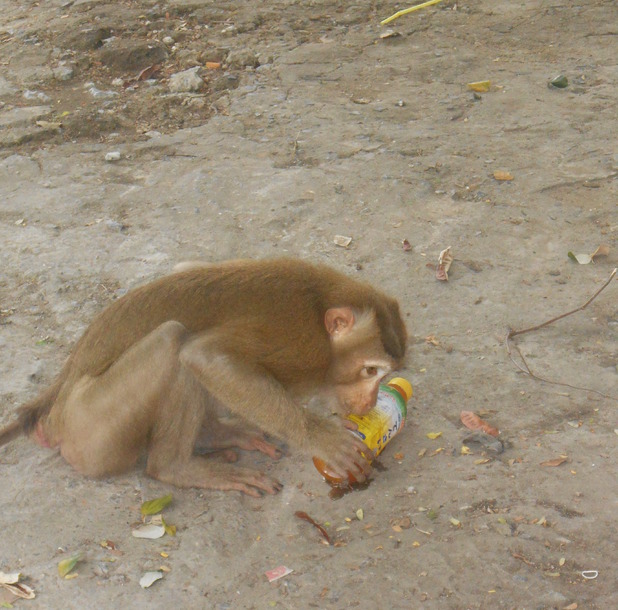 Having spent weeks in cities and towns, we were desperate to get to a beach! So we made our way down south to Sihanoukville, the main beach area in Cambodia. We spent one night in the main town – Serendipity - before taking a two hour boat ride to teeny tiny party island Koh Rong. This postcard pretty island is the perfect place for catching some rays in the day, before enjoying a cocktail or two at the lively bars.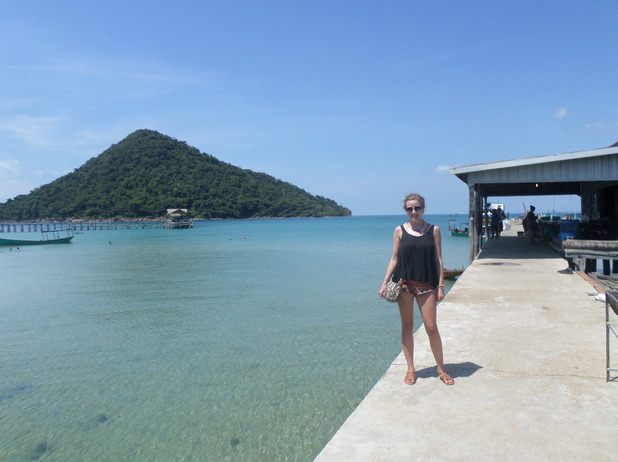 After two nights, we headed back to Sihanoukville, but this time opting for Otres Beach Two. On the boat ride back we also stopped off at the stunning Koh Rong Sanloem, a nearby island that has a much more laidback vibe and the most incredible soft white sand and crystal clear water.
Serendipity beach was covered in litter and jam-packed with people, but Otres is the complete opposite and is just ten minutes away in a tuk-tuk. It's a very chilled resort, but there's still enough bars and restaurants to keep you entertained. We paid £3 a night to stay at
Footprints
, which is located on the beach and has been our favourite hostel to date! Its super friendly staff and gorgeous beach made it a great place to relax – we spent our days swimming in the sea and evenings at the beach bar, where everyone gathers for a bargain 30p pint during Happy Hour.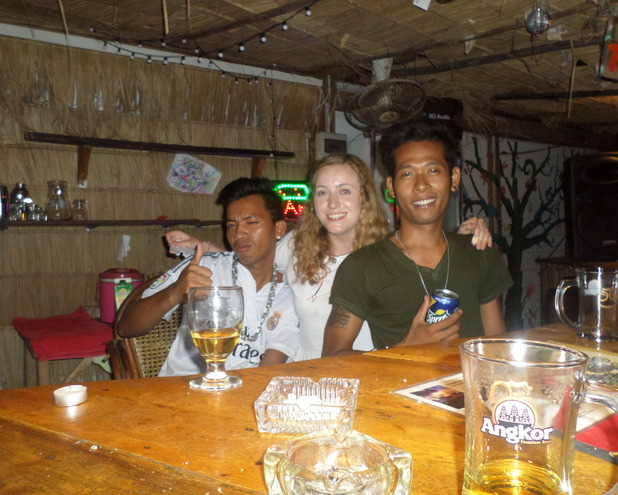 For our final stop in the coastal area, we headed to the remote Koh Ta Kiev. An hour boat ride from mainland, this basic island has no electricity and limited water, but makes up for it with its incredible beauty. There's only three places to stay on the island and we ended up at
The Last Point
, where you can stay in a bungalow on the beach for £13 a night. It was nice to truly switch off for a few days without the distraction of WiFi, but after two nights, we were itching to get back to mainland!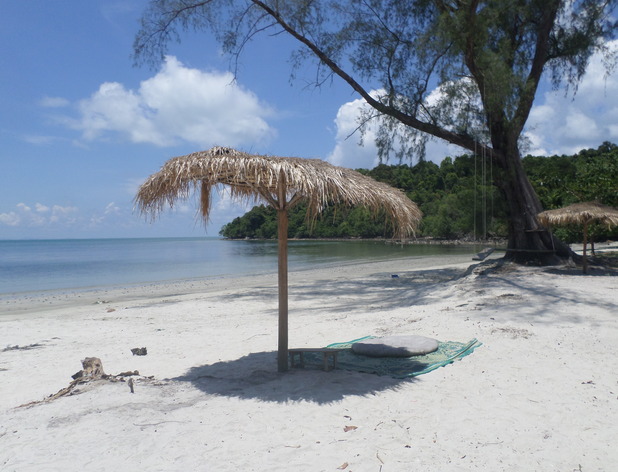 And after a chilled period of island hopping and beach days, we're headed to Phnom Penh, the country's capital, for our next slice of Cambodia.