Pitch Perfect 2 sees the return of the Barden Bellas and here at Reveal HQ we absolutely LOVED seeing our a cappella favourites back on our screens again!
The Bellas and the Trebelmakers are set to return to cinemas on 15 May and ahead of the movie's release date,
Reveal
were lucky enough to bag a ticket to an early screening, getting a first look at Beca, Fat Amy and co in action.
And it's safe to say you won't be disappointed. Here's what we made of the sequel we've all been eagerly waiting for...
Think
Pitch Perfect
, then think more of the same but a hell of a lot more funnier, more sarcasm and Fat Amy baring her behind. That's a recipe for a guaranteed giggle, right?
Of course!
From the opening scene to the final credits, the Barden Bellas and their quest to become the new a cappella world title holders is a total belly laugh. The story picks up three years later and the Barden Bellas have become three-time winning a cappella champions. Now royalty in their field, the girls are asked to perform for the President, but after Fat Amy causes a scene with a severe wardrobe mishap, the girls are stripped of their titles and no longer allowed to compete. However, if they win the world title - something that no American team has done before - they will be reinstated.
To do so the girls have to take on Europe's faultless squad Das Sound Machine, but with a fresh set of obstacles to face, they aren't so sure they can pull it off...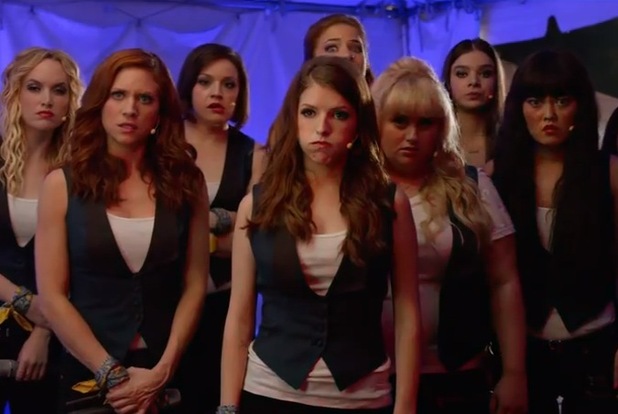 Moments not to miss:1. Fat Amy and her ultimate wardrobe mishap.
To be fair, this one isn't exactly hard to miss. Five minutes into the movie and Fat Amy (played by Rebel Wilson) is already living up to her scene-stealing ways. Channeling her inner Miley Cyrus for her 'Wrecking Ball' moment onstage while performing for the President himself, Barack Obama, Fat Amy finds herself falling victim to the dreaded trouser rip... Will the Bellas ever be able to bring themselves back from the embarrassing mishap?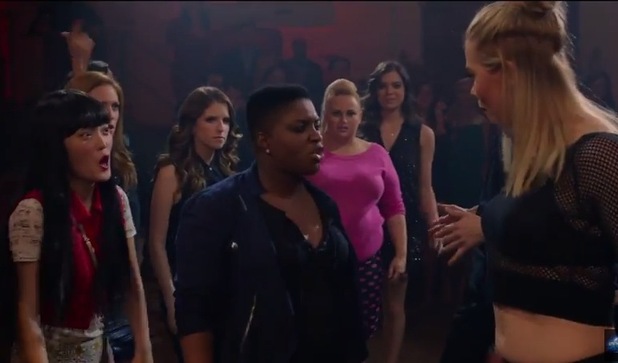 2. The Riff Off.
We've loved a good ol' riff off since we were introduced to the idea in the first
Pitch Perfect
and after the Bellas rendition of 'No Diggity', we were just dying for more 90s rap covers. And guess what? We got them! From 'This Is How We Do It', to 'Doo Wop (That Thing) and 'That Girl Is Poison', you'll be bopping along in your seats thinking you're all sorts of cool while watching the Bellas and Das Sound Machine do their thing.
3. Commentating duo: John Smith and Gail Abernathy-McKadden.
John Michael Higgins and Elizabeth Banks as John and Gail are just the dream team when it comes to the movie's laugh out loud moments. Known for their near-the-mark and below-the-belt humour, the pair will have you trying to stifle your giggles with their 'oh I really shouldn't be laughing at that/ wow that is so inappropriate' remarks.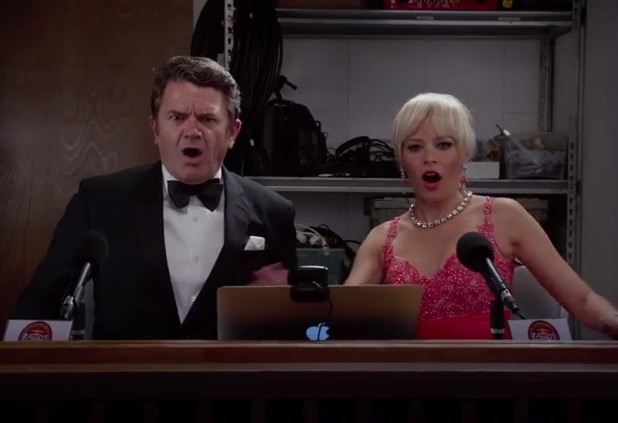 4. Beca's sarcasm.
While the Barden Bellas are definitely a bunch of characters, effortlessly cool Beca Mitchell (
Anna Kendrick
) seems to be the girl everybody wants to be. She's hot, she can sing, she's talented, she has the cute boyfriend (Hello Jesse! - played by Skylar Astin) and everybody wants to be her BFF. When trying to keep her fellow Bellas in check all gets a little too much, she relies on sarcasm to get her through - making her hugely funny too. Listen out for a few hidden gems from her.
5. The Sisterhood.
Amongst all the belly laughs, inappropriateness and a cappella goodness,
Pitch Perfect 2
does have heart. After the Bellas 'lose their sound', the girls go off to do some soul searching in the hope that a little bonding will get them back to their best. Oh, we so want to be a part of their their inner circle!
6. A Hidden Gem.
Even after the movie finishes, it still had us glued to our seats. Why? Bumper, that's why. You'll have to sit through the credits first to find out how though, as we're not giving anything away... but it is
definitely
worth a watch.
While we loved everything about
Pitch Perfect 2,
we were slightly gutted we didn't get to see more of Beca and Jesse together. Especially as Jesse is the main source of eye candy onscreen!
One thing's for sure though, we didn't want the movie to end and like the first one, we can't wait to watch it over and over and over again.

For exclusive competitions and amazing prizes visit Reveal's Facebook page NOW!