Moving on from crazy Bangkok, we headed up north to Thailand's second biggest city, Chiang Mai. Nestled between some of the highest mountains in the country, it boasts an impressive landscape, historical ruins and a vibrant culture. We stayed in Wiriya House that's located near the city's old gate and a five-minute walk from the centre.
As mentioned before, we were there for Songkran, Thai New Year
, which involves the whole country participating in a three-day-long giant water fight. Yes, really! But Chiang Mai extends this for a huge five days. So we settled in on Saturday, before the madness kicked off on Sunday.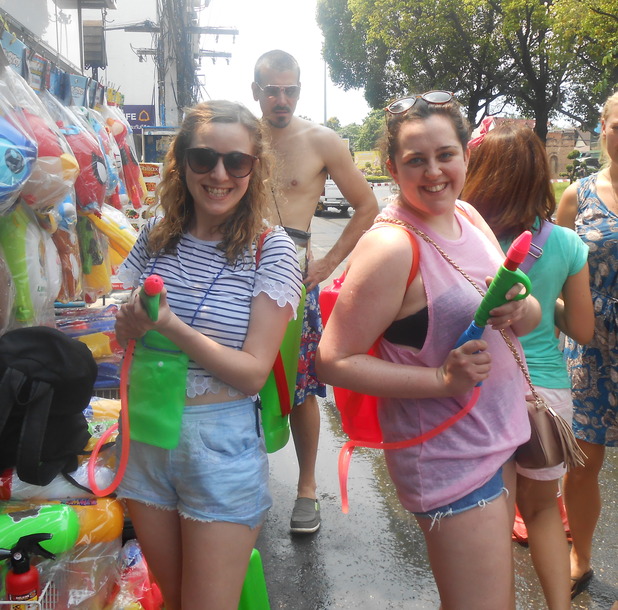 Taking advantage of the tourism and festivities, every street had hundreds of stalls selling everything from buckets to an array of water pistols. Armed with our chosen water gun, we headed out to the main square where everyone descends, but even along the way we were constantly soaked with water. Restaurants, bars and houses will leave their hosepipe on the pavements so you can replenish your water weapon. Everyone from toddlers to the elderly get involved. And it's not just pedestrians - tuk-tuks and cars will drive around squirting you with water!
Luckily it finishes at 6pm every day, so we were able to venture out in the evening and stay dry. As well as the usual yummy Thai street food on offer, there's also a great deal of places serving Western food in Chiang Mai. And after getting slightly sick of rice and noodles, it was nice to enjoy a lunch at
Fresh and Wrap
– an establishment that offers everything from eggs benedict to chicken and avocado wraps. Other favourites were
El Diablo's
– that served the perfect burrito – and
Bloom
, an adorable floral decor café that's a great pit stop for cooling down with a refreshing iced coffee.
And for a night on the town, there are plenty of fun bars to enjoy a tipple or two. Favourites were Loco Elvis for karaoke fun and Zoe in Yellow – a square of bars where most backpackers head for a night of partying. Meanwhile for shopping, there's a fantastic night market where you can pick up lots of local bargains!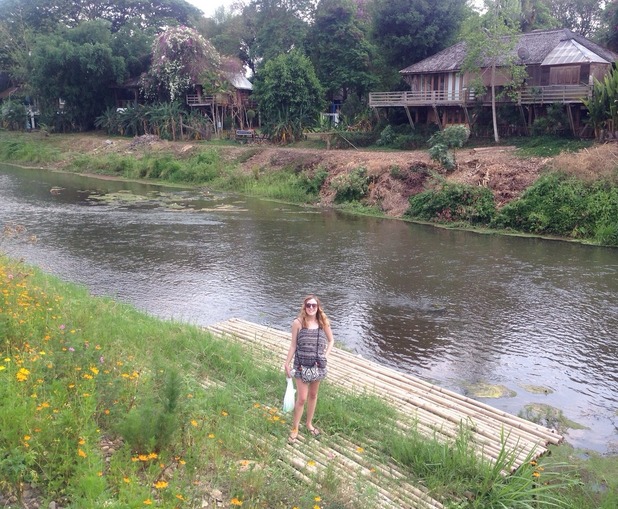 After a hectic five days of non-stop soaking, we made our way to Pai, a small hippy-style town that's loved by many travellers for its uber relaxed vibe and stunning rural scenery. Most accommodation here offer individual huts and bungalows to sleep in. We opted for Canary, which was a bargain £4 per night and a short stroll across the Mekong River that features a backdrop of mountains and lush greenery.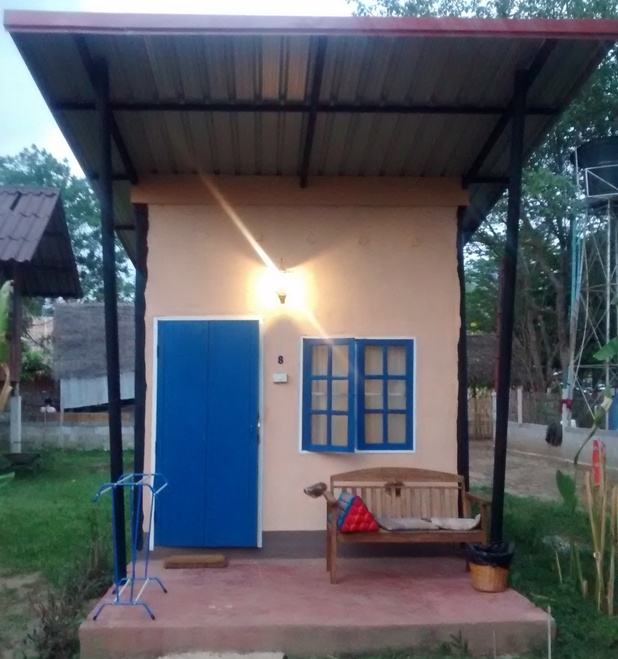 As well as its chilled-out atmosphere, there are a few activities on offer in Pai, including cookery classes. For £15, we spent a day at the
Pai Cookery School
where we made five courses of traditional Thai food, including Pad Thai and Green Curry. And of course, you get to eat it all after!
On the outskirts of Pai, there are there are plenty of scenic jewels to discover and you can hire a moped for the day to check out the beautiful surroundings.
If you're dubious of driving on the Thai roads (just likes us, as neither of us have driving licenses!), there are also day tours that take you to the main places in a car. For a reasonable £8, we were driven to the Pam Bok waterfall, the Pai Canyon and the breathtaking white Buddha on the hill (Wat Phra That Mae Yen) that's set in the mountains. We also visited Pai's hot springs, where we took a dip in the mineral water baths and even cooked a boiled egg in the super, super hot spring.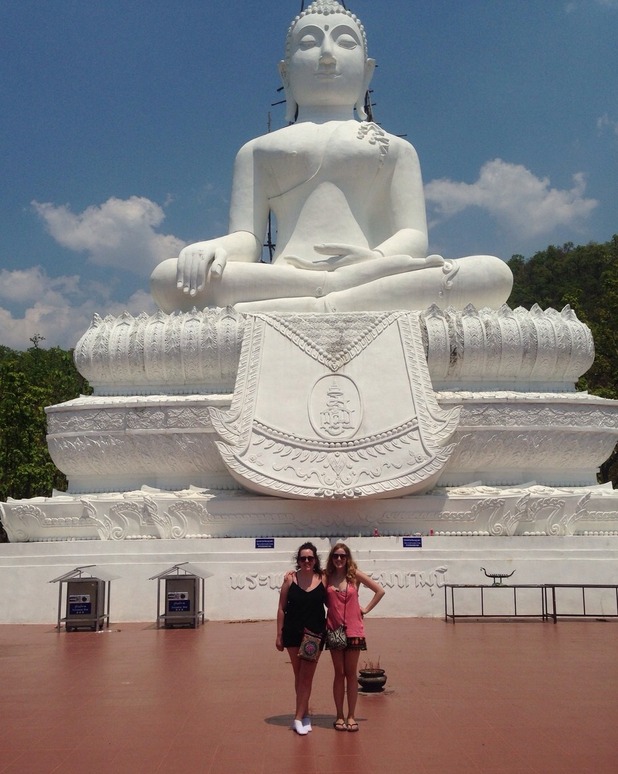 After three days of unwinding, we were definitely ready to hit the road again. As Chiang Mai pretty much shuts down during Songkran, we headed back to experience it without the 24/7 drenching! The city is the place to go for adrenaline junkies, offering a range of activities like trekking in the jungles and zip-lining. For us, seeing the elephants was a must, but although they're included in many treks, the poor elephants can be treated really badly. While you may see tonnes of photos of tourists sitting on elephants, we were told their spines aren't designed to carry humans and it can lead to serious long-term damage.
So a recommendation of the
Elephant Nature Park
was the perfect solution. This rehabilitation centre rescues and cares for the elephants that are forced to work. They offer day visits, where you feed and wash the animals, while other schemes include volunteering there for a few weeks or even staying overnight.
We opted for the day visit, which cost around £60. This may seem pricy for Thailand, especially as the treks are considerably cheaper, but this is an organisation where these animals are treated fairly. Plus all funds go to running the sanctuary, so you know your cash is going to a genuinely good cause.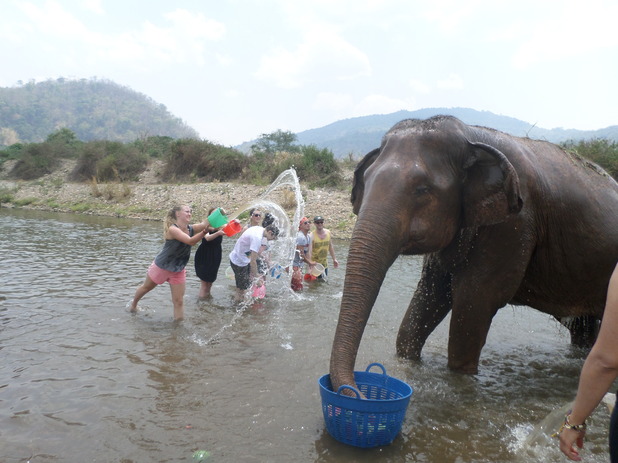 Over the day, we learned tonnes of information about these gentle giants - and also heard some pretty horrible stories about the conditions they were living in before they were rescued. Highlights of the day were washing the elephants in a river and getting up close and personal with the babies. They also rescue stray dogs and cats that can be spotted wandering around the park.
Planning to return to the Southern area of Thailand in August, we now find ourselves in Cambodia for the next part of our adventure…
> Reveal Travel Blog Part 1: Quitting our jobs to go travelling!