Series one of Taking New York wrapped up this week with plenty of tears, tantrums and kissing from the British twenty-somethings.
The structured reality show followed the lives and loves of a group of ballsy and super ambitious individuals as they conquered the ups, downs and dramas in the Big Apple.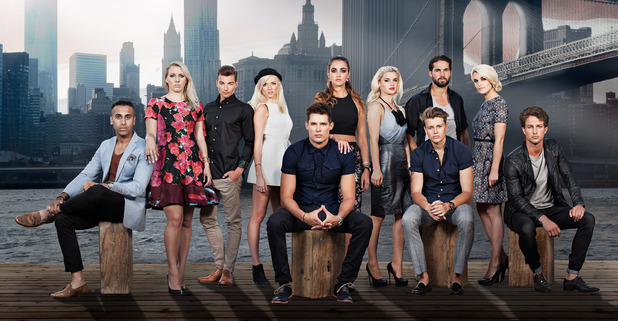 There were some great scene stealers throughout the series with probably more drama than
TOWIE
and
Made In Chelsea
combined. Yes, really!
While we cross our fingers that it comes back for a second series, here are our top five storylines from the E4 show:
1) Georgina Leigh and Sophie Pape have a major fallout
Georgina Leigh was annoyed with the reference Sophie Pape gave to businessman and bar owner Gagan Chadha when she was applying for a job at his company. Despite being a friend to the super ambitious Georgina, events manager Sophie felt 'honesty was the best policy' and told Gagan that from past experience it wouldn't be wise to hire Georgina. Cue fireworks… It wasn't long before it was all out in the open and Georgina had a massive - and we mean MASSIVE - rant at Sophie after meeting up with her at a bar. "Stop talking, stop talking," she shouted at her friend.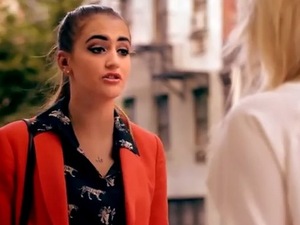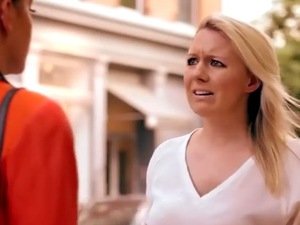 2) Matt gets jealous over Sophie and Donnie… but he soon gets his girl
Bar manager Matt Charles was introduced as Sophie's friend and it was clear they had loads in common. Sophie even revealed early on that she had feelings for Matt, but he was too interested in her model friend Sumner. So it came at quite a surprise when Matt began to get jealous over Sophie's increased interest with musician Donny. Matt called Donny "a little shifty" and said he's only good attribute was having "kind eyes"! But it wasn't long before Matt realised Sophie was the girl for him. In an attempt to woo her, Matt bought Sophie some orange thongs (yes, really) and presented it to her before declaring his feelings. Sophie actually knocked him back (well, he did do it to her the first time round!) but she soon had a change of heart and the pair locked lips.
3) The boys' interesting phrasing about girls…
Usually in a scene with models Jamie Jewitt, Danny Schwarz and Ben Waddell, viewers saw the boys divulge into chats about their romances the night before. Ben even said in the first episode: "We're in New York, there's a fresh boat coming in every night." And who could forget when America's Next Top Model winner Sumner confronted Jamie for trying to "palm her off" to the other boys?! That was explosive! If the boys weren't talking about the girls, then they were speaking like them! Cue Jamie's impression of Sumner…
4) Jamie makes the same mistakes over and over again...
Jamie came across as a confident, high-flying Essex model, who was clearly popular with the girls, and in New York he was happy to live a carefree life meeting as many new people as possible. That was until he met associate art gallery director Amy Purssey, who clearly caught his eye. Unable to commit to something, Jamie told her he just wanted to be friends, but Amy found it hard to have such a casual relationship. It wasn't long before they were back in each other's arms, and a pep talk from his parents led Jamie to fight for Amy's affections. In no time at all he said the pair should be 'exclusive', so it was quite a shame when all that changed just days later when his ex-girlfriend Laura turned up. Poor Amy was made to feel second best and Jamie explained he just wasn't "ready" for a relationship. It got worse though, as Jamie accidentally called Amy "Laura" as he broke off their romance. That DID NOT go down well. Unable to deal with the heartbreak, Amy left New York to clear her head, but after having a few days to reflect, Jamie realised he had made a mistake.
5) Megan ends things with Henry... but she soon has a change of heart
Graduate Megan Purssey and model Henry Rogers were the perfect couple, and things were going well for the pair after spending all of their time together in New York. However, Megan dropped a bombshell that she needed to head back to the UK to clear her head as she had got caught up in the "party lifestyle" and hadn't fulfilled her task of finding a job. Breaking the news to Henry was pretty emotional to watch, as it was clear he had developed strong feelings for the blonde. It all became too much for Henry at Megan's leaving party and he left the gathering early after realising he was going to loose Megan for good. But it's a good thing Megan had a change of heart the next day… While her twin sister Amy hopped in the cab out of New York, Megan went round to see Henry and revealed that she was staying put, with both admitting they had fallen in love with each other.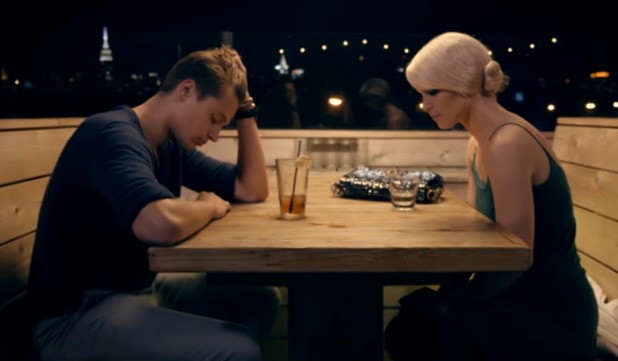 A quick shout-out to some other show favourites:We all need a friend like…
James.
Whether he was sticking up for Amy, offering Georgina advice or entertaining us with his facial expressions, no Monday night episode was complete without James Rees. Proving that he's one hell of a loyal friend, James confronted Jamie about his treatment over Amy at Megan's leaving party, telling the Essex model: "I think you've got a f**king nerve even being here."
We can't help but love…
Georgina
Who could forget Georgina's entrance? In her first scene she gave the taxi driver stern instructions - 'Why are we on the east side? We need to go on the west side? Why are you going this way? It's completely the wrong way!' - all while calling Sophie in her hour of need, or "emergency" as she put it. Georgina may have divided opinion in the first episode, but by the end of the series she was an audience favourite. Whether she was showing Ben Waddell what he was missing, having a 'tantrum', or coming out with some brutally honest but brilliant one-liners, we just wanted to see more of her on screen. To put it simply, Georgina was the star of the show.
The most shocking storyline involved…
Ben
He was a confident model and Georgina took quite a liking to him, but things seemed to turn sour for these two pretty quickly. Ben said he didn't want anything serious with Georgina, and after cooling things off for a while, he soon suggested they enjoy "secret" rendezvous. A smitten Georgina agreed, but everyone was pretty shocked when Ben's 'girlfriend' of six months, Nela, turned up. Georgina made sure she had the last word, throwing a drink over her former flame after telling him: "You want to be friends with benefits, but you have no benefits and you're barely a friend."
What have been your top Taking New York moments? Tell us in the comments below!
For exclusive competitions and amazing prizes visit Reveal's Facebook page NOW!