If you've got friends or family coming over this weekend, why not impress them by whipping up these utterly delicious dips?
Courtesy of
Ceru
, a Levantine pop-up restaurant in Fitzrovia, London, this trio of fabulous dips are perfect for entertaining. From red pepper relish to beetroot and yoghurt, these yummy recipes are super tasty and ideal for serving with warm pitta bread and vegetable crudités.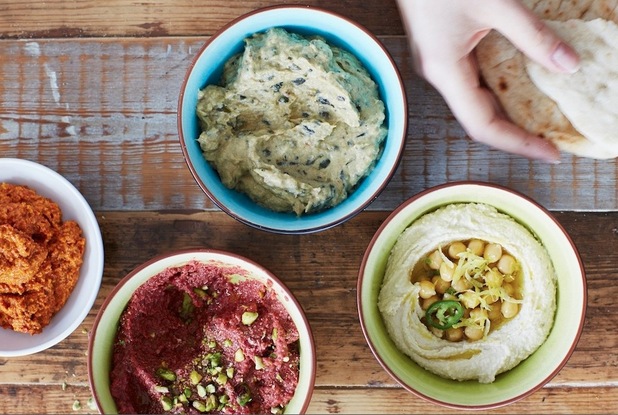 From left to right: Spiced Red Pepper Relish, Pancar Beetroot & Yoghurt Dip (centre, bottom) Roasted Zucchini, Garlic & Tahini (centre top), with ready prepared Hummus
Pancar Beetroot and Yoghurt DipIngredients:
500g of fresh beetroot (scrubbed)
1 clove of crushed garlic
1 small red chill de-seeded and finely chopped
1 teaspoon of ground cinnamon
1 teaspoon of Za'atar
120g Greek yoghurt
1 lemon juiced
½ orange juiced
2 tablespoons of olive oil to finish
50g unsalted pistachio nuts roasted and roughly crushed
Salt and freshly ground black pepper
1
Heat the oven to 200° C.
2
Bake the beetroots uncovered on a tray for 1 hour or until soft.
3
Leave to cool. Then peel and cut into chunks.
4
Place the beetroot in a food processor with garlic, red chilli, cinnamon, Za'atar and yoghurt. Blend to a smooth paste.
5
Add the lemon and orange juice, then blend to combine.
6
Transfer to a mixing bowl and stir in the olive oil. Season with salt and freshly ground black pepper and then stir through the roasted crushed pistachio nuts.
Muhammara Spiced Red Pepper Relish with Walnuts and Pomegranate MolassesIngredients:
2 large red peppers
1 tablespoon of concentrated tomato puree
¼ teaspoon cayenne pepper
1 teaspoons of ground cumin
1 clove of garlic
1 red chilli de-seeded and finely chopped
1 slice of toasted ciabatta style bread
50g walnuts roughly chopped
2 teaspoons of pomegranate molasses
½ a lemon juiced
40ml of extra virgin olive oil
1.5g salt
Black pepper
1
Roast the bread and the peppers at 200 C until the peppers are soft. Peel the roasted peppers. Chop the finely chop the garlic and the red chilli.
2
Place the toasted bread and the walnuts in a food processor and grind until fine. Add the garlic, chilli and ground spices. Blend.
3
Add the peeled peppers and the tomato puree. Then, with the motor running gradually, add the olive oil as if you were making mayonnaise and blend until thick and creamy.
4
Add the pomegranate molasses and lemon juice, then season well with salt and freshly ground black pepper.
Roasted Zucchini Garlic and TahiniIngredients:
5 medium sized zucchini /courgettes (not too big as they get very watery)
2 cloves of garlic
½ teaspoon of cayenne pepper
1 teaspoon of ground cumin
1 tablespoon of sesame seed tahina
1 lemon juiced
100ml of extra virgin olive oil
Salt and freshly ground black pepper
2 table spoons of yoghurt or crème fraiche
1
Roughly chop the zucchini and drizzle with a little oil and season with salt and pepper, ground cumin and cayenne pepper. Transfer to a roasting tray and roast in the oven at 200 C.
2
Roast the zucchini until soft and beginning to caramelise (about 12 minutes). Remove from the oven and place in a bowl.
3
Finely chop the garlic and then crush with a pinch of salt.
4
Place the crushed garlic and the roasted zucchini flesh in the food processor. Add the tahina sesame seed paste, salt and freshly ground black pepper. Blend until smooth.
5
Add the lemon juice and then with blade turning gradually add the olive oil in a thin stream to make a paste. (Similar to the process for making a mayonnaise.) When it is all combined, stir in the crème fraiche.
6
Check the seasoning. There should be a smoky sweetness from the roasted zucchini. The tahina and salt will provide a savoury component. The lemon juice and crème fraiche will be sour. Adjust the seasoning accordingly.
For exclusive competitions and amazing prizes visit Reveal's Facebook page NOW!