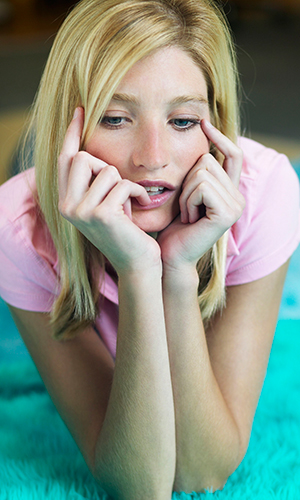 Everybody has things they regret, right? Eating that second helping of dessert, letting The One get away, buying those unflattering jeans in the sale…
Whether it's a small regret or a big one, a new study by Diet Coke has revealed plenty of women in the UK wish they hadn't – or had - done certain things in life… and those things are certainly varied.
A massive 72% of women surveyed said they had between one and five major regrets in life, ranging from love to body image to career path.
Interestingly, our biggest regret is nothing to do with adulthood: 34.8% of us regret not trying harder in school. Whether it's getting better exam results, choosing different subjects, it seems plenty of us are now realising later in life that school really does matter.
Next is a regret a lot of people can probably relate to: weight loss. 34.5% of recipients said they regretted not losing the weight they wanted to. There is still time, though! Just remember that!
The other regrets we have are:


Choosing the wrong career path: 32.9%


Choosing the wrong husband: 24%


Not getting on the property ladder: 22.6%


Spending the night with someone they shouldn't have: 21.8%


Not being spontaneous enough: 20.6%


Not being a good friend: 20.5%


Oh dear.
But it's not all bad news. Of those surveyed, a massive 90.4% of us have learned from those regrets, and 74.3% said those regrets had built character. So the lesson is, don't regret your regrets – everything we do in life helps shape us.
The study was commissioned by Diet Coke as part of their new The Impulsista Campaign, which explores how impulsiveness plays an important role in women's lives and encourages them to live life without regrets.
Statistics also showed that only 31% of women would do something out of their comfort zone a few times a year, and 61% feared taking a risk in their career... so the new campaign wants these sort of women to do something impulsive.
It discovered overall that there is a new type of woman emerging: The Impulsista. She is all about smart impulsiveness in life and building herself through style, love, friends and career.
She is successful, empowered and knows exactly what she wants.
Fashion expert and campaign spokesperson Caryn Franklin said: "Impulsivity enriches sensations and heightens opportunities for adventure, and ultimately, what life can be about."
For exclusive competitions and amazing prizes visit Reveal's Facebook page NOW!