A beautiful message penned by Johnny Cash to wife June Carter Cash was recently voted the most romantic love letter of all time thanks to its heartfelt content and Johnny's obvious love and adoration for June.
With Valentine's Day here once again, no doubt many of us will be feeling rather inspired to pen something just as fabulous, memorable and lovely. But it's harder than it looks, right?!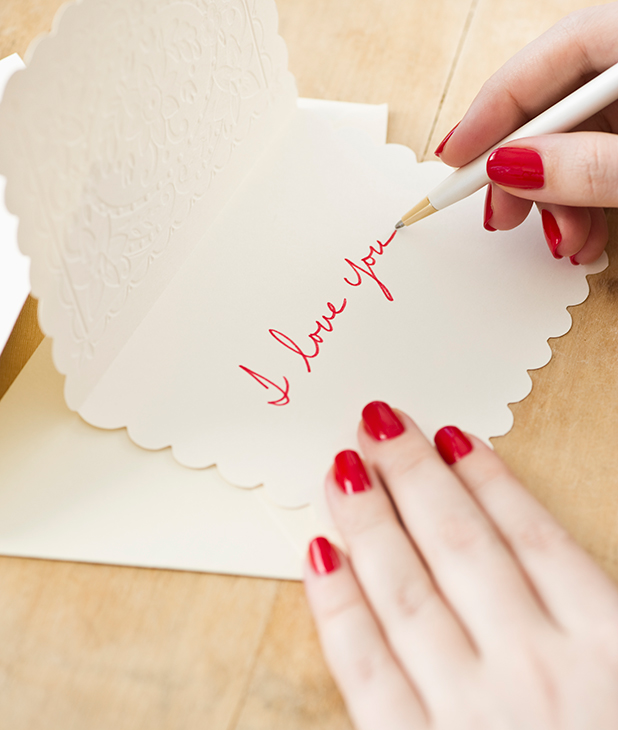 How many times have you sat down with a pen and paper… and just sat. And sat. Completely unsure what to write!
Well, if you're still trying to compose the perfect message for your Valentine's Day card, don't fear! We've asked
Mills & Boon
's editor Jo Grant for her expert advice on writing love letters.
Think about these things when composing your Valentine's Day message:
What are your reasons for loving them?
Is it because they're a good father? A fantastic husband? Strong? Kind? Caring? Loyal? Intelligent? Drop dead gorgeous? There are a million reasons why you love somebody but how often do you actually voice those reasons to them? Jo says: "Use your Valentine's Day card to remind them why you think they're fab."
Use real events
Look back on your time together and think about your best memories. When was the last time you both laughed together? Enjoyed a perfect date? "Think of a recent favourite thing that you and your partner enjoyed together and refer to this in your message," says Jo.
Handwrite it
It's so easy and convenient to order cards online but a handwritten message is always the most romantic. "It's just so much more personal," says Jo. Consider what writing tool you're using though: a faded pen or smudgy ink is not a good idea! "Invest in a lovely pen for your special words," says Jo.
Don't try to be someone you're not
Yes, we all want to sound poetic and intelligent and all that, but a Valentine's message is personal and intimate and has to reflect who you really are. Jo says: "Writing tone can be tricky which is why it's always best to sound like yourself. Just dial up the romance a little!" And don't forget romance doesn't have to be serious! "Get a laugh in there too and they will be sold."
Take inspiration from others
If you're really struggling with writer's block why not find a quote which sums up your feelings? Celebrities do it on Instagram all the time now! Think of your favourite poem or movie or song. "Sometimes someone else had the perfect words all along," says Jo, "the art is in finding them."
Reveal is now on Google Plus! Join us here for the latest pictures, fashion and celebrity news!