Ever dreamed of holidaying like the Kardashians, Kylie, J.Lo - even the royal family of Brunei? Well you don't have to go very far to be treated like royalty of both the Hollywood and regal kind.
Greece offers far more than you'd expect. Whatever your budget you can find your own slice of paradise, and rather surprisingly you don't have to have a Hollywood bank balance to enjoy the A-list star treatment. Reveal visited three of Greece's most exclusive resorts and found that the glamorous getaway you've always dreamed of isn't as out of reach as you might think...
Halkidiki
First stop was the gorgeous Halkidiki in the north West of Greece. The middle of the three 'fingers' of the Halkidiki peninsula, Sithonia is beautifully tranquil and still relatively untouched by commercial tourism - the perfect idyllic retreat to pamper yourself, recharge your batteries and take in the gorgeous scenery.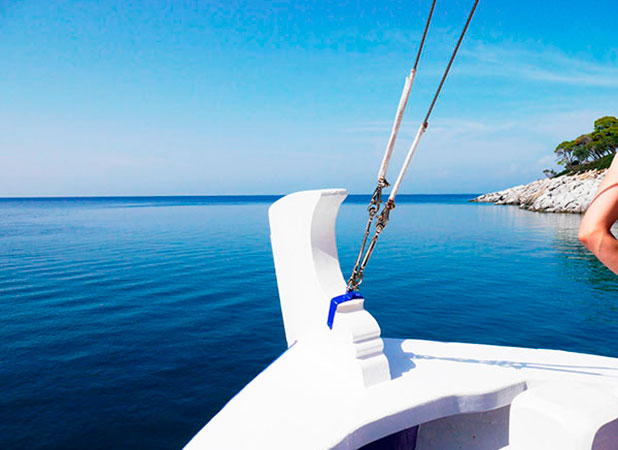 An hour's drive from Thessaloniki airport and we arrived at our destination, the
5-star Athena Pallas Village Resort
. Situated on the west coast of Sithonia, it nestles peacefully in the lush green landscape above its very own private beach. It's hard to drag yourself away from the breathtaking view to actually go inside to check in!
We were greeted in the palatial reception by the extremely friendly staff who really did make us feel like we were getting the star treatment. We were shown to our room to settle in before exploring everything the resort has to offer.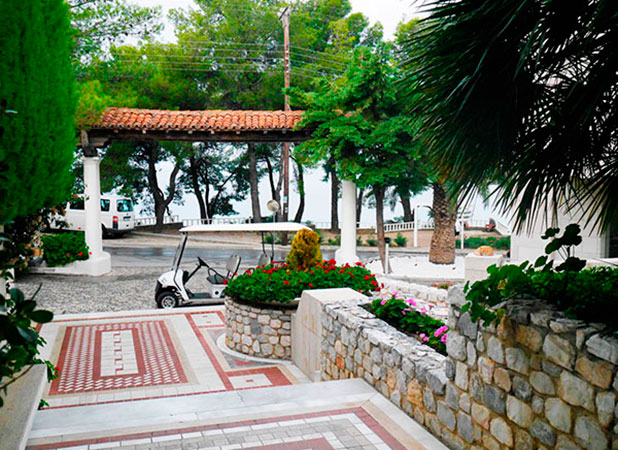 Whether you're with your partner, friends or your family, Athena Pallas has a range of rooms and suites to cater for everyone, as well as maisonettes and executive suites. All the accommodation is spacious, clean and utterly charming, and the layout of the whole resort really does feel like a village rather than a hotel, which really adds to its charm.
We planned a boat trip during our stay, but even if you wanted to stay on site, Athena Pallas has more than enough to keep you entertained. The bars and restaurants offer a variety of amazing food, local wines and cocktails, and showcasing local produce in particular. We enjoyed a lush platter of local fish and seafood (washed down with a delicious local white wine of course!) in the pretty 'Aegean Flavours' Taverna which overlooks one of the many outdoor pools, before heading upstairs to the 'Moonlight' roof garden for a cheeky nightcap.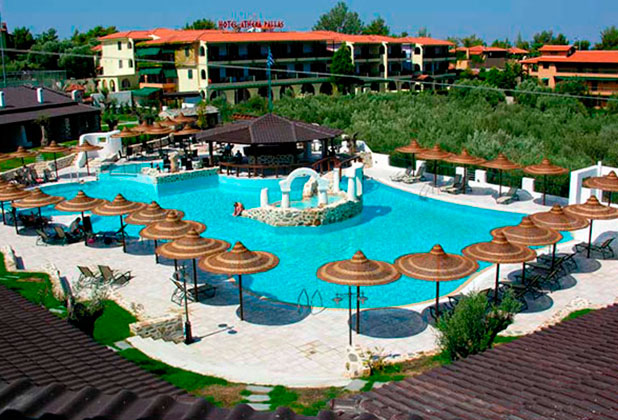 Facilites at Athena Pallas include a superb gym and a spa centre where you can indulge in every type of pampering. There's a cinema, a little bowling alley - there's even a museum if you fancy taking in a bit of history and culture. Add to that the mini golf, tennis court, playground and kids' club and you have the perfect all-round holiday resort for adults and kids alike!
The first task the next morning was to line our stomachs for the long day ahead - the buffet restaurant hosted a typically impressive breakfast (something we would soon get used to during our stay in every place we visited)!
A short drive from the resort is the harbour village of Nikiti, where we took a boat trip to explore the Sithonian coast. We stopped off on the way in the cute little port town of Neos Marmaras where we enjoyed an intensely refreshing freddo cappuccino (the best way to both keep cool and give yourself a much-needed boost when you're flagging in the heat!).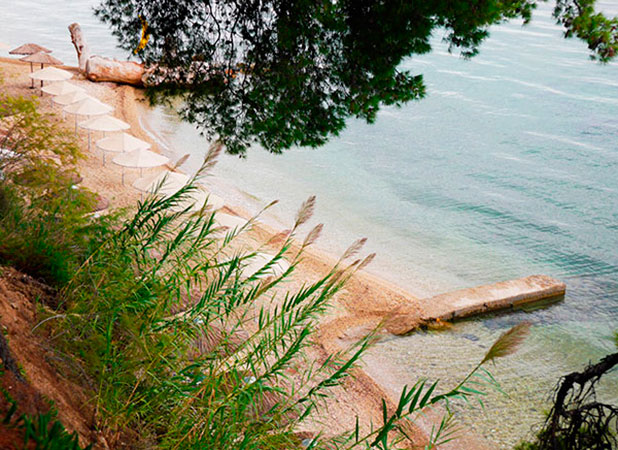 After a brief browse around the charming little gift shops for souvenirs and presents, it was all aboard again as we headed to Turtle Island - so called because it looks like a huge turtle rising out of the water. Inhabited only by goats, it's a real treat to hide from the world in one of the little coves on the far side out of sight from the coast. You really do feel like you've just been let into the best-kept secret - your very own VIP section of this beautiful coastline!
Along with the other handful of passengers on the boat we sunbathed, swam with the fish in the perfectly still turquoise water, and enjoyed the boat captain's adorable father coming round and topping up our wine glasses regularly, while his rather dishy son fired up the barbecue and prepared a feast of delicious grilled souvlaki.
Skiathos
Day three of our Greek Odyssey and time for a total change of scenery. We're off to the island of Skiathos - if you've seen Mamma Mia (let's face it, who hasn't?) now is the chance to be swept away yourself by the romance and beauty of this vibrant and stunningly beautiful island. Skiathos oozes old-world charm and is everyone's perfect picture postcard image of Greece.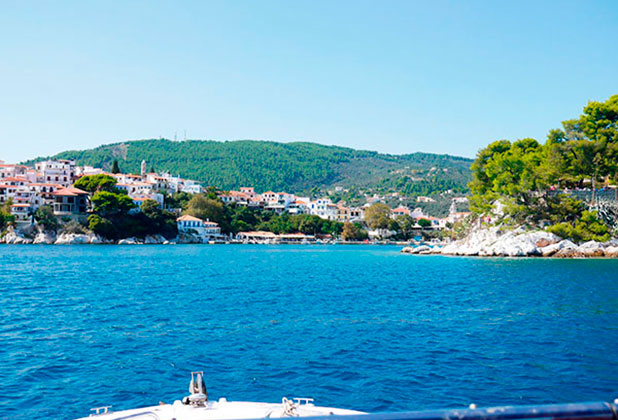 After a scenic (and slightly, er, lively) ferry trip from the port of Volos, pulling in to the harbour in Skiathos immediately takes you back to a world flooded with glamour and romance.
But there's plenty of time to enjoy the town later - we were off to get checked in and freshened up at
Kassandra Bay resort
which was to be our home for the next two days.
A ten-minute drive up the winding hillside behind the town brought us to the resort. After yet another warm welcome (Kassandra Bay a family-run resort, and the warmth clearly extends to its guests) we were shown to our room - a sleek, modern family room with two bathrooms, cosy lounge/second bedroom and a huge terrace with spectacular sea view.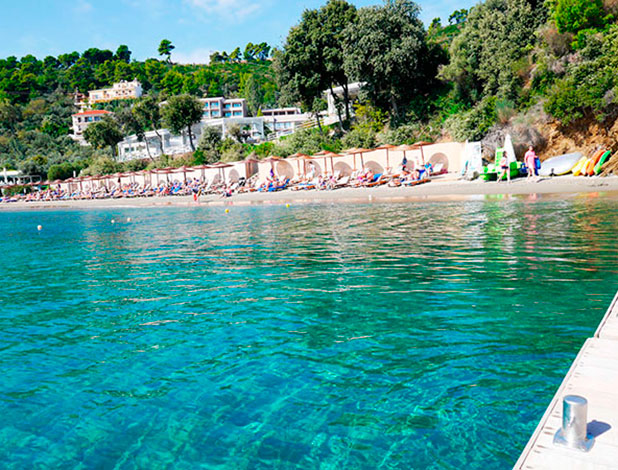 The hotel has a variety of rooms and suites catering for couples, families or friends - each with incredible views of the Aegean sea and Skiathos' neighbouring islands. If you want to do a bit more than just gaze out over the sea and actually get in it, the hotel has its own private beach, Vasilias. Each lounger and umbrella has a call button service so you really can be waited on hand and foot without lifting a finger. Talk about star treatment!
Some of the rooms have their own private pool, but the shared pools have the advantage of a fabulous bar which is never a bad thing!
Kassandra Bay has clearly been influenced by the romance of its idyllic location. It's a perfect place to relax with that special someone. There's even a chapel and an enchanting gazebo where you can get married with a stunning sea backdrop.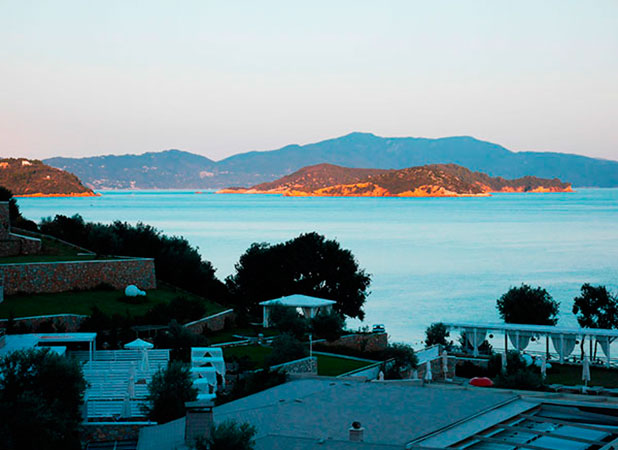 Although Skiathos seems pretty darn perfect while you're working your way through the cocktail menu from the luxury of your beach lounger, we were advised by everyone we met that the only way you can truly take in the island's beauty is when looking at it from the sea.
On the beach just below Kassandra Bay Resort, Stefanos Ski School offers the option to take a boat trip around the island giving you the chance to see for yourself what all the fuss is about. And boy, is it worth the effort! The sea taxi service offers a round trip visiting the islands of Tsougria, Arkos, Lalaria and around the island of Skiathos itself, at a cost of 50 euros. But if you're feeling adventurous, you and your partner or friends can hire your very own motorboat for the day and you can enjoy the freedom to explore the countless beaches, coves and waterside tavernas at your leisure. You don't need a licence, and at 70 euros for two people, and 80 for four, you get full tuition on how to drive and anchor your boat. Well worth it for an unforgettable adventure!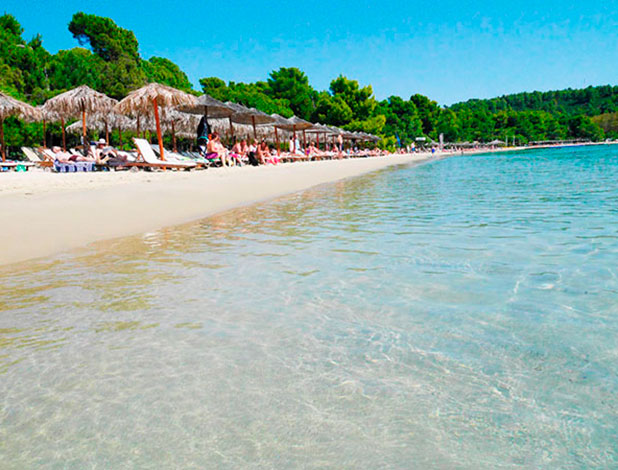 Talking of unforgettable, there's no way you can explore the coast of Skiathos without making a stop off at Koukounaries beach. Being the most famous beach on the island, it can also be the busiest, but for good reason - it's considered the most unspoiled natural beach of the entire Mediterranean. Don't worry if boats aren't your thing though - a local bus runs every 30 minutes from Skiathos town, so you landlubbers won't miss out on probably the most perfect beach you'll ever set foot on - shimmering white sand peppered with flecks of gold.
We took shade in the taverna and quenched our thirst with a bottle or two of Mythos, a lovely local lager, before reluctantly leaving perhaps the most beautiful beach we'd ever been on.
The only thing that made leaving bearable was the thought of trying out the luxurious spa back at the resort. KBR offers a broad range of beauty and holistic treatments, all very reasonably priced. It's all too easy easy to forget where you are once inside, and for once you're not bothered to leave the sunshine behind. We opted for the holistic candle massage - a whole hour of relaxation and rejuvenation. The minute the heady orange and sandalwood fragrance fills the air and the warm creamy wax soothes the skin it's easy to lose sense of time as your cares float away.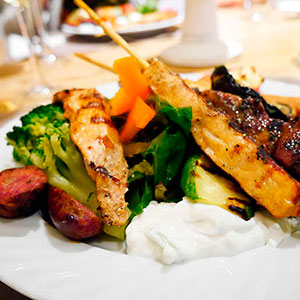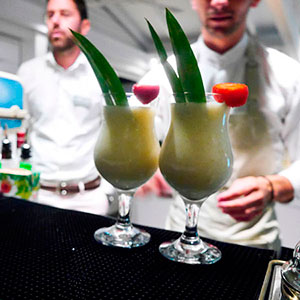 The restaurants at Kassandra Bay again offer the best of local produce. The hotel owns a land estate where it grows its own fresh produce for use its the menus - it was be open to the public and offer cooking lessons next year. The a la carte restaurant serves up amazing dishes with traditional Greek ingredients, while the buffet restaurant hosted a themed barbecue night complete with suckling pig.
And what could be a more perfect way to end our stay at Kassandra Bay than a few sublime cocktails after dinner, prepared by the expert bar team using the freshest of ingredients and the bar's own home-made syrups.
Athens
It was an early start the next day as we set off for our final destination, Athens. Or more specifically,
Grand Resort Lagonissi,
an exclusive resort on a private peninsula just 15 minutes from Athens International Airport, and 50 minutes drive from the city centre and the stunning Acropolis.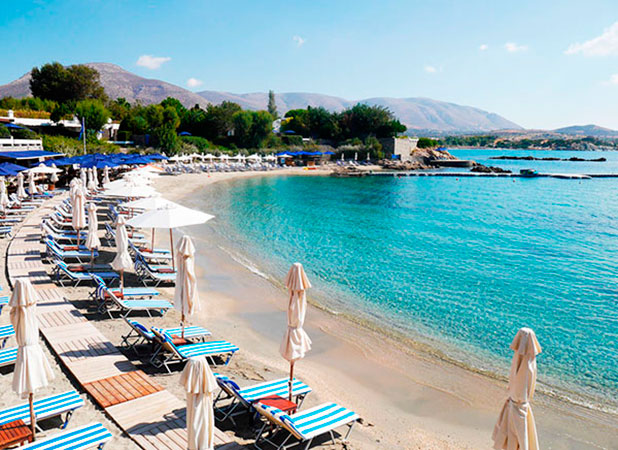 Although on the pricier end of the scale, there's good reason for it to be. it is, quite simply, sublime and the height of luxury. But don't be put off - there are definitely options to enjoy some time here on a more affordable level. It's a great way to end what has been a fabulous trip, even if only for one or two nights, just so you can see how the other half live!
As you explore this sprawling resort it's easy to see why the likes of Kylie and Jennifer Lopez holidayed here. It's where the entire cast of Mamma Mia stayed after shooting the movie. A mix of hotel rooms, beachfront bungalows and suites, and opulent villas with private gardens provide the perfect escape from the pressures of fame and the pesky papparazzi!
As we arrived so early we were still in time for breakfast. We were promised this was the best hotel breakfast in the whole of Greece and it certainly lived up to that. The buffet in the Aphrodite restaurant was almost as sprawling as the hotel grounds!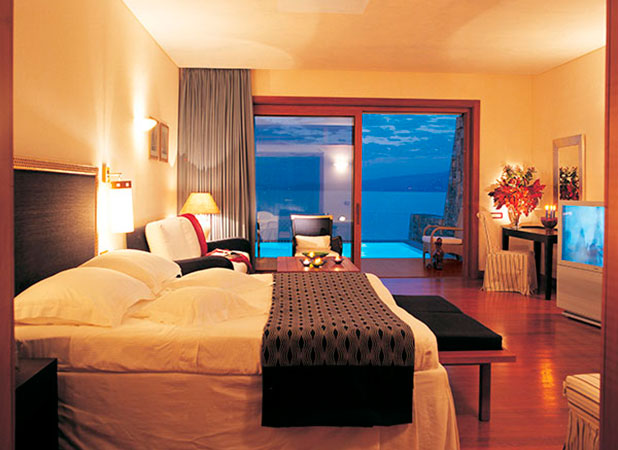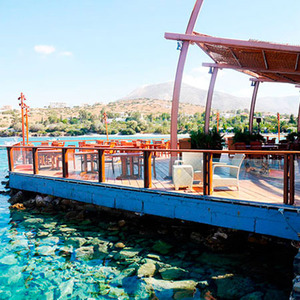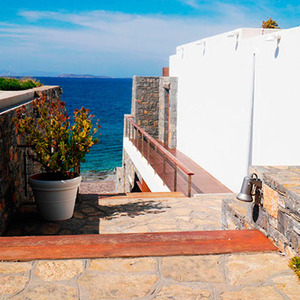 As we were shown to our rooms we couldn't help but feel glamorous as we were driven on golf buggies around the lush site. The deluxe bungalow featured an open plan bedroom/living room, vast marble bathroom complete with shower/steam room, and a private terrace sharing a pool with the bungalow next door. All this, and an uninterrupted sea view too!
We took some time to explore the grounds, gawping in awe at the beauty of not only the surrounding sea views, but of the resort itself. They've got everything covered here - spa and fitness club (some of the suites even have their own private gym), newsstand and shop, hair salon, kids club, a doctor on call… there's even a mini department store to stock up on designer goodies!
Although our stay at Grand Resort was a short one, we did find time to nip into Athens city centre to fulfil a lifelong ambition of visiting the Acropolis. The panoramic views from the site perfectly showcase the sheer beauty of a city steeped in history and mythology. The whole experience was utterly awe-inspiring and should be top of anyone's list who visits Athens.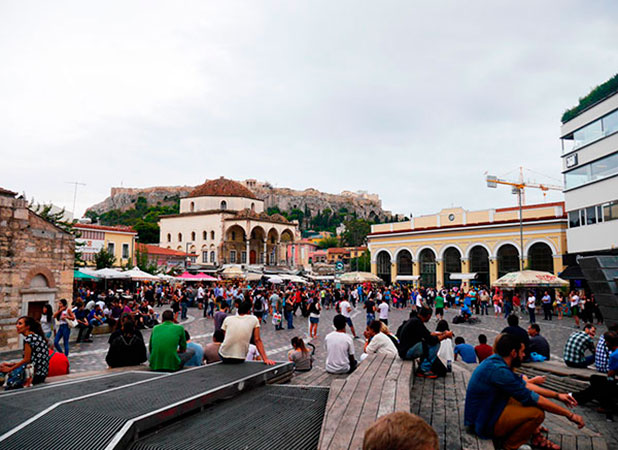 After a browse around the bustling flea market in the maze of tiny streets at the foot of the Acropolis we headed back to the resort for the last meal of our trip. We were spoilt for choice when it came to restaurants. Although the Polynesian cuisine of Kohylia Restaurant and sushi bar was pretty tempting, we opted for a candlelit feast on the outdoor decking of Captain's House which served up some of the best contemporary Italian food we've ever had.
The early flight home the next morning unfortunately meant an early night for us, but as our head hit the pillow our minds were buzzing, already excitedly planning our next trip to Greece…
How to get there
We flew with
Ryanair
from London Stansted to Thessaloniki, and the return flight from Athens to Stansted. All the resorts have full concierge service and will help organise taxis and local transport.