Sherlock fans get excited... a brand new picture has been released!
BBC treated fans to a new snap of
Benedict Cumberbatch
and Martin Freeman in character as Sherlock Holmes and John Watson last night, teasing next year's Christmas special.
We know. NEXT YEAR!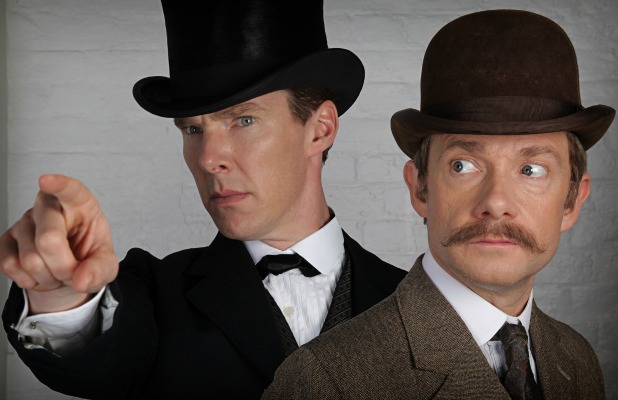 The picture was released with only a simple caption reading: "221 back. Sherlock. Not kidding." But the period costume in the image has fans wondering whether time travel may play a part in the Christmas 2015 special.
It was released after the cast and crew gathered for a readthrough of the Christmas special. Of course, as you'd expect, absolutely ZERO teasers or information about the plot has been unveiled.
BBC also faced some criticism for its Photoshopping skills when fans pointed out a good chunk of poor Benedict's shoulder was missing in the image, although this was corrected in a later reissue of the picture.
Sherlock
fans have had what feels like a
loooong
wait to see new episodes on screen, and find out why exactly the apparently dead villain - sorry, consulting criminal - Moriarty's face was popping up on TV screens across the UK.
Filming on the Christmas special will start in January, with it airing (obviously!) next Christmas. A fourth series featuring three brand new episodes will follow later.
IT'S TOO FAR AWAY!!!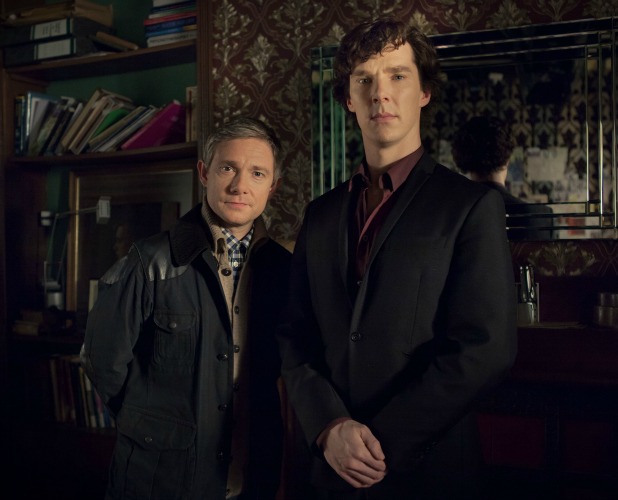 But, to be fair to everyone involved, they've all been super busy in recent years - especially Benedict and Martin.
As exec producer Sue Vertue said: "It's taken a little while to get the dates sorted as none of the boys are exactly sitting back twiddling their thumbs but there was unanimous goodwill to make this work, so we're thrilled that 221b is going to be inhabited again."
Co-creator, writer and executive producer Steven Moffat added: "A special, plus a new series of three episodes - it's a record-breaking run! Of course, it's far too early to say what's coming, but we're reasonably confident that the very next thing to happen to Sherlock and John, is the very last thing you'd expect..."
And Mark Gatiss - who is co-creator, writer, exec producer AND plays Sherlock's brother Mycroft - said: "It's always special to return to Sherlock but this time it's even more special as we're doing... a Special!
"Not only THAT, we'll then be shooting three more episodes which will take Sherlock and John Watson into deeper and darker water than ever before. The whole Sherlock team are terrifically excited to return for four new adventures. The Game is on - again!"
Bring it on!!