Fans of Gogglebox will be seeing a sea of famous faces on the sofa tonight as Kate Moss, Naomi Campbell and Noel Gallagher star in a celebrity edition of the hit Channel 4 show.
As part of the channel's
Stand Up to Cancer charity night
, Kate, Naomi and Noel will be dishing their views on talent shows such as
Strictly Come Dancing
and
The X Factor
- and the first picture of the trio has now been revealed.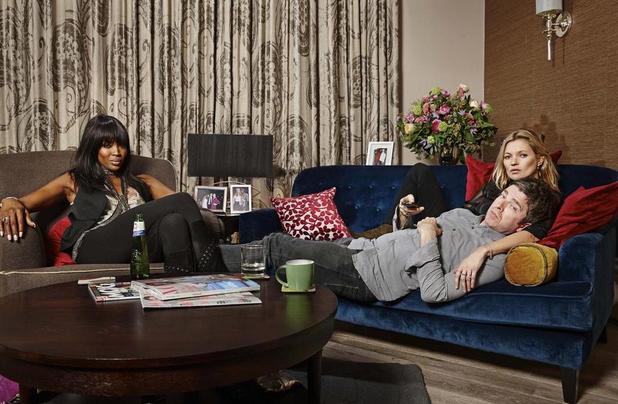 Oasis superstar Noel reveals that watching
X Factor
in particular makes him rather uncomfortable, because he is reminded of how angry his daughter is that he turned down the invitation to be a judge on the show in 2011.
"She's furious every week that it's on," he says. "She tut tuts at the screen saying, 'That could've been you slagging them off'. I'll never be forgiven."
While Noel shifts somewhat uncomfortably, self-confessed
Gogglebox
fan Kate is happy to catch up with the first of
X Factor
's live shows.
Meanwhile, supermodel Naomi finds herself transfixed by
Downton Abbey
.
Tonight's sketch will see the union of glamour and rock and roll on the sofa. A source said: "The sketch will help to raise money for charity and Kate is good friends with Noel and Naomi. When she knew she would have them by her side she did not hesitate to agree."
Kathy Burke and Paul O'Grady will also share a sofa to settle down and watch some telly, as well as Miranda Hart, Tom Ellis and Sarah Hadland.
Stand Up To Cancer helps to raise millions for groundbreaking new cancer treatments and trials.
Gogglebox: Celebrity Special for Stand Up to Cancer on Channel 4 from 7pm.
Watch a clip of Kathy and Paul below: