Saved By The Bell fans will LOVE this new trailer for a forthcoming TV film about the cast!
The
Unauthorized Saved By The Bell Story
is loosely based on
Dustin Diamond
's (Screech Powers) book,
Behind The Bell
, which hit the headlines in 2009 for being so outrageous.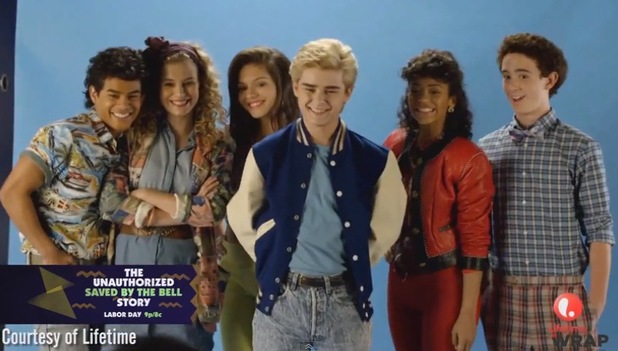 Dustin has since insisted many times that some claims about the
SBTB
backstage antics had been misconstrued by the ghost writer- but we're still desperate to see the film!
In the trailer begins with the cast pushing and shoving each other before the director orders them to smile. In a split second, they turn on their charm.
Dylan Everet, who plays Mark Paul Gosselaar (Zach Morris), can then be seen in a row with his mother, who is threatening to ground him, while Screech - played by Sam Kindseth - is seen grappling with his new-found fame.
Even the set has been recreated, meaning there are scenes in iconic burger hangout The Max, and Zach is caught chatting on THAT mobile phone.
The trailer finishes with one of the show's bosses sighing: "Well the network didn't kill us, but the hormones might."
Sadly, the film is only scheduled to air in the US at the moment, but we have everything crossed that it will be brought to the UK.
Mark Paul is not happy, however, and recently slammed Dustin's book. He said: "It is negative. That I must say. Everything I've heard about his book is it is negative. I don't remember those things. My experience on the show was very positive."
Well Mark Paul may not want to watch it, but we think it looks amazing - even if it's just as fictional as the original 90s show!
Watch the trailer for The Unauthorized Saved By The Bell Story here: