Reveal meets Lindsey Kelk, the author of the fabulous I Heart series and the funny, touching and romantic new summer read What A Girl Wants.
Lindsey Kelk is only 33, yet she is fast becoming one of Britain's favourite authors, thanks to her quick whit and ability to relate her leading ladies to 20-something women everywhere.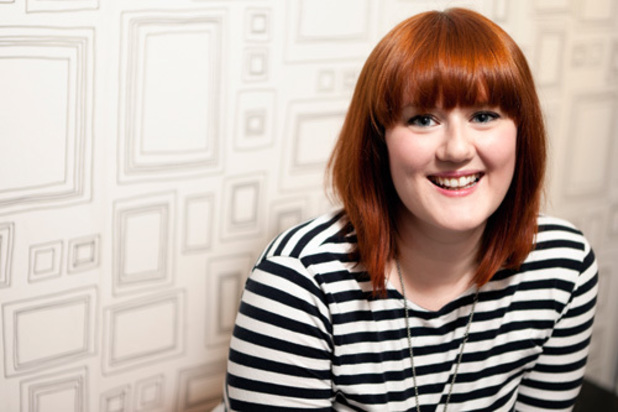 The talent behind the
I Heart
series (New York, Hollywood, Paris, London and Vegas), Lindsey has already found herself at the top of the Sunday Times Best Sellers List and is heading for more success with her latest novel,
What A Girl Wants
, which is a sequel to the hit read,
About A Girl
.
When Lindsey touched down in London after flying in from her home in New York, we couldn't wait to get to know her a bit better over a cuppa and biscuits!
First thing's first: Have you been writing ALL your life?
Pretty much, yes! I was a massive reader when I was a kid. My mum forced to read when I was really little, so I soon started making up my own stories too. I wrote a series of stories about a superhero teddy bear when I was still in infant school. I not sure I was a well child, there's every chance someone should have sat my mum down and said: "Take that pen out of her hand!"
So was it always your plan to become an author?
I didn't actually think you could
be
a writer, so I thought about being a journalist or teacher and did an English degree. Afterwards, I got a job in PR but I was rubbish! I then became a children's book editor. Traditionally, you commission and edit other people's work, but I worked on film and TV titles and would write a lot myself. I spent five years writing a lot of Noddy colouring books and even wrote a Girls Aloud annual. I also got to work with Mary-Kate and Ashley Olsen, as we did some fashion books with them.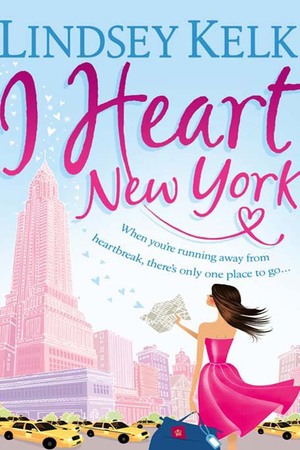 How did your first published book I Heart New York come about?
One November, I went on holiday to New York with my brother and felt really miserable when we got back. I was broke, my boyfriend was rubbish and I had been in the same job for five years. I loved New York so much and there was no sign of going back, so I decided to write about it. Anywhere was better than where I currently was! I never thought it would be published though. In fact, I never thought I would even show it to anyone!
How long did it take to write?
It actually only took six weeks, and that was fitting it in around my job. Probably from being a strange child, I'm a bit OCD when I write! I have to do it all in one go. Everything goes out the window, my manicure is rubbish and my roots need doing, but I just can't stop. And once I've finished, I can't leave stuff alone. I always want to know what happens next!
Do you always know the full story before you begin writing?
I start with a point and build a character about it. I usually know the beginning and where the end is, but the middle is where I panic and have no idea what's going on. If I plan it, you can see it, so I let it fill itself in. I does lead to a lot of sleepless nights and panics though!
Does the novelty of seeing your name in print ever wear off?
Not at all! Maybe for someone like Jackie Collins, but I'm not there yet. You feel like someone has made up a cover with my name on and put it in a shop to trick me! I saw someone reading one of my books on the tube and had to move carriages, as I was so worried she might randomly chuck it on the floor and shout, 'This is the worst book I've ever read!' It's funny, as it's come from your head and people actually want to read it. I still can't believe people want to put my words in a book.
Do you find it easier to write a book now you've got 10 under your belt?
No, it's worse! I get worried that people won't like it – and people are very happy to tell you on the internet if they don't… Each time I start a new book, I worry that I've forgotten how to do it or that I don't have any ideas. It's the only job I've ever done where the more I do it, the less sure of myself I am. There's more pressure, feedback and criticism each time. By the third
I Heart
everyone had an opinion and they were very keen to share it! I can have one thousand people say they love one of my books, but the only person I focus on is the one who said it was rubbish. Five years on and I still can't forget one newspaper critic who said
I Heart Hollywood
was the worst book she'd ever read. Saying that, I can't image it was really her cup of tea given the newspaper she worked for…
What made you branch away from I Heart and write About A Girl, followed by your new book What A Girl Wants?
When I wrote
About A Girl
, lots of my friends were going through a similar thing to Tess - she was having a hard time romantically and had lost her job. Saying that, most people would be straight down to Office Angels, not stealing their evil flatemate's identity and running off to Hawaii! I couldn't write this story in the
I Heart
world, as I would've been lynched if Angela had lost her job and been dumped, so it felt time for someone else and another story. Once I'd finished
About A Girl
there was obviously so much more to say, so I just had to write
What A Girl Wants
. There was definitely a call for it – you'd think most people had never read a cliffhanger before!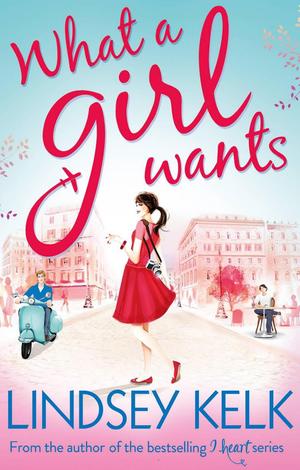 One of the most frustrating characters both books is Nick, who Tess meets in Hawaii. How do you feel about him?
I hate myself for writing him, because he's such an arse! If your friend was dating him, you'd tell her to dump him! But then he turns on the charm... He has this thing about him. He's that guy that keeps giving a little bit and then taking it away. I actually love writing him because I just want to punch him in the face!
This brings us to our next question - are any of your characters based on people you know?!
I always say they're not but it always seems they are... They are kind of a crossbreed, mongrel made up of 10 of my friends. I have two really good friends who are Amy from
About A Girl
and
What A Girl Wants
and I've got another friend who is a complete Jenny Lopez from
I Heart
. One of my friends said that my books are just like listening to a Taylor Swift album, as she thinks all the guys are like people I've dated! I'm assuming none of them are reading what I write, as I don't want to be the Taylor Swift of books...
Your characters' mums are always slightly...highly strung. Is your own mum worried you've based them on her?!
My mum would kill me if she thought she was ever one of the mums! She is proud of me, but we don't talk in depths about my books [laughs]. My nan read the first 50 pages of my first
I Heart
and asked if any of what Angela had been through had happened to me! She then congratulated me and said it wasn't really for her, but well done. Bless her!
Your books have been set in amazing locations all around the world. Do you get to travel there for 'research purposes'?
I do, and it's a massive bonus. You
can
write about places you've never been to, but I'd rather go there. You find a thousand more things to write about once you're there than if you're not. I started writing
About A Girl
before I'd been to Hawaii but I just couldn't get it right. As soon as I got there, I broke the block. The only downside is that I am actually writing the entire time. I must point out that people think I pick where I want to go and then write a book about it, but it doesn't work that way!
Like I Heart's Angela, you now live in New York. What do you miss most about the UK?
I haven't got a washing machine, as no one has them in New York, so I have to go to the launderette. They've messed up so many of my clothes, but you do get used to things like that. What I don't get used to is missing my friends. You never get used to not being able to pop over to see them with a packet of Hob Nobs when you're feeling sad.
Will America remain your home for the foreseeable future?
I've got my Green Card now, so they won't be getting rid of me anytime soon! I do love the States and I've been spending a lot of time in LA this year. I might head there again if this winter is the same in New York as last year. It was seven months of freezing. People were going crazing. You start to lose your mind and genuinely think it won't get warm
ever
again.
What can fans look forward to once they've finished What A Girl wants?
I always saw this as a three-book series. Tess' character is going through a lot of stuff women go through and I want to see her grow up and progress. I loved
Sweet Valley High
when I was younger because you'd follow them through life. The third book is planned for Christmas 2015 BUT, before that, I've got another book coming out! This one is about friendship, and I love writing about that. It's about three friends who have know each other since they were very young and are going through big turning points in their lives. It'll be out in April, so I'd best crack on!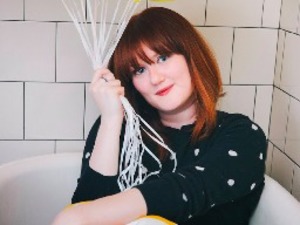 While we had Lindsey, we thought we'd put her on the spot with six quick-fire questions:
My guilty pleasure is...
the TV. I am a massive, massive TV addict. I will lay on the sofa for 12 hours and watch whatever happens to be on!
My worst ever job...
was selling shoes in Next. I did it for two days, then phoned in sick…continually…until I was let go. I had to touch people's feet. I also used to have to hand over a skanky pop sock for people to put on. Ew!
The last time I cried...
was only the other day. I've been such a girl lately! I was at my parents' house and got massively emo about an advert on the telly. I was so tired, so I went upstairs and had a massive cry on the cat.
My worst fashion faux pas is...
I have so many of them! I might even confess to a camel toe and, for some reason, I kept trying to wear high-waisted trousers and couldn't accept the fact I looked awful.
My most embarrassing moment...
was when I pole danced in Las Vegas and someone threw a dollar at me! I was only having a laugh with my friends but someone actually tipped me...an entire dollar! I mean, we were in Vegas, people there have more than a dollar. I was worth at least $10!
My idol…
is the English musician PJ Harvey. She's so awesome because she's managed to have such an amazing career and is still commercially successful.
What A Girl Wants is on sale now and is available from Amazon, iTunes and all good bookshops.