George Ezra is singing about leaving his heart there and it didn't take us long to fall in love with the Hungarian capital either…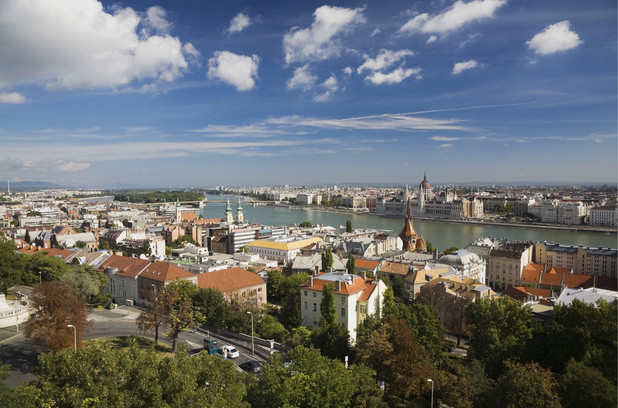 WHERE TO STAY
As you'd expect from a capital city, Budapest is bursting with every kind of accommodation from budget B&Bs to five star style and glamour. And with the exchange rate so strong, you can get a heck of a lot for your good old British pound right now.
So it seemed only right that we spoil ourselves a little, with a very satisfying stay at the four-star
Hotel Palazzo Zichy
. Perfectly located in downtown Budapest – on the livelier Pest side of the River Danube – it's housed in a grand old building that was once home to a Hungarian Count.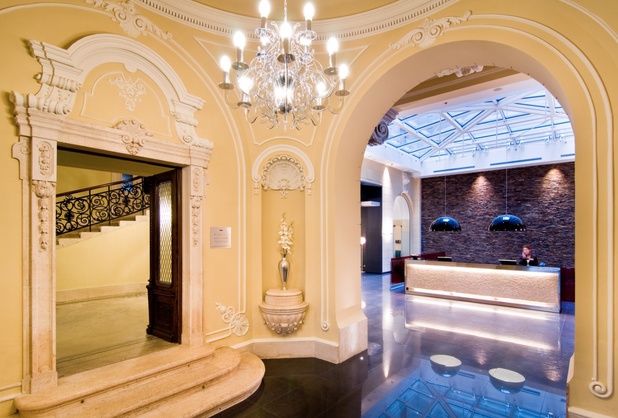 Yet we quickly discovered that this palatial bolthole comes equipped with all the mod-cons we could ask for. The 80 rooms and suites are generous in size, stylishly decorated and come with free wi-fi (A selfie you say? Here's 10!). And after a long day of sightseeing, the monsoon shower provided some very refreshing relief indeed.
But the creature comforts didn't stop there. We were delighted to find breakfast, which is included with every stay, was a big deal at the
Palazzo Zichy
. The cold buffet put our local deli to shame, with a smorgasboard of meats, cheese, fruits and bread, while the hot buffet had all our favourites including eggs three ways. There was a huge selection of juices, teas and coffees and you could even freshly juice your own grapefruits too.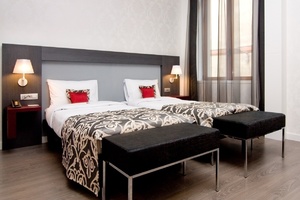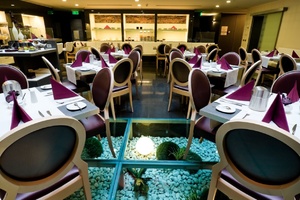 But it's the little touches that make this hotel stand apart. Every day, until 5pm, complimentary tea, coffee, water and nibbles are served in the lounge. Don't mind if we do.
WHERE TO EAT
Meat rules in Hungary so expect big portions of "gulyas" (a thick beef soup), "porkolt" (a goulash with pork or beef and paprika) and "Bécsiszelet" (pork or veal in breadcrumbs) in many restaurants. Other traditional tid-bits include "meggyleves" (cold cherry soup) and "Somloi galuska" (sponge cake with chocolate and whipped cake).
But for a real treat, we headed to
Zeller Bistro
. This small, sleek, family run restaurant has won an army of fans for its service and modern twist on traditional Hungarian dishes.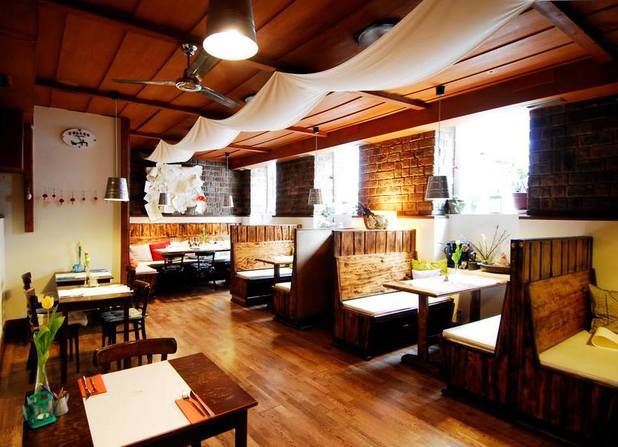 And it's not hard to see why. As soon as we sat down, the manager greeted us with a friendly smile and two glasses of elderflower frizzante. Yum.
As we perused the menu, he explained that he runs the restaurant with his girlfriend but this is a real family affair – much of the food and wine they serve comes from his parents' farm and vineyard near Lake Batalon in the south-west of Hungary.
We sampled a few of the wines (would have been rude not to) and selected one similar to a Sauvignon Blanc that went perfectly with the tasty smoked duck salad and chicken with paprika. Luckily, we had just enough room to polish off a delicious rich chocolate torte with cherries.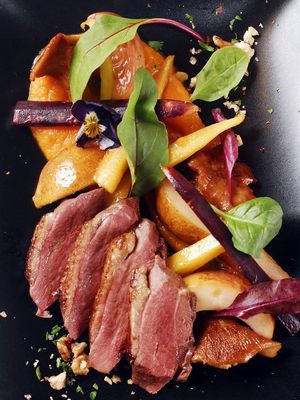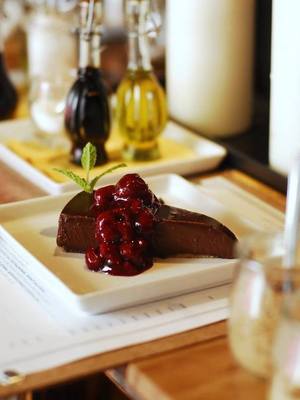 When the £42 bill came, our purses were as content as our stomachs. Incredible value for a memorable meal.
TIP: Leaving money on the table is considered offensive in Hungary, so always hand your waiter (taxi driver, etc) a tip directly.WHAT TO DO
In a city so rich in history, we quickly discovered there is no shortage of things to do. Castle Hill – to the west of the river in the area known as Buda – is home to the Royal Palace and the Hungarian National Gallery. We also explored the Buda Castle Labyrinth (a 1200m-long cave system under the hill), which dates to prehistoric times and is a tad scary if you lose your way!
A real highlight of our trip was a
free walking tour
, which gave us the lowdown on life in the city under strict Communist rule. Our guides, Aron and Agnes, were full of fascinating facts, from employment, healthcare and travel to how Budapesters, without access to phones, voted for their favourite in a TV X Factor-style talent show, and found out the results that same night!
And as it's name suggests, it was totally free. The guides work solely for tips, and they deserve to be tipped very well.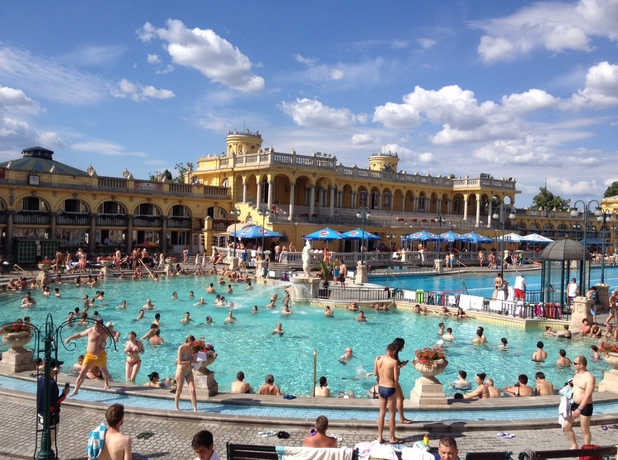 To cool off, we headed to the Széchenyi baths in City Park, one of the city's most famous thermal spring spas. It's a sprawling old building with countless baths, indoors and out, of different temperatures ranging to 38C. For the locals, "taking the waters" is just a part of everyday life. Not surprisingly, we soon fit right in.
If you've got time, the Buda Hills are definitely worth a visit. We took the old cog railway, built in 1874, followed by the Children's railway, which believe it or not is actually entirely staffed by school kids aged 10 to 14 (except the driver, obvs).
The view from Elizabeth Lookout – the highest point – is only beaten by the feeling of whizzing back down over the hills on the open-air chair lift.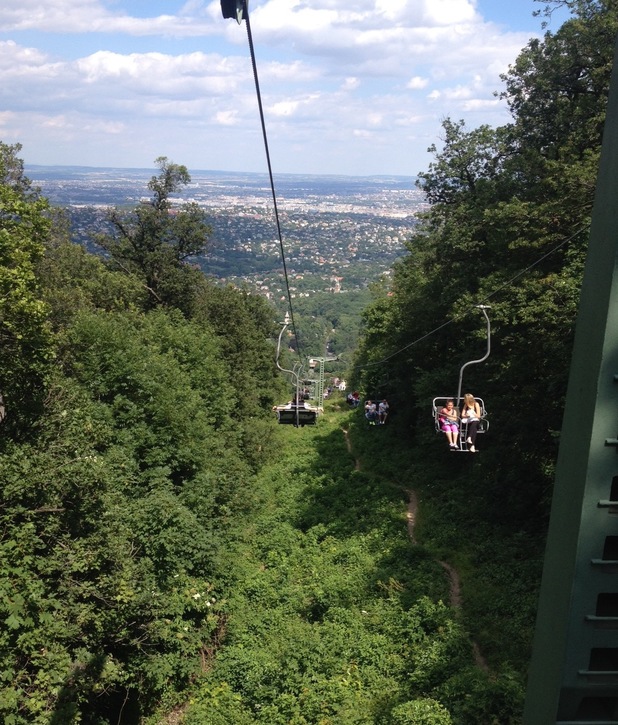 NIGHTLIFE
We were spoilt for choice when it came to finding a watering hole. "Gozsdu Udvar" is a pedestrianized alleyway between Kiraly Street and Dob Street in the Jewish quarter. Teeming with bars and restaurants, it's perfect for hen dos, couples, girls' nights out or just unashamed people watching.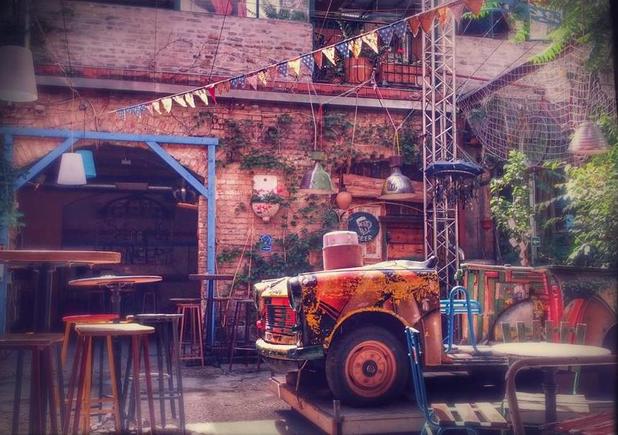 Also in the cool and quirky Jewish quarter, just a 10 minute walk from
Hotel Palazzo Zichy
, we were pointed in the direction of Szimpla Kert. It's one of many – but touted to be the best – ruin bar in the capital. Literally built out of the ruins of old derelict building – this one used to be a school – it's a huge rambling place where half the roof is missing and weird plants and even weirder artwork are everywhere you turn. Totally bonkers and one of the coolest places to knock back a beer (around £1.50 a pint) or three.
Rooms at Hotel Palazzo Zichy begin from £70 (€89) a night for two including breakfast, use of the wellness centre facilities, free WIFI and unlimited refreshments until 5pm every day