Total Divas is a brand new show coming to E! this week and it's bringing with it seven feisty WWE Divas including the likes of self-admitted tomboy Nikki Bella.
For those not so familiar with the wrestling world - Nikki and her sister Brie make up the famous Bella Twins who have been ruling the ring at WWE.
Idolised by fans and Divas alike, the sisters aren't shy when it comes to facing competition and dealing with their tag team rivals, The Funkadactyls. Originally planning to be a football player, Nikki soon followed her sister to the world of wrestling and hasn't looked back since.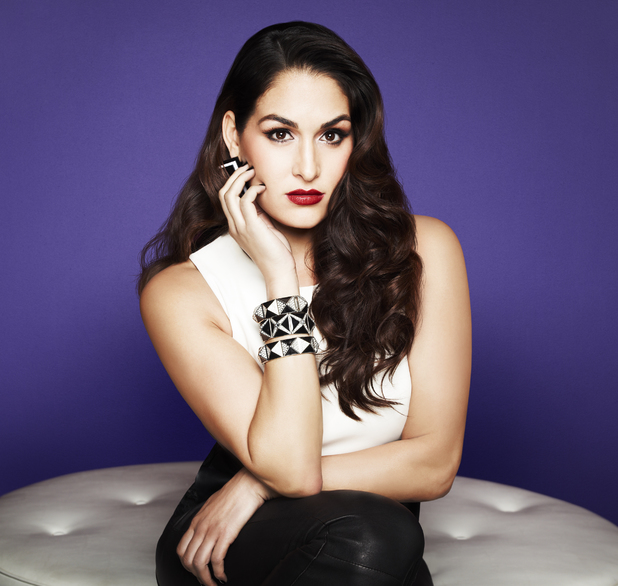 Total Divas
follows the lives of WWE's Divas both in and out of the ring, giving viewers a backstage glimpse into the glamour and trials and tribulations being a Diva brings with it.
As Nikki prepares for the show's UK release on E! this weekend (20 July), the "beyond excited" beauty caught up with
Reveal
to tell us all about being a Diva, how she secretly likes fighting her sister and why she wouldn't rule out a reality show wedding...
Hi Nikki! So Total Divas is hitting the UK, tell us all about the show?
"Total Divas is based on seven divas and you really get to see how tough it is to be a diva in WWE. You get to see how we balance our relationships, our careers and our social life. When I heard that the UK was finally getting the show, I was like AMEN!... People may think it's all glamorous and easy but you get to see it isn't all the time!"
What is it you like about WWE?
"When I'm in the ring – that's my passion. There's nothing better in the world than wrestling and when I'm in that ring the energy I have, the connection with the fans when they're cheering you and booing you and chanting your name, there's nothing like that in the world... If I wasn't with WWE I wouldn't have seen all of the places I've seen. To go there and truly have a fan base, I feel like I'm living like Madonna! They make us feel so cool!"
But you initially wanted to play football didn't you, so what changed your mind?
"I did soccer in high school and I actually snapped my leg in half and they had to put a rod in my leg and three screws. I didn't want to get back on the field. Three years later I went to college and played for a year, I was on a successful team, I had a spot in the women's league here in the US, but then I was like, 'You know what? I'm going to hang up my boots.' Then watching the wrestling I was like, 'Oh my god this is our calling' - you get to kick butt and look hot while doing it! What is better in the world?!"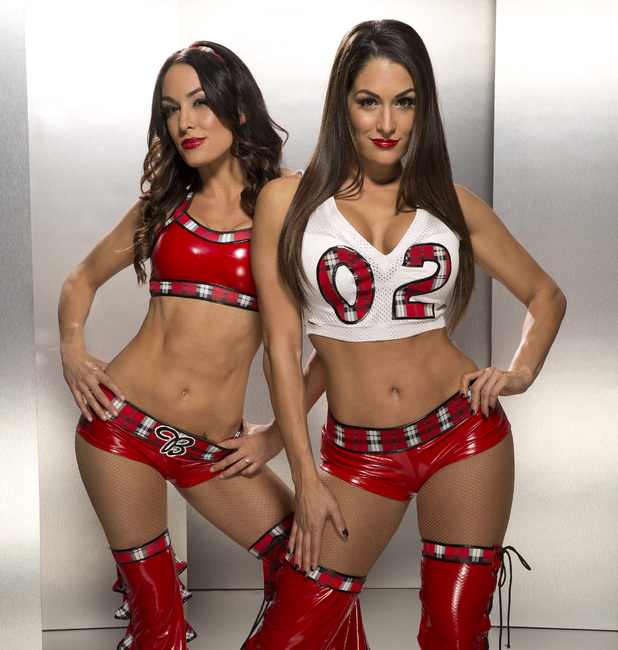 In the show we see you and your sister Brie come back from a year out, why did you decide to take a break?
"Brie and I had been going on the road for five years straight and when our contracts were up we needed to rest our bodies. There was pain in my shin that I wasn't telling the doctors about and I though resting it for 11 months I'd be fine... When I came back and got in the ring I thought it would be ok, unfortunately I didn't know that for two and a half years I was walking on a broken leg!"
Ouch! Do your injuries ever make you consider quitting?
"At first I'll admit when my shin was re-breaking it did make me think, 'Oh my goodness am I ever going to get back in that ring? Is my shin ever going to be ok?' They said if it didn't heal I was going to have to get surgery again. I'm starting to get older, the thought of having surgery again, it does make you think… But the show must go on and it does, it's going to go live every night with or without me. You do think, 'Will I be forgotten? Will I come back? Will I heal right?' What we do to our bodies is tough, but we're professionals and we take care of it."
Your sister joins you in the show. Is there much rivalry between you both?
"No, I think when you grow up with a twin sister you're always used to having another female around and whatever you do, she's doing it as well. She and I fortunately have never had that jealousy or rivalry, we're always used to having each other. When I had an injury it was tough for her. We're the Bella twins, if one leaves it's tough on the other one."
You're a tag team, but have you ever had to fight each other in singles fights?
"We did! It was amazing and what made it even better was that I won…and rightfully so! The fans didn't like it, everyone was like 'oh hell no, twin versus twin!'. I literally had no choice but to hit Brie with the Nikki Rack Attack. This is such a bad, evil twin thing to say but I liked it! I like competing with Brie, she' a really good competitor!"
Have you ever had to fight a guy in the ring?
"We would always get in the ring with the boys and sometimes it would be dangerous... I've broken my nose before! But you also learn so much."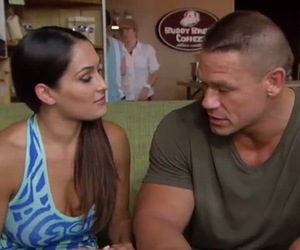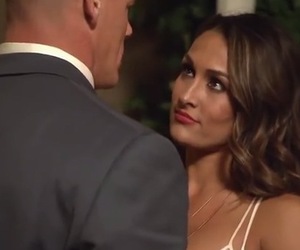 And you're dating John Cena - a big name in WWE - does your boyfriend join you on the show too?
"Yes you get to see him straight from the beginning."
How do you find having your relationship on camera?
"At first it was weird, it was like shall we kiss? Are we allowed to lay in bed? But then you get really comfortable. We didn't know if we wanted to put our relationship out there, John has always kept himself really private and we've always kept our relationship private. But what I like about it is that you see a different side of John than you see in WWE. You see the love we have for each other and you get to see how romantic he is, I don't think people realise! He's this big massive man, but he's actually a teddy bear with a massive heart. He's honestly one of the most amazing men I've ever met in my life… I'm truly the luckiest girl in the world."
Brie gets married on the show. Would you and John consider a reality wedding?
"I'm half and half, a part of me would want to put my wedding on TV to share the love. Our love is so awesome that I think it's cool to share and give people hope that love like this exists! When you see Brie and Bryan's wedding it makes you cry happy tears - when Bryan said his vows he had me and John crying. It was so cool for people to see that, see this amazing love and see how normal and down to earth they are."
What about the other Divas on the show, do you get on with them?
"The Funks (The Bella Sisters' rivals) definitely have issues with Brie and I and rightfully so as they see TV time being taken away from them. Not only that, you have Eva Marie who comes in as the new girl and thinks she runs everything and we're all like 'hang on we've all been here for many years you need to earn our respect' – there's a lot of drama."
It's very glamorous and you and the girls wear very revealing outfits when fighting, what's your secret to being body confident in the ring?
"A lot of tape!!!"
"I wear football jerseys and turn football pants into wrestling pants and let me tell you they can be short, I get they can be a little revealing so I do tape them. But for some reason rocking my socks, my jersey and my backwards hat I feel so comfortable. I'm in my high top Nikes and I'm ready to go. But I'm always conscious if I'm showing anything... I can't let anything hang out!"
Total Divas premieres this Sunday 20th July at 10pm on E!
Reveal is now on Google Plus! Join us here for the latest pictures, fashion and celebrity news!