"Why do we get you to shout when you punch?" our no-nonsense instructor questions, rather like an army general drilling his troops.
To sound manly and tough, and maybe just a little deranged? I think, meekly, feeling more than a little apprehensive at what I've let myself in for.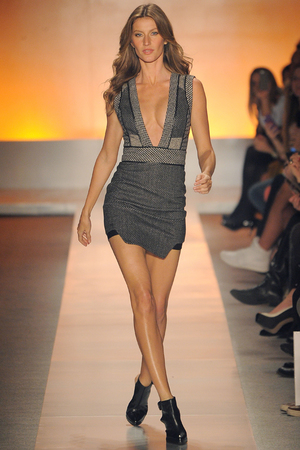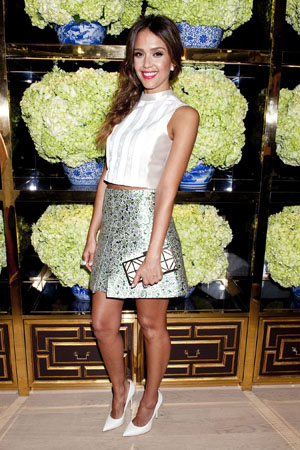 I keep quiet, silently shrugging my shoulders. I've never thrown a proper punch before, let alone had martial arts training, and here I am at a club in Central London quivering as I'm about to be honed into a lean, mean fighting machine... or an uncoordinated out of shape ninja turtle, as the case may be!
"So you don't hold your breath," he replies, prompting me to release a violent gasp of air. Yup, that was exactly what I was doing. I can't concentrate on making the right moves, not missing the pads I'm aiming for and breathe at the same time, surely!
"And so if you're attacked, you can draw attention to yourself," he added. Well, yes, now that makes sense.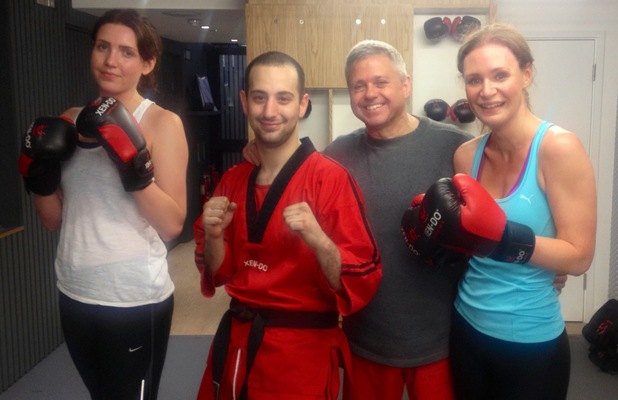 There are thousands of clubs across the UK, and with beauties including model
Gisele Bundchen
and actress Jessica Alba both converts, martial arts are growing in popularity among us girls.
I'm at Xen-Do kickboxing and martial arts school on London's Baker Street - one of four studios across London, which they say 'help you unleash the power of your inner dragon'. Hhm, we'll see.
With the added bonus that I may be lucky enough to spot the odd A-list film star - several of whom train there, some with their kids - I'd been invited for a class.
What had initially been a seven-strong group of girls willing to give it a crack had dwindled to just two of us. Still, at least I had another novice to lend some moral support, right? Wrong! It turns out Reveal's Danni is a black belt! I knew next to nothing about martial arts, but I was pretty sure this meant she was pretty good. Eek.
When it comes to exercise I'm more of a yoga or netball fan and I'd always considered martial arts to be, well, a bit blokey - not really my sort of thing.
Sensing my skepticism, no sooner had we pulled on our boxing gloves and strapped on some very old looking padded sole less booties, than two other girls were invited over to join us.
After a warm up led by another instructor whose flexibility could have given the royal ballet's prima ballerinas a run for their money, we were ready to be taught some moves.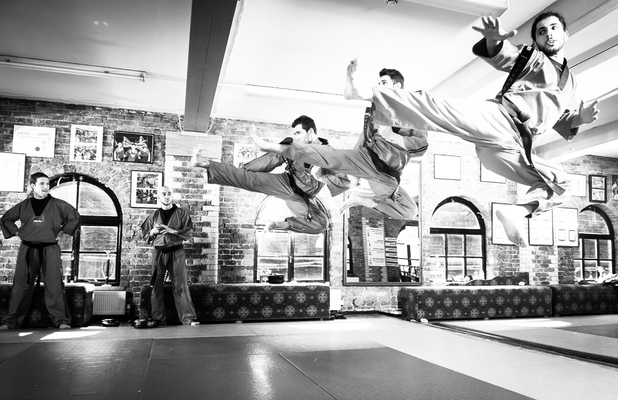 A varied range of punches and kicks were peppered with intricate footwork and I regularly found myself veering off in the wrong direction or, even more embarrassingly, getting my legs tangled up. Imagine trying to grasp the routines in an aerobics class, but instead of an over-enthusiastic Rosemary Conley in hot pink lycra leading the group, Dai Master Raf (or Rafael Nieto as he's known) wearing his red uniform, was barking out the orders.
Alongside the stamina required to keep up with the group, it also took every ounce of brainpower I had to remember each drill and execute it instantly as they were calling out the moves.
And the pain quickly came... in my face of all places. I'd been grinning so much I'd given myself a rather acute case of cheek ache. What I'd lacked in finesse, style and coordination, I'd more than made up for in sheer enthusiasm!
It turns out all that shouting, punching and kicking was hilariously good fun, a great aggression buster and a fabulous core strengthener. Not only was it a great workout, I was learning self-defence skills and engaging my brain in a totally different way.
As for the instructors, they may have been highly disciplined workhorses, but they were also genuinely lovely guys, motivating and encouraging us at every step.
Even Dai Master Raf occasionally allowed a tiny crack in his tough exterior to reveal a hint of a cheeky grin.
What I'd initially seen as a testosterone fuelled form of torture had turned into a fun and friendly unisex workout in a pristinely clean and gleaming studio.
It wasn't just the workout itself that wasn't quite as it had first seemed, Dai Master Raf wasn't either.
An eight times national Martial Arts champion, having competed at the world and European championships, Rafael most certainly garnered the ultimate respect in the studio. Yet his passion and unfaltering work ethic was contagious and, while he may not thank me for giving away his secret, I'm pretty sure underneath the tough shell was a super soft centre.
Want to get rid of the bingo wings? Punching is a great solution. Looking to tone up a wobbly bum? Kickboxing will give you buns of steel in no time. Keen to shrink that spare tyre around your middle? Xen-do is a fabulous core strengthener and muscle toner.
Strength, flexibility, stamina and self-defence are just some of the other benefits.
Besides, if Xen-Do helps me sculpt a figure even vaguely resembling Gisele Bundchen's, then I'm a convert!
Discover more about Xen-do martial arts here