What better way to celebrate American Independence day than with a steak?
Better still, you can perfect your hunk of meat with these handy tips from
Manhattan Grill's
chef, Damien Trejo - who has even cooked for President Barack Obama (yes, really!).
Lucky for us, Damien has kindly shared his steak expertise with us. Follow these simple hints and you'll be left with the best steak ever – you won't be disappointed!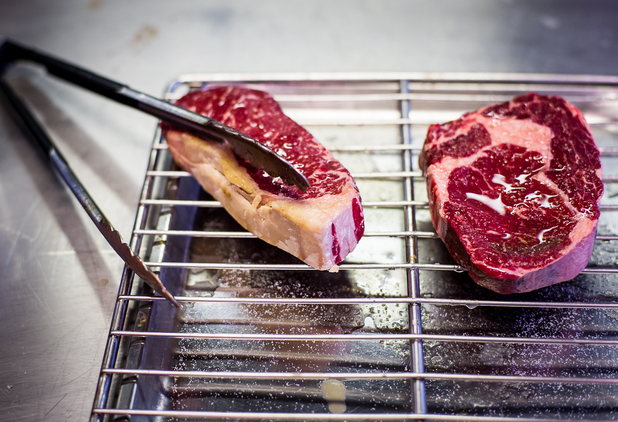 Room temperature is key.
It's absolutely vital that you bring the steak up to room temperature before you cook it. This means leaving it out of the fridge for a good 45 minutes before you start up the flames - it's longer than you think! Do this, and you'll allow the steak to cook evenly.
Salt, salt, salt!
After seasoning a steak, the salt rests on the surface of the meat, waiting to dissolve. At this point, all the steak's juices are still inside the fibres. Within a minute or two the salt will draw liquid from the meat out to the surface.
Turn it regularly, but not too early.
We all know that flipping the meat over is important, so both sides cook. But don't be tempted to flip it too early - wait until seared marks start to appear on the steak, then you know it's time to turn.
Three minutes from grill to plate.
It's tempting to take the steak straight off the heat and put it straight on the plate, but it's important to let it breathe after cooking as well as before. Leave the steak to sit for three minutes before you plate it up - it allows the juices on the surface to sink back into the meat.
Separate your meat.
If you're cooking more than one steak, cook them separately or make sure there's plenty of space between them, otherwise the juices interfere with the cooking process. If they're too close, you'll cause the meat to cook unevenly, or even stew in the juices.
Reveal is now on Google Plus! Join us here for the latest pictures, fashion and celebrity news!
Having a BBQ? Check out our gallery below