Reveal Travel. If you're still planning your summer holiday, why not explore closer to home? Charlotte Kemp discovers what Cornwall camping has to offer...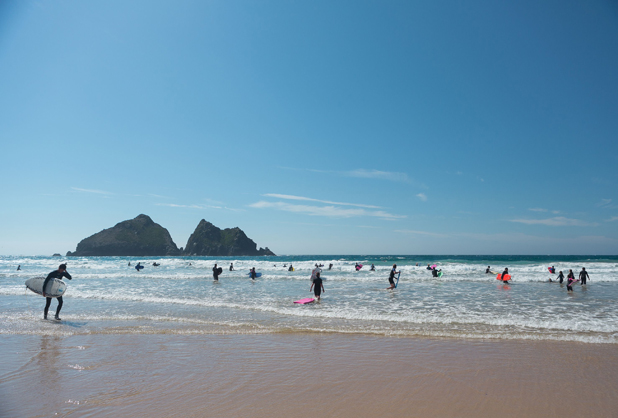 Camping is no fun if you don't have the right kit. We found this out in Cornwall last year in the midst of a rainstorm. Our ageing tent had sprung a leak along the seams and the double airbed had a slow puncture. We woke up the next morning damp and exhausted, vowing "never again".
But what a difference a year can make. For here we are back in Cornwall under canvas again - only this time we're staying in a pre-erected Eurotent at the five star Trevornick Holiday Park near Newquay. (
www.trevornick.com
)
Our new home for the week comes fully equipped and we're not just talking cups and plates – the kitchen and living area has a double gas ring, microwave and fridge freezer. There's a table and chairs too, internal lighting and (to the children's glee) a television.
Inside the four separate bedroom chambers, meanwhile, are comfy camp beds (a double for me, singles for the kids). All we've had to bring is bedding and to top it all, it's baking hot.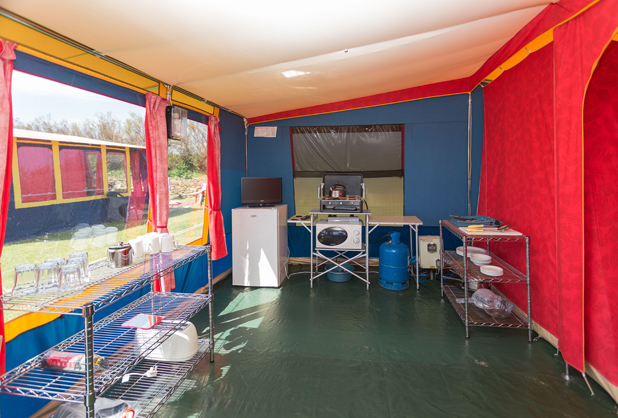 Within minutes of arrival, we've unpacked and head to the outdoor, heated swimming pool where there's also a spa and beauty treatment rooms.
There's plenty else to keep the children occupied from an outdoor playground and nature trail to the soft play area alongside Fodders, the spanking new on-site restaurant serving tasty pub grub.
The on-site shop, meanwhile, has its own bakery as well as groceries and camping essentials. There's fishing and golf on site too and all the facilities, from the shower and bathroom blocks to the laundrette, are immaculately clean.
After dark, once we'd sizzled some sausages on the barbecue, we venture along to The Farm Club where the nightly entertainment begins at 6pm with dancing, singing and games for tots. My youngest, who's four, is in her element.
The following evening, the older two, who are nine and 12, are keen to visit the Holywell Bay Fun Park next door to Trevornick and there are some great rides including go-karting. (
www.holywellbayfunpark.co.uk
)
The nearest beach is the beautiful Holywell Bay, voted best for families last year. Here, you will find rolling dunes, a two mile stretch of glorious sand and a sheltered stream inlet where toddlers can splash about safely.
This is a popular surfing beach too and The Holywell Bay School of Surf, the only building on the beach, offers lessons for all ages. Under the guidance of instructor Lee, who also happens to be the beach's chief life guard, my older two children are standing on their boards within a couple of hours. (
www.holywellbayschoolofsurf.com
)
After two hours in the water, they're glad of refreshments from the retro ice-cream van parked on the beach which sells fresh doughnuts, sandwiches, hot sausage rolls and pasties as well as lollies and cornets.
Newquay, which is a ten minute drive away from Trevornick, has undergone a facelift and is now a great family destination too. After a trip to the Blue Reef aquarium on Towan Beach (
www.bluereefaquarium.co.uk/newquay
) where we saw Black Tip Reef Sharks and a giant Pacific octopus, we dine in style on stone-baked pizzas at Little Italy Pizzeria near Fistral beach (
www.littleitaly-newquay.com
)
At the end of a fun-packed stay at Trevornick, we're reluctant to leave and definitely plan to return.
If you don't want the expense or commitment of buying camping gear, this really is a hassle-free option and it's affordable too. So many of these so-called 'glamping' holidays cost as much as a stay in a luxury holiday cottage, but a stay in one of these Eurotents really won't break the bank.
With only two per pitch, you can enjoy some privacy too - as well as make good use of the extensive facilities on offer at Trevornick. This is definitely the camping for me – it's easy, comfortable, affordable – and you don't have to pack up the tent at the end of your stay. What could be better?
From June 28th - July 25th, a Fri - Mon Mini-Breaks for 3 nights at Trevornick Holiday Park is £159, 4 nights at £213 or a weekly break from Sat to Sat is £372.40. www.trevornick.co.uk