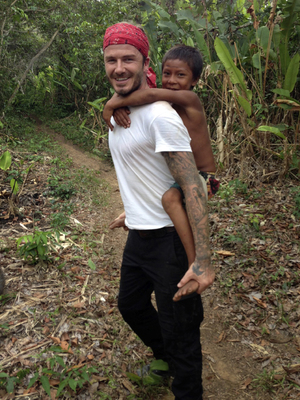 Global superstar Becks is heading on an unforgettable journey through the Amazon rainforest in David Beckham Into The Unknown.
Beckham is off to Brazil on a motorbike, travelling with three of his closest friends – photographer Anthony Mandler, Derek White, an experienced biker who can get them out of a mechanical fix, and Dave Gardner, Becks' best friend since the age of 14.
First stop is Rio, where inevitably, David is stopped by paps and fans immediately. The motorbikes give them a speedy getaway, and with the helmet protecting his identity, they head off. But David can't resist stopping and joining in a foot-volleyball game on Sao Conrado beach, much to the locals delight.
The next day they head to the Amazon and make their way deep inside. Enjoying the freedom he has, and bedding down in hammocks, how will David cope with the basic conditions?
David Beckham Into The Unknown, BBC1, 8.30pmGot an iPad or iPhone? Reveal Mag is specially designed to fit!