Britain's Got Talent hopeful Andrew Derbyshire earned a standing ovation from all four judges after belting out a rendition of Jocelyn Brown's 80s hit 'Somebody Else's Guy'.
Andrew's audition, which aired in Saturday night's show (26 April), was a crowd pleaser but was also a "petrifying" experience, as he was coming face-to-face with Simon Cowell once again following a previous encounter with the music mogul.
After showing off his powerhouse vocals, David Walliams, Alesha Dixon and Amanda Holden rose to their feet instantly, but Simon took a little persuasion.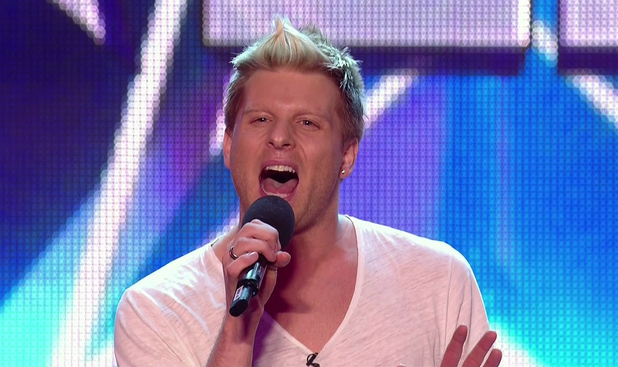 Andrew auditioned for the 2001 series of
Pop Idol
- the show which was eventually won by Will Young - and got as far as the final 50. He also auditioned for
The X Factor
in 2009 and reached the bootcamp stage, so he was keen to avoid another rejection.
We grabbed a quick chat with the 31-year-old today and he told
Reveal
that auditioning in front of Simon is "terrifying" and explained why being called a "male diva" is the biggest compliment ever.
You've auditioned for Pop Idol and The X Factor before. How much have you changed as a person since then?
I did
X Factor
in the same year as Olly Murs, but I wasn't aired. I got through to bootcamp but again, at that time, I probably wasn't really being true to myself. This process on
BGT
has been the most amazing journey and part of that is because I'm being myself. I love talking and my personality is outrageous at times, but at the same time it's refreshing to be able to be me. I was gay and hiding that from my family from Burnley. How that was hidden I do not know, but they kept dignified and quiet about it. I am being myself now and there's no hiding anything. It feels so much more refreshing and I think that comes with age as well. I am 31 and it's pieced together for me now. I know who I am, I've got my lovely boyfriend and my little dog.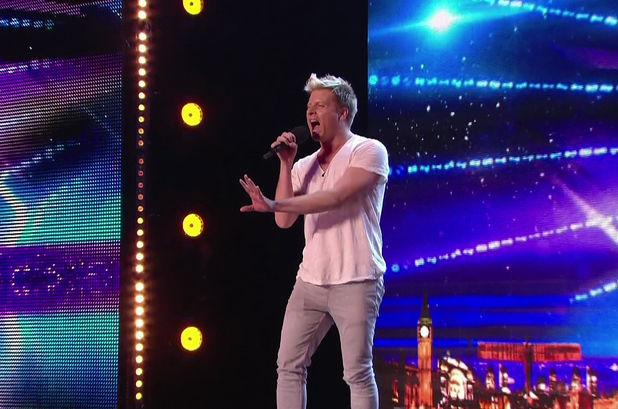 How was it coming face-to-face with Simon again?
I don't believe anybody who says they're not terrified when meeting Simon. It's petrifying. I think what was most terrifying for me, was that I have been rejected twice from him so I was telling myself, 'Why have I put myself through this again - it's beyond belief'.
What made you want to audition this year?
I did some pantomime this year and I had the privilege of meeting the lovely Louie Spence. My boyfriend and my mum, were the ones who really pushed me to do this. They said it would allow me to be myself and show off my personality. They were my fears. One of the main reasons I was petrified is because I didn't know what Simon's reaction was going to be. I didn't even bring anyone with me to the auditions. When I got the reaction that I did, it was the most unbelievable feeling. It felt like all that hard work in 12 years had finally paid off.
Simon said you "came over as quite desperate" and also said you "over-sang it". How did you feel about his feedback?
I always say, if you go on these shows and you can't take on the criticism, then you're on the wrong type of show. I completely agree with what Simon said. I hated the "desperate" word though. That was awful but I probably did come across quite desperate because of my past. I definitely agree with Simon that I did over-sing a little bit. This is a journey and you can't be perfect straight away. Of course I'm going to take on board everything that they've said and make my performance better. I just hope that I get through to the semi finals and it'll give me the chance to show off my vocals even more.
Simon also praised your vocal ability and called you a "male diva". How did that feel?
I was so happy about the "male diva" comment! At first I thought, I hope he doesn't think that I've been causing havoc backstage with the production crew because I've been so lovely! But I love divas. When I was younger, I'd share the same bedroom as my brothers and while they went out to play football, I'd be staring in the mirror looking at myself and singing along to Whitney Houston and Celine Dion! To be called a diva is the biggest compliment you could ever give me. If I get through to the other round I've got to live up to that and give a male diva performance.
Simon was a little reluctant to give you a standing ovation, but with a little persuasion he did...
I kind of made him give me a standing ovation! But my friend said to me the other day that there is absolutely no way that you can make SImon stand up! Simon standing up was like a journey in itself for me. Going back to everything I've been through and the fact that I'm still trying to carve out a career 14 years later, to getting applauded to by Simon was amazing. It was like acceptance from the king of pop or the king of music - you know what what I mean!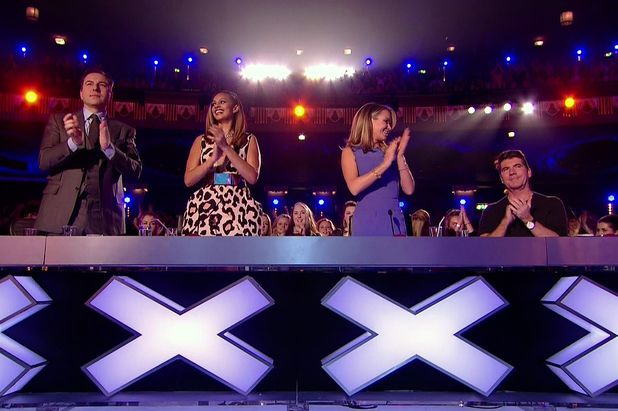 Why did you choose Britain's Got Talent and not a show like The Voice?
It's variety and I love the fact that you're not surrounded by singers all the time. It allows me to show off my talent and you have to be a certain type of person to audition for these shows. It is petrifying. I'm just enjoying the whole process and I'm the biggest
Britain's Got Talent
fan. I love the show!
What has the public support been like since your audition?
It's been amazing. I mean, I already have some amazing support up in Burnley where I'm from. Just reading some comments last night, it's amazing how you can touch people as well. Going back to my sexuality, it's nice to get some tweets from young boys who are finding it difficult to come out, and those who are getting bullied at school. I can really relate to that because I've been through it. To get lovely comments saying that I'm an inspiration has been amazing. Even on my voice too, the feedback has just been lovely. I actually find it quite hard to take compliments but I'm just so grateful for everything that's happening.
Do you think Andrew has what it takes to win BGT? Tell us below, as the best comment from across the website each week wins £50!
Watch Andrew's audition below: