EastEnders, Emmerdale, Hollyoaks: we take a look at tonight's top soap stories…
EastEnders, BBC1, 7.30pm
Denise packs a suitcase and takes off her engagement ring, ready to leave Walford and go to Oxford to join Libby.
She heads to Patrick's, expecting the place to be empty, but is shocked to find he's returned home already. She emotionally tells him what she's planning, expecting him to try and talk her out of it, but he books her a taxi instead. Will Denise really leave Ian in his darkest hour?
Emmerdale, ITV, 7pm
Charity is trying on wedding dresses for her upcoming big day, but is stunned to find Cain in the same shop trying on a wedding suit.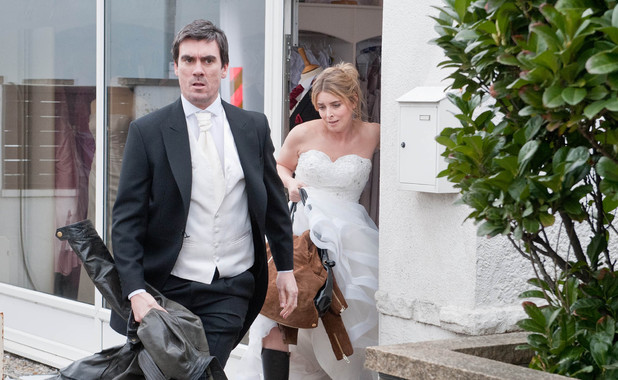 She demands he tell her what's going on, and it soon becomes clear their weddings are booked for the same day. They bicker loudly and, in the heat of the moment, make a run for it from the shop – both still in their wedding outfits!
Later, Charity has a change of heart and says the Dingles should go to Cain's wedding, not hers, and Cain's concerned she doesn't want her family at her nuptials. He tells her she's making a mistake marrying Declan, but will Charity listen?
Hollyoaks, C4, 6.30pm
Finn is jealous when Robbie and Phoebe are asked to do a presentation together and spikes Robbie's drink with GHB to make him look like a fool.
Unfortunately, it's Patrick who drinks the drugged beverage and the effects kick in just as he's due to make a speech at a head teacher's dinner.
Instead of the speech, Patrick finds himself a foam finger, and a-la Miley Cyrus starts twerking on stage! But who will get the blame when the drugs wear off?