Tom Daley continues to make us jealous this week as he arrives in New Zealand on the latest episode of Tom Daley Goes Global.
After trekking through Thailand and Japan, the Olympic diver, 19, and best friend Sophie Lee are heading to New Zealand in tonight's third episode of the ITV2 show.
J.e.a.l.o.u.s. Particularly as we've just been swooning over how gorgeous New Zealand looks in all the pictures of Prince William and Kate on tour...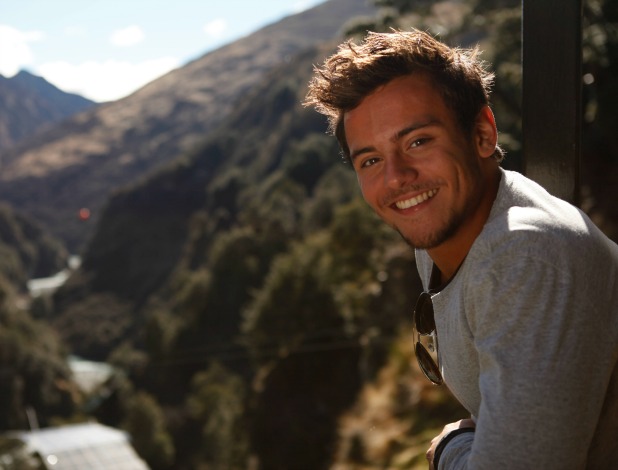 After the sunshine of Thai beaches and hot weather in Japan, it's a very different story for Tom and Sophie in New Zealand, where it's winter and cold.
We'll see them taking a road trip through the South Island to find the world's highest cliff jump. Yikes. They'll also take a trip to a glacier and, intriguingly, we're told they'll have a "run in with the long arm of the New Zealand law." Oh dear.
Rather than fancy hotels on their authentic backpacking trip, the bessies have been staying in beach huts, tree houses and teeny tiny Japanese hostel rooms so far. Tonight, they'll try something different again, renting a motorhome. Why do we predict something is going to go wrong?!
Tom said on last week's episode that the six-week backpacking experience had helped him feel like a normal teenager, particularly as the countries he visited weren't always familiar with who he is. (Their loss.)
"I do feel like being on my travels I've been a lot more anonymous, being able to go around and not be asked for photos anywhere near as much as I am in the UK. There are occasions where you just want to be normal, have a week where you can walk around the shops, go out in tracksuit bottoms and a hoodie, go out and chill, whatever. But you constantly get judged for everything you do. It can be annoying but it comes with it and I've kind of got used to it now."
While Tom is enjoying being "normal" on his backpacking adventures, one less than normal aspect of his travels is the fact he's doing an extreme challenge in every country he visits in order to raise awareness for Brain Tumour Charity. Tom lost his father Rob to cancer in 2011 and has been an active fundraiser and supporter of the cause.
Tom said: "The Brain Tumour Charity gave my family a huge amount of support throughout my Dad's illness. As a patron of the charity these challenges seemed like a great opportunity to help raise some money for this incredibly worthwhile cause."
While in New Zealand, the teenager will attempt a 357-foot canyon swing and try to set a new somersault record. Gulp.
More photos from Tom and Sophie's visit to New Zealand below:
Copyright: ITV/TwoFour Production