Britain's Got Talent is coming back with a bang this weekend as the search to find the UK's next biggest star continues - but who will be crowned the winner of this year's eighth series?Reveal
caught up with some of the hopefuls backstage at the London auditions in February, where they had to perform in front of judges
Simon Cowell
, Alesha Dixon, David Walliams and Amanda Holden.
Meet circus act Wookey Hole Turbo Jets...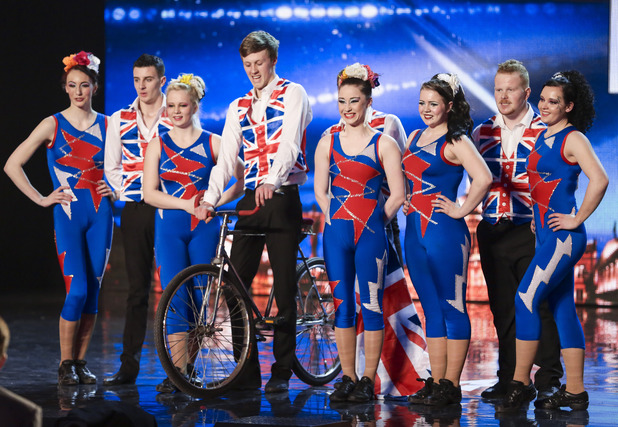 Name:
Ellen, speaking on behalf of Wookey Hole Turbo Jets
Age:
21
Tell us a bit about yourself?
We're from Somerset and we all went to school together. We trained at a circus school for seven years and now here we all are. With the troop here today, we're between the ages of 17-24 but in the actual troop, we have my little sister, who is three, and my cousin who is nine.
What is your daily training schedule like?
Well we go on tour for 10 months and then we have two weeks off. We then do three weeks over Christmas, have three weeks off and then we tour again. It's our life really.
Is this your first time on Britain's Got Talent?
Yes, it's the first time we've ever auditioned for the show. Coming on
BGT
will be good publicity for us.
How did you get into the circus?
My granddad is well-known circus owner Gerry Cottle, so my family have done circus all their life. He brought a place in Somerset called Wookey Hole, which is a tourist attraction and he opened a circus school with my dad there. We opened up about eight years ago and have been trained by my mum, dad, my dad's partner and some of my aunties and uncles. My granddad then decided to start a professional show again and it's given us a chance to do something that they've done all their lives. My granddad is so proud of us.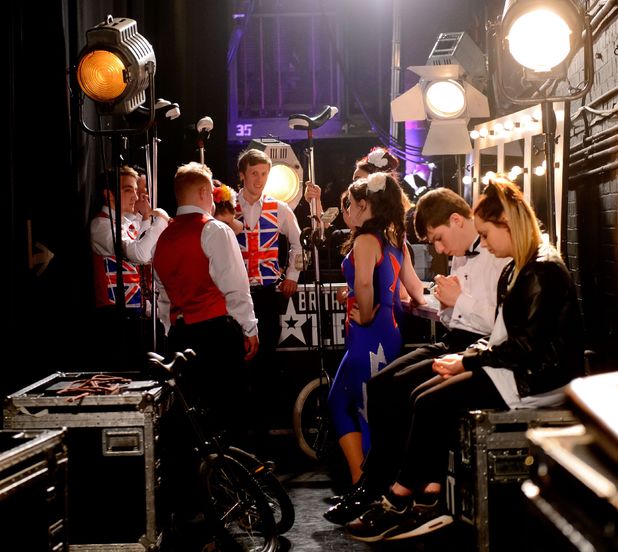 What do you love about your job?
Being in a circus is not easy. You don't just put on make-up and dance around. It's not just our job, it's our lifestyle. Most people have day-to-day jobs but we work where we live. It's like one big family. My mum's in charge of the troop, my dad's our coach and my granddad's our boss but even though they're my family, they're everyone's family. My mum looks after us all. It's a completely different way of life. It's not a normal life. We live in caravans but I love everything about it.
What judge are you most worried about?
We know Simon Cowell is not very keen on circus acts, but this is not a typical traditional circus. It's quite fun and there's a big British theme. All we can do is give it our best shot and hope he likes it really. As long as we keep smiling then I'm sure he's got to enjoy some of it!
Do you think an act like yours can win the show?
We are already up and running, but with circus in England, the business is never good. We're hoping it's going to open people's eyes up. Nowadays, there's never circus acts in the Royal Variety Performance, but there used to be a time when all it featured was the circus. We want to show that it's still possible to do what they used to do. It's important to keep the tradition alive.
So how are you hoping to impress the judges?
We do bikes, rollerskating, hoop acts and motorbikes on high wire. We've been doing this routine for quite a while but we've put some new things in. I'm the top flyer, so I'm on top of everything.
Will Wookey Hole Turbo Jets do enough to go through to the next round? Find out when
Britain's Got Talent
returns to our screens this weekend. Ant and Dec will host the main show, while Stephen Mulhern will present the ITV2 spin-off series,
Britain's Got More Talent.
Britain's Got Talent returns on Saturday 12 April at 7.15pm on ITV1.
Got an iPad or iPhone? Reveal Mag has been especially designed to fit!