Reveal Travel
Let's face it, most of us have wanted to go to Florida at some stage in our lives. As kids we wanted to visit Disney World and play at the water parks, as adults we just want a chilled out, sun-soaked holiday somewhere very far away from work and daily life.
With home-grown stars like Simon Cowell,
TOWIE
couple Jessica Wright and Ricky Rayment, Lucy Mecklenburgh and Kelly Brook taking trips to Florida in the past year, and Hollywood starlets like Kim, Paris and Lindsay dropping in all the time, we reckon it must be the most star-studded state in the US after California.
Sun, fun and celebrity-endorsed? Sounds perfect to us!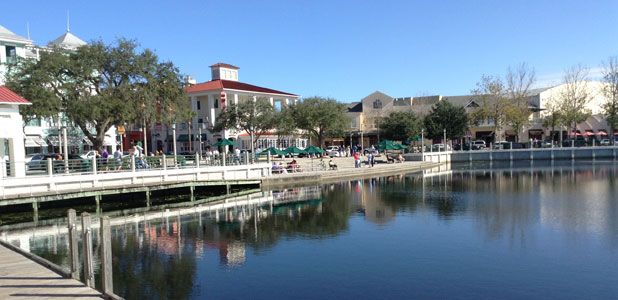 Where to visit:
While we've always wanted to try a bit of partying in Miami, on this trip we fulfilled our childhood dream of visiting Disney with a stay in Orlando. However, while we definitely wanted the Mickey Mouse experience on our travels, we were really looking for somewhere laid-back and grown up; somewhere we could absolutely unwind from work, have fun and de-stress, but also still get a bit of the ol' Disney magic. Basically an Orlando for adults.
The answer? The fantastically-named Celebration, just a few minutes drive from downtown Orlando and the theme parks - but an eternity away in terms of atmosphere. If you've always wanted to experience a picture perfect American town, with neat houses, spotless streets, friendly people and American flags gently waving in the wind, then this is the place for you.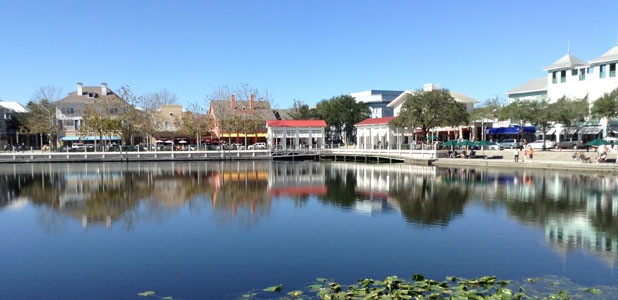 Turning into Celebration and leaving the hustle, bustle and flashing lights of downtown, you're immediately transported into what feels like a different world. It's calm, relaxing and completely tranquil – you'd never guess that the Disney World parks are just a short drive away. Interestingly, the tiny town has a strong Disney connection. It was originally devised as a master-planned utopian community by The Walt Disney Company to house Disney employees and you can definitely still see the Disney influence in some of the areas. It's all just so perfect looking we almost felt like we were walking through a TV or movie set.
Where to stay:
We checked into the Bohemian Hotel Celebration, an imposing stately Southern-style hotel. It's situated next to a beautifully tranquil lake right in the heart of Celebration and aims to balance the elegance of Old Florida with contemporary luxury. If you're after somewhere oozing a relaxed vibe, then this is the place for you.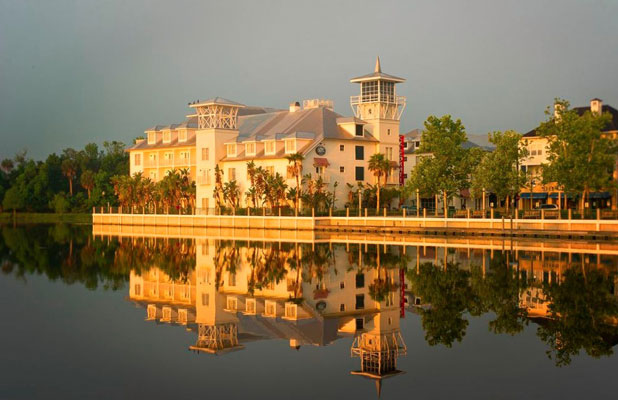 There are 115 guest rooms and suites available, ranging from a Standard Town House to a One Bedroom Suite but they all share the same inviting Old Florida style. All have been recently renovated as well, so it's very spic and span, with custom artwork on the walls and elegant wooden furniture.
Our room had a balcony overlooking the lake, which was pretty perfect for curling up at night after a busy day and just watching the world go by. It also had a huge bathroom with a deep bath, enormous mirror and big magnifying mirror - great for us ladies before a night out!
As we didn't know the area, we were quite reliant on the hotel reception staff to help – and help they did, spending plenty of time with us answering questions on how to get places, where to go, even which Disney park was the best. There is a full valet service outside as well, which will call you cabs and make sure you get where you need to be.
One thing we would advise is looking into renting a car. Celebration is fantastic if you want to stay around the hotel and enjoy the local amenities and chilled out life, but if you want to visit anywhere else (i.e. theme parks, shopping malls, even a CVS store) then you'll need a taxi as there's no public transport. Taxis are, however, easily accessible.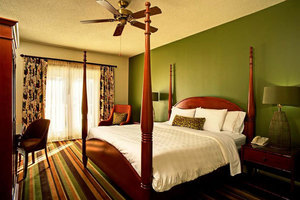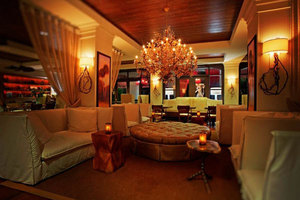 What to do.
Okay, we're in the Orlando area, really there is only one thing that was a definite on our wishlist – DISNEY! We weren't there for too long so couldn't afford the luxury of visiting a park a day. And we couldn't choose between the four parks: Magic Kingdom, Epcot, Animal Kingdom and Hollywood Studios. The solution? A
one-day park hopper ticket
allowing access to all four on one day and transport between them. At $94 + tax it's not cheap, but we spent a good twelve hours at the parks and really did have a day to remember.
We took a taxi from the hotel to Animal Kingdom (around $16) and then it's easy to get between the parks using the complimentary transport - including boats! - and everything is well signposted. As we were attempting to do everything in one day, planning was crucial. We'd highly recommend you download the free
My Disney Experience Mobile App
. Not only does it have full maps of the parks, it also shows you the waiting times at every single ride in real time. We can't stress enough how useful this is!
We planned the rides we wanted to visit the night before and (geekily?) made a little diagram once we'd arrived at each park, listing the order of rides and attractions we wanted to visit. Yep, we were pretty knackered at the end but it was
so
worth it.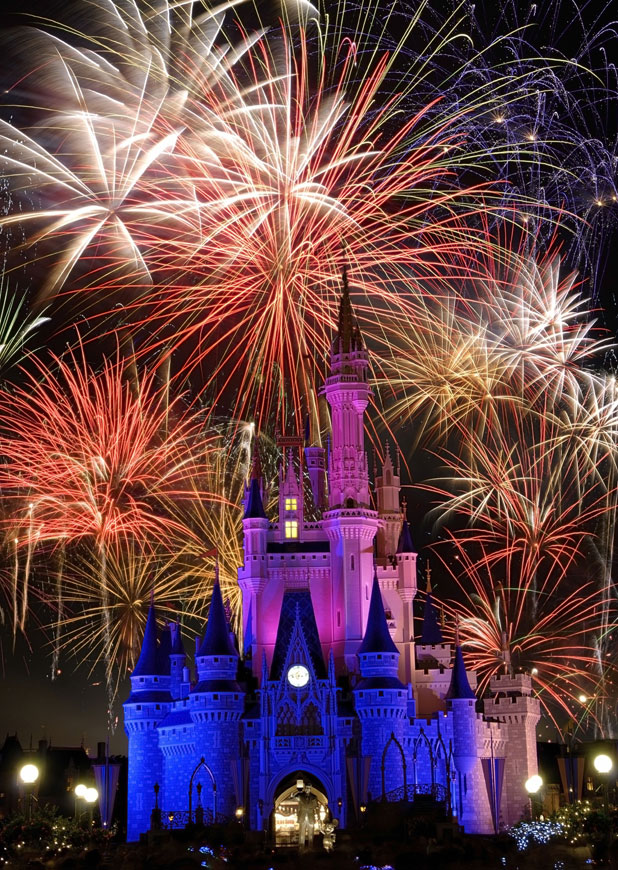 There are a zillion rides and attractions across Disney (hence the need to pre-plan) but our top recommendations are the Test Track (Epcot), where you create your own virtual concept car then take it for a spin, and Mission: SPACE (Epcot), which is a space simulator ride. If you've seen
Gravity
you'll know what to expect in space... lots of shaking and tumbling. Warning: do not do this ride if you've just eaten! There's a reason they provide a sick bag inside it. We also couldn't get enough of the Expedition Everest rollercoaster (Animal Kingdom) where you actually drop backwards. Prepare to scream!
(And here's a tip: if you're travelling solo you can benefit from Single Rider lines at certain rides in Disney. Basically, it means you can jump the queue where allowed to fill up the spare seating on the ride.)
Orlando is really a theme park lover's dream. We were Disney-focused on our short journey but there are a multitude of other options, perhaps most notably
Universal Orlando Resort
, which is the home of The Wizarding World of Harry Potter and Wet 'n' Wild. The
Kennedy Space Centre
is also a must-see, around an hour's drive from Orlando. This is where having a car comes in handy.
Helpfully, there were details in our room on every theme park nearby and the staff were more than willing to arrange cabs or provide directions.
After our thrill-seeking theme park day, we fancied a quieter experience so we popped into The Grand Bohemian Gallery (located within the hotel). It features more than 75 pieces of art by a mixture of local, regional and international artists.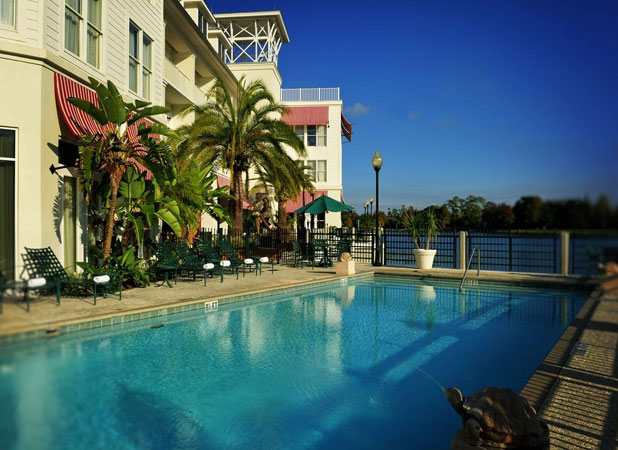 Then, in the mood for pampering, (and who isn't when they're on hols?), we headed for the nearby
Celebration Health Fitness & Day Spa
, which is a short complimentary shuttle ride from the hotel. We'll admit though, we were slightly thrown at first by the fact it's located within a hospital (the most elegant looking hospital we've ever seen, in fact).
Waiting for your appointment in what is basically a ladies' changing room isn't the most glamorous of experiences but you are able to use the steam and sauna rooms while you're waiting, which is a plus.
Back at the hotel, you can relax in the swimming pool out on the sunny terrace overlooking the lake. There's a jogging trail around the lake too, if you fancy being active. You can also rent bicycles or segways. See if you can find the sign proclaiming: 'It's a violation of Florida law to feed or harass alligators.' Trust us, you'll keep thinking you're seeing things in the water. (We didn't, though! Don't worry!) There's also a gym at the hotel and plush golf course nearby for activity lovers. Again, complimentary transport is provided.
If you're in the area on Sunday morning, we'd recommend visiting the farmers' market in the centre of Celebration, selling fresh produce, local arts and crafts and other treats like freshly-ground coffee and (incredible) flavoured lemonades. Try the strawberry one; it's the perfect cool treat for a warm morning.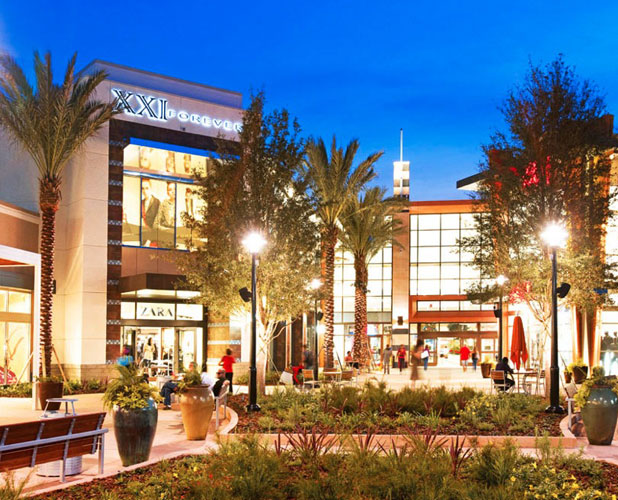 Of course, one of the best things about any holiday is the shopping. Trying not to think about our holiday spending budget or the whole excess luggage at the airport problem, we enjoyed half a day at the
Florida Mall
. It's a bit of a drive away from the hotel but worth it for the sheer range of shops from Victoria's Secret to Saks Fifth Avenue, Sears, J.C. Penney and (our favourite) beauty emporium Sephora. There are a whopping 260 shops and six department stores inside, not to mention a slew of food and drink outlets.
Another option is
Mall at Millenia
, which has more than 150 stores including Bloomingdale's, Neiman Marcus, Louis Vuitton and Tiffany. (We can dream!) The
Orlando Premium Outlets
are also nearby, boasting a collection of designer and branded outlet stores including Burberry, Nike, Prada, Armani, Elizabeth Arden and Barneys New York.
What to eat and drink:
This is Florida – there is no shortage of fantastic restaurants and bars to choose from!
We chose to stay local in Celebration most nights, partly because it does require a taxi to visit anywhere else and partly because we wanted a relaxing, low-key holiday and, really, that's exactly what the town provides.
If you want to stay super, super close to home, the
Bohemian Bar and Grill
is your answer. It offers a gourmet American menu filled with a wide range dishes - we recommend the chicken linguini – grilled chicken, tomatoes, shallots and parmesan cheese. Yum! It's like posh comfort food.
For drinks lovers, there is an extensive cocktail list and happy hour. Their signature is the Kessler Margarita but our favourite was the devine Summer Harvest (American Harvest Vodka, Crème de Cassis, lemon juice, strawberry puree and soda). You might also try one of the Kessler Collection wines. Kessler, which owns the Bohemian Hotel, has a partnership with Raymond Vineyards, creating a co-branded portfolio of house wines.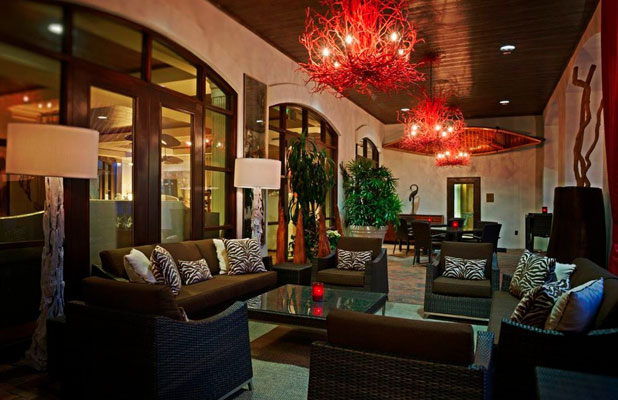 Sit inside at the bar and lounge area or head outdoors to the patio beside the lake. During the day it's a good place to sip a chilled drink in the sunshine while getting engrossed in a good book. At night-time it's transformed into a hip, cool bar area that kind of reminded us of being by the beach.
The restaurant also provides a picnic basket service where you can order a range of pre-packed hampers to take away with you whether you're at the pool, park or further afield.
If you don't mind a small walk before dinner – and we mean small as everything in Celebration can be reached in just a few minutes from the hotel - then head over to the
Celebration Town Tavern
and Boston Garden, a restaurant specialising in New England-style food. For social butterflies, the outdoors section has a lively, vibrant atmosphere (we were here on a Friday night and it was buzzing!), while the indoors bit is slightly quieter and more laid-back.
For such a small place, Celebration really does have a multitude of dining options. Want Italian? Try
Cafe D'Antonio Ristorante
. Cuban or Spanish? There's
Columbia Restaurant
, where you can enjoy tapas while overlooking the lake. Another option is
Imperium Food & Wine
for a spot of Sunday Brunch. Anywhere that has Belgian waffles with whipped cream and strawberries on the menu gets a thumbs up from us! Also grab yourself a little something from the
Sweet Escape Bakery & Deli
, which describes itself as a European-style deli serving food in a Victorian environment. Frozen fruit smoothies? Don't mind if we do!
For an authentic American dining experience, we recommend the
Market Street Café
, not least because the staff are incredibly friendly and remembered us (and our drinks order!) each time we went in. Spend a morning sipping coffee and enjoying the biggest pancakes we've ever seen while staring out at the lake at this upscale diner.
How to get there.
We flew American Airlines from London Heathrow (via New York). At Orlando International Airport, we booked a return taxi from the airport to the hotel via
Mears Transportation
, approx. $36. Local area taxis are available to book from the hotel desk.
The Bohemian Hotel Celebration is an Autograph Collection Property. Click here for rooms, rates and availability