Katy Perry! Beyonce! One Direction! The Brit Awards 2014 have come and gone with an array of sparkling performances, superstar guests and, of course, newly-crowned award winners. So, what happened? Who took home gongs? Here's our recap of the night's highlights!
(Scroll down for full winner list)
James Corden
was on fire as he opened the Brit Awards 2014. Literally. The returning host bounced up to the stage with a sleeve on his suit flaming. Yikes. But before you worry health & safety regulations at London's O2 had taken a nosedive, it was just a little gag following the Arctic Monkeys' opening performance which ended with mammoth letters 'A' and 'M' engulfed in flames on the stage.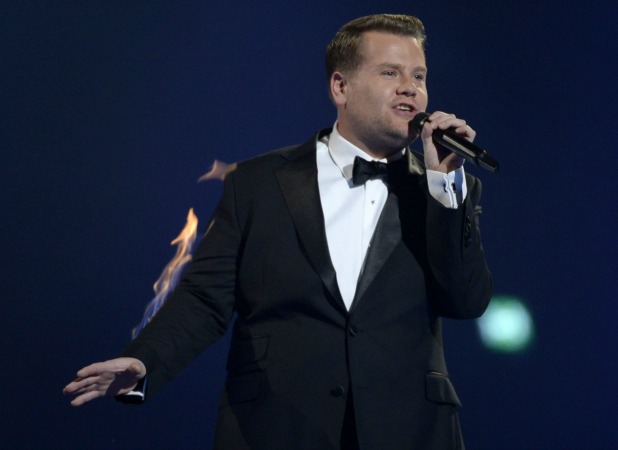 The Monkeys opened the show in style – and prompted a lively debate on the Reveal Twitter feed about whether Alex Turner is hot or not. The overwhelming consensus was yes, he is indeed! And he has very good hair.
The first award of the night was handed out by Prince. Yes, PRINCE! Are we the only ones who spotted Nicole Scherzinger going crazy from the audience?! We take it she's a fan! The gong for 'Best British Female' went to a stunned looking Ellie Goulding. "I'm shaking!" she told the audience, while paying tribute to the team around her.
Ellie might have been shocked but we weren't – 'Burn' has barely been off the radio since it was released! We also spied a happy looking Jessie J applauding for her. Love a bit of girly support.
Speaking of our favourite females, the second performance of the night was Katy Perry, who skipped walking the red carpet, probably because she was busy getting into her neon Egyptian-themed costume or hanging out with her hot male dancers.
Katy performed 'Dark Horse'. After getting a bit of criticism following her live performance on
The X Factor
finale at the end of last year, did she win over her critics this time around? She certainly got a mammoth cheer from the audience!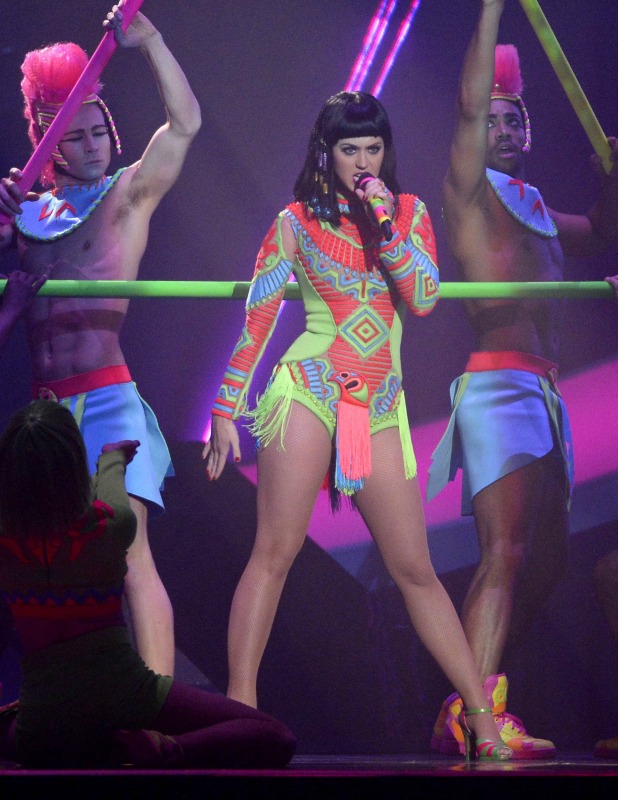 Continuing the themes of favourite females, the lovely Kylie Minogue was out next, looking pretty chuffed to be presenting 'Best International Male' alongside Pharrell Williams. (We don't blame her, though!) Fun fact: Pharrell's hat walked the red carpet by itself tonight. Well, it was carried up the carpet on a plush red cushion.
Bruno Mars was the lucky winner of the 'International Male' gong, which meant we got a little dance routine en route to the stage. He also brought about a dozen pals up with him. Bruno graciously paid tribute to his fellow nominees Drake, Eminem, John Grant and Justin Timberlake before heading off to prepare for his upcoming performance.
On to another award, this time for 'Best British Breakthrough'. Naughty James Corden pointed out previous winners had included Blue, A1 and Arctic Monkeys, pondering whether the winner would go on to worldwide success or Big Reunion. Ouch.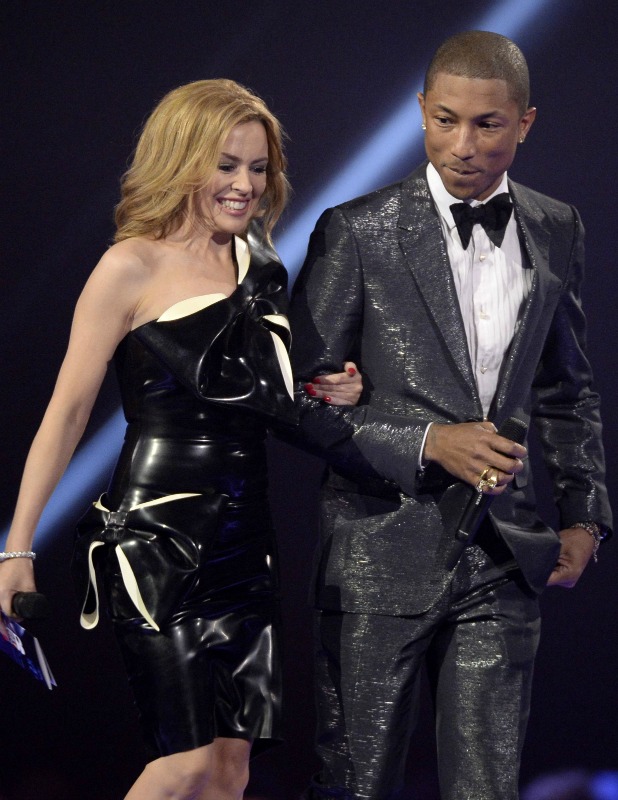 Fearne Cotton, looking sizzling in silver, and Tinie Tempah presented the gong to Bastille, who also won our award for 'Best Hair of the Night.' What a year they've had!
Earplugs were required for the next segment as James Corden grabbed a chat with the members of One Direction, who were surrounded by empty glasses. Used or not? Hmm..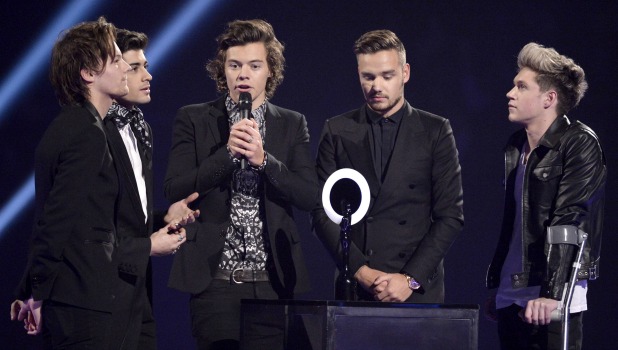 "It's the first time we've seen each other in about three months," said Liam, but James was more interested in asking about their pal Justin Bieber than what they'd been up to. Who visited him in jail? Who has advice for him? "Keep strong and keep doing what you're doing," replied Louis.
"Just keep doing what he's doing? That's the worst advice ever!" replied James. Awkward moment, we think.
Bruno Mars was up next to perform 'Treasure' and we think it's fair to say James Corden is a fan. A big fan. "He's the finest treasure performing anywhere in the world right now," he proclaimed, before shouting "I love you" after Bruno had finished. We do love a good Bruno Mars performance. He always looks like he's having so much fun, doesn't he?!
Also loving his more casual style tonight.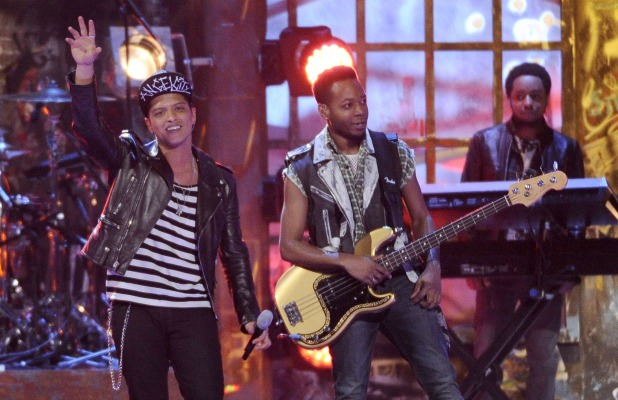 Lily Allen, sporting a faux, yellow ponytail followed him on stage to present 'Best British Group'. With Disclosure, Rudimental, One Direction, Arctic Monkeys and Bastille in the running, it was a tough call. The gong went to Arctic Monkeys, which meant more Alex Turner and one of the night's funniest speeches.
"Well, that's the fifteen quid we put on One Direction to win down the drain," he said, before adding: "A lot of people deserve thanks for this but they need to hear their names read out as much as you need to hear another list of people you don't know."
Ha!
The Critics' Choice Award was next, and with previous winners including Adele, Jessie J and Florence + The Machine, it's fair to say the winner is destined for big things. We already knew Sam Smith was the winner but bizarrely he didn't get a chance to make a speech, unless we missed that?! What?! If we'd won we'd at least like to thank our mum and dad on TV!
Next out was the "stunningly beautiful Rosie Huntington-Whiteley", as she was introduced by James Corden (and we wouldn't disagree!) The British model was there to present the 'Global Success Award' to, yep, you guessed it, One Direction! We got a quick recap of their insane statistics since appearing on
X Factor
- where, if you remember, they didn't even win!! Rosie also managed to make us even more envious of her by slipping in she's worked with 1D on a mag shoot in the past.
There was just one problem… WHERE WAS HARRY STYLES?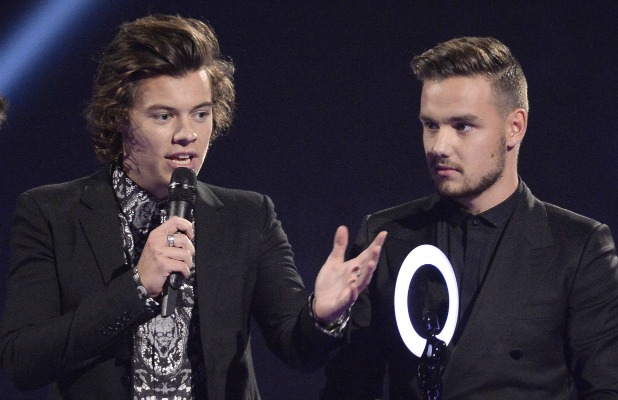 Louis Tomlinson, Liam Payne, Niall Horan (on crutches after his knee surgery) and Zayn Malik took to the stage to accept the gong sans their (arguably) most famous member. "Has anyone seen the curly lad?!" shouted Liam. Oh dear… But just as Liam began thanking the fans, team etc. we saw Harry racing up to the podium.
"I'm really sorry," he apologised. "I was having a wee. The toilets are ages away." Lowering his voice, he whispered to the other guys: "What did we win?"
Oh, Harry, we do love you.
Naughty James Corden struck again, however, quipping: "Having a wee? Yeah right. He couldn't even wait until the end of the show…"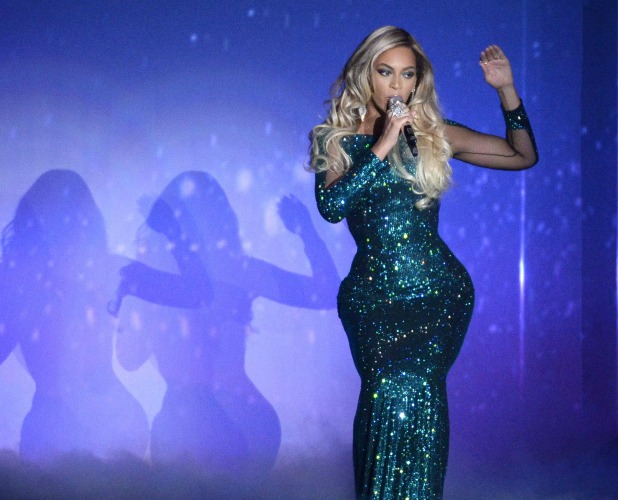 And with that thought in our heads, it was on to the hugely anticipated performance by Beyonce. Instead of her huge smash hit 'Drunk In Love', she treated the audience to the track 'XO' – which was special as it was her first live performance of the album song ever.
Queen Bey looked as a-mazing as always in a sparkling emerald green dress, flawless make-up and long blonde extensions: none of the raunchiness of her Jay Z collaboration at the Grammys here! Bey was fabulous, getting the whole O2 singing along with her, but we can't help wishing she'd just given us even a few bars of 'Drunk In Love'!
The uber glam Katy Perry was the next presenter on stage, after swapping out of her Egyptian threads. She tried out her best British accent (soz, Katy, we love you, but we think it needs more work...) before plugging her upcoming 'Prismatic World Tour' and then announcing Rudimental's 'Waiting All Night' as the 'Best British Song'.
Another performance, this time from Disclosure and Lorde. Loved it. New Zealand-born teenager Lorde has had one incredible year, hasn't she?!
Random presenting duo alert: Gorgeous Nicole Scherzinger was the next presenter alongside Barcelona footballer Cesc Fabregas, who kicked off by apologising for Barca beating Manchester City in their Champions League game the night before. "I come in peace," he joked. Too soon for City fans?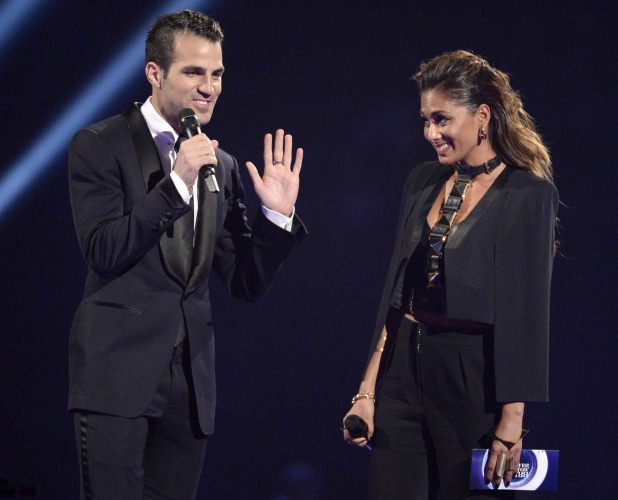 They presented 'Best International Group' to Daft Punk (aka the reclusive robots), who sadly weren't there so the legendary Nile Rodgers accepted on their behalf.
James Corden and Kylie Minogue treated us to a bit of flirting next, where we ascertained Kylie is single. "A couple of the One Direction guys are single," James noted. "But I think you might still be a bit young for Harry." Are we all getting tired of that joke now?
After a mash-up performance of 'I Need Your Love' and 'Burn' by Ellie Goulding, Noel Gallagher was our next star presenter, handing out the prize for 'Best British Male'. It went to David Bowie, "somewhat predictably", according to Noel. While the audience waited excitedly for David to appear, a smirking Noel said: "You maniacs didn't think David Bowie would actually be here?" He's too cool for that. He doesn't do this s**t!"
Randomly, supermodel Kate Moss instead accepted on David's behalf, reading a thank you note that ended by encouraging Scotland to "stay with us." Kate Moss and politics at the Brits. Who'd have guessed?!
Meanwhile, Lorde's amazing year was just about to get even better as she nabbed the honour of 'Best International Female', beating competition from the likes of Katy Perry and Lady Gaga. Not bad for a 17-year-old!
PHARRELL's HAT! In a random moment, while James was making small talk with Pharrell and Nile Rodgers in the crowd, Keith Lemon popped up wearing Pharrell's headgear. We didn't really understand. Presuming Pharrell isn't familiar with Keith and
Celebrity Juice
, we can't help wondering what he made of it all?!
Jimmy Carr presented the 'British Video Award', as voted for by Twitter users. Was anyone surprised 1D picked it up for 'Best Song Ever'? Harry made it to the stage on time for this award, by the way. We also love Liam a little bit even more now. "I've had a few drinks," he declared, before randomly telling Jimmy he's a big fan.
Basitimental was the next big performance – or Rudimental and Bastille together. Fantastic. That's really all that needs said! Please let that be available for us to download soon...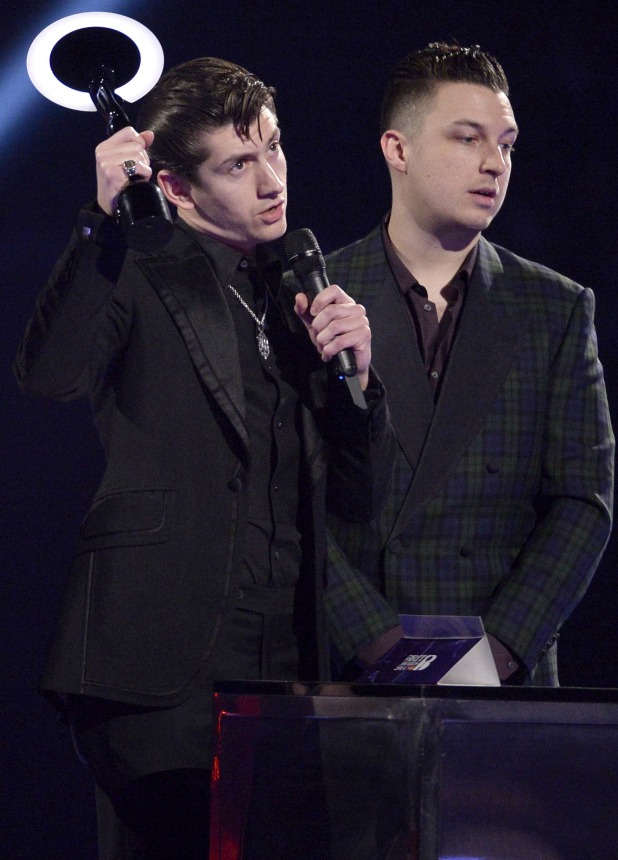 The final award of the night was for 'Best British Album'. Presented by Emeli Sande – who has been quiet lately, compared to other years, hasn't she?! – it went to the Arctic Monkeys. Pretty incredible night for them! We're still not entirely sure what Alex was talking about in his speech though... Just us or was it all a bit odd?!
The rather lovely Pharrell and HIS HAT closed the night alongside Nile Rodgers and lots of yellow balloons leaving us feeling very 'Happy' indeed. Sorry, we had to!
The winners:British Female:
Ellie Goulding
British Male:
David Bowie
British Group:
Arctic Monkeys
International Male:
Bruno Mars
International Female:
Lorde
International Group:
Daft Punk
British Single:
Rudimental, 'Waiting All Night'
British Video:
One Direction, 'Best Song Ever'
British Album:
Arctic Monkeys, AM
British Breakthrough:
Bastille
Critics' Choice:
Sam Smith
Global Success:
One Direction
Check out all the Brits red carpet fashion below!
Copyright: WENN Lia Toby