It's officially National Chip Week (17th – 23rd) - the perfect excuse to eat our favourite type of potato.
If you fancy making your very own chips - and save a bit of dosh - then we recommend trying out this mouthwatering recipe from Morrisons chef David Lennox. Follow these easy steps to get the ultimate crispy on the outside, fluffy on the inside, home made chips which are absolutely delicious.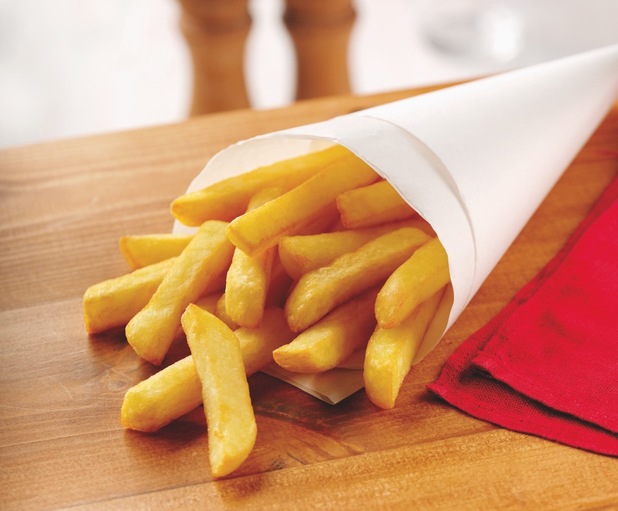 1
Peel 8 Maris piper potatoes and cut into 2cm thick chips.
2
Cook in simmering water for 8-10 minutes (don't fill the pan too full).
3
Remove the potatoes with a slotted spoon, place gently on a wire rack and pat dry with kitchen paper.
4
Refrigerate for about 3 hours (this helps remove excess moisture from the potatoes).
5
Heat a pan of oil to 180c or set your fryer to the same temperature.
6
Fry the potatoes for around 7-8 minutes or until golden brown.
Sounds great, right? Also, check out these fab chip tips that David shared with us....


The Scots know how to put a spin on a classic - in Edinburgh eating chips is all about 'salt a sauce' - where the sauce is a mixture of brown sauce and vinegar.




For garlic lovers - peel and slice a clove of garlic then soak in milk for a couple of hours to infuse. Next - drain, rinse and pat it dry to allow it to fry up nice and crispy Sprinkle the garlic over your chips with a dollop of sour cream for that American deli classic feel.




For those that prefer a bit of spice, grind up some sea salt, curry powder and cumin with a pestle and mortar. Adding spices such as coriander seeds, cloves and Star Anise can be great to season your chips like a homemade curry sauce.




Try smoked sea salt and cider vinegar to add a smoky twist to the classic chip-shop favourite.


Mmm, we're off to get some chips!
Like this? Try these other recipes that use the humble potato:
BBQ Roast Potatoes
Oven Baked Potato Tortilla
Herby Roasted Jersey Royals
Chinese Potato Cakes