One of the most mysterious characters on Game of Thrones is the Red Priestess Melisandre, a fiery, feisty and fiercely independent female who advises Stannis Baratheon, much to the dismay of Stannis' old comrade Davos. Let's just say, we wouldn't want to mess with Melisandre!
Dutch actress
Carice van Houten
, who plays Melisandre, and Irish actor Liam Cunningham, who plays Davos, recently chatted about their roles at a junket in London to launch the series three DVD.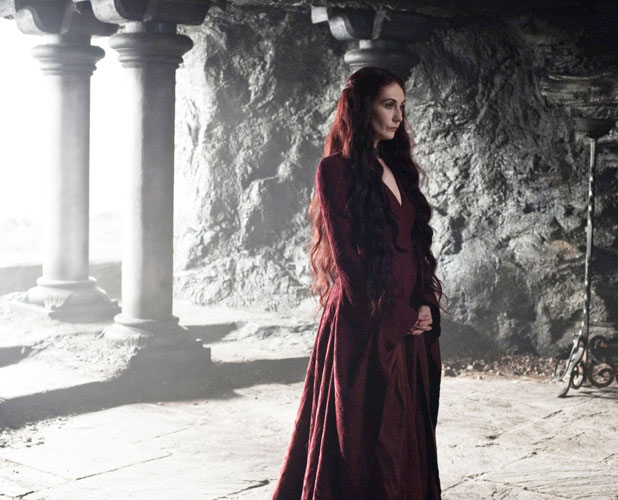 Here's what they said:
On MelisandreCarice:
"I think I have a great part and it's still evolving. None of the characters in the show are black and white, none of them are boring or have a boring storyline. Melisandre is definitely good to play - and I love that all the female parts in the show are so strong. It's not just wives sitting at home in the castles with babies. They are all very cool, strong characters."
On whether Carice thinks of Melisandre as human
"I have to because otherwise she becomes a Roger Rabbit-type cartoon figure."
On what Melisandre's motives areCarice:
"It's a little shady, to be honest. I can't really say too much about it because even the writers are a little shady about it which is fun for me because it's a surprise."
Liam:
"One of the interesting things about the show is that we don't know what her motives are. We know a little about her history but not her motivations. It's the same with a lot of the characters. In most movies or dramas, you have the arc of the character and can work backwards from something, but this is closed to us which is an interesting and unusual way of working. There is a real feeling of an organic nature to it, which is cool."
On the biggest challenge of Game of ThronesCarice:
"Learning High Valyrian was a challenge as it has no reference to any other language. It's not French, Hebrew, Greek... it's just a strange mix. I thought it would be much easier than it actually was. And the horse riding! Although they got me off the horse quite quickly, that was a challenge as they aren't my favourite animals on the planet! I like watching them in films but not necessarily riding them!"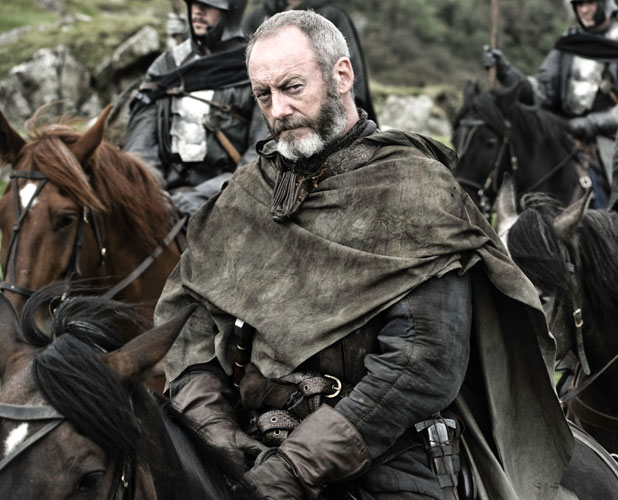 On why Davos is so loyal to StannisLiam:
"I think what is important in his devotion to getting Stannis on the throne is he has a huge amount of respect for what Stannis did for his family. He says he wouldn't have a life without him, even though his fingers are gone. He respects the justice of it and, like Stannis says, the good doesn't wash out the bad and the bad doesn't wash out the good. He gave him a life and he is repaying that.
"I tend to think, in a strange way, he's like Jiminy Cricket, a kind of conscience for Stannis. He is tied to him. It's not a question of, 'F**k this, the job is becoming too difficult, I'm out of here.' I think there is a feeling of, 'This is the job, this is what I've decided to do and I'll see it through to the end.' Even if Stannis throws him in jail, he thinks that as soon as he comes around he'll show him the error of his ways and let's get this war won. He wants to do that the right way. He needs to be able to look at himself in the mirror."
On the show's nude scenesCarice:
"I'm nervous before I do them. Being Dutch, we are quite used to nudity in film and TV but that doesn't mean I like it. I think I'm more comfortable than anyone else might be, though, and I tend to deal with it in a humorous way because I don't like the tension of nudity on set. The more you try to hide yourself, the more people on set want to peek. It's the nature of it.
"It's not even a sexy thing. I'd rather show everyone, 'This is the material. This is the body. Your mother has them. Let's not make a big fuss of them and just get used to it.' I don't do it for them, I do it for me. I pick up on the tension in the room and I want people to be fine with it.
"Nudity isn't my favourite thing in the world, don't get me wrong, I don't like seeing a scene where I have to be naked. I don't look forward to it. I get stressed and think I need to go to the gym, then I don't and feel sorry I didn't. Of course, nudity has to be functional and if it isn't you can discuss it and find another way but, in general, I like that about the show - not the sex per se, but the nudity. It's part of life. We can see machine guns but we can't see a nipple? I don't get it! Who sleeps with their bra on? That's annoying! Maybe it's a Dutch approach but I think we need to get used to our bodies."
Liam:
"People say the show is very sexy and violent. We're in brothels, we see women undermined and this sort of thing. If there weren't hugely strong female characters like Melisandre then it would be awful. To have that sort of stuff has to be earned or it's just gratuitous. Some of the most dangerous characters in this show are women: Arya, Melisandre, Cersei.
"They are extraordinarily well-drawn and I think there is a level of intelligence required by the viewer and it doesn't patronise. It shows the dark side and bright side of humanity. It isn't just strong men and women staying at home or there to be a hostage; the women on this show are dangerous and have to be watched."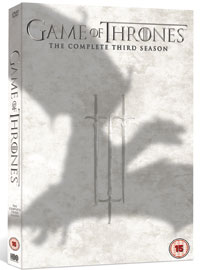 On the shadow baby sceneLiam:
"Carice had a prosthetic belly on, it was freezing cold and there were people behind her pressing things to make her belly turn. She was virtually naked and it was the middle of the night. The cave we were filming in was open on both ends and the breeze coming through would cut you in two. I had layers on and was still chilly but she was giving birth! The level of concentration needed to even get the stuff was unbelievable. It was a real credit to her - she hardly complained at all!"
On series fourCarice:
"We have a light season this year but we do have a few interesting, meaty scenes again. The thing I like about our storyline is that it will move somewhere else, which will be interesting. It will collide with a world we also know so I'm interested to see what will happen there."
Liam:
"One of the differences this year from reading the scripts is that generally speaking over the past three seasons there has been a slow and gradual build up with magnificent storylines to the big episode. It's not like that this season. It's kicking off very early on with very dramatic scenes. As opposed to the one big climax of other seasons, there will be several here. It is bigger, bolder, brassier. I'm dying to see it as well!"
Game of Thrones: The Complete Third Season is out now on Blu-ray and DVD from HBO Home Entertainment