EastEnders, Corrie, Emmerdale, Hollyoaks: we take a look at tonight's top soap stories…
EastEnders, BBC1, 8pm
Kat is still concealing what she's been up to from Alfie, but when he finds a rose in her bag, his suspicions go into overdrive and he's determined to find out what's going on.
After he tries to get the truth out of Max, Alfie convinces himself Max and Kat are having an affair.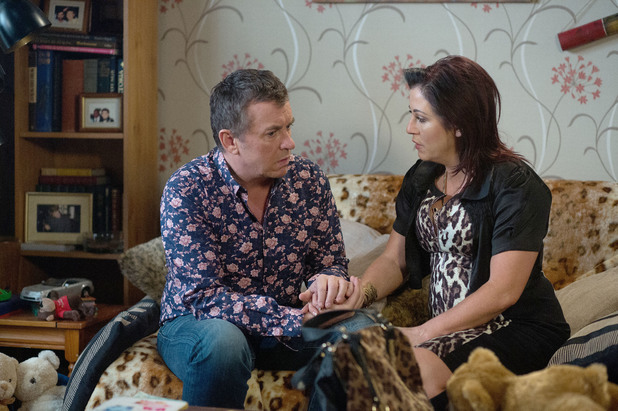 He demands the truth from his wife and she eventually gives in and tells him what's been going on. Alfie's shocked, but they're both stopped in their tracks when Stacey turns up!
Coronation Street, ITV, 7.30pm & 8.30pm
When Peter arrives back from Paris he immediately calls Tina over so they can make the most of the time before Carla returns. They meet at the flat and start getting it on, but little do they know someone's seen something suspicious…
Knowing Carla and Peter are away, Steve's seen the lights on and thinks someone's broken in to the flat. He gets the spare keys off Michelle and along with Lloyd, goes to investigate the situation.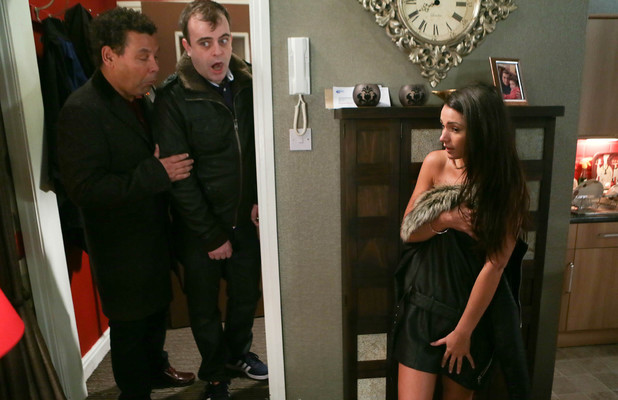 Tina's stunned and grabs her coat to cover her modesty when the boys burst into the flat, but fortunately Peter's in the shower. She lies that she's the one who's having a shower as the hot water is off in her flat, so she let herself in to use Peter's facilities. The guys buy it and leave her be, but it was a close call – how much longer can Peter and Tina carry on their affair without getting caught?
Emmerdale, ITV, 7pm
Chas is excited about her blossoming romance with James, completely unaware he has strong feelings for Moira, and flirts with her new beau across the bar.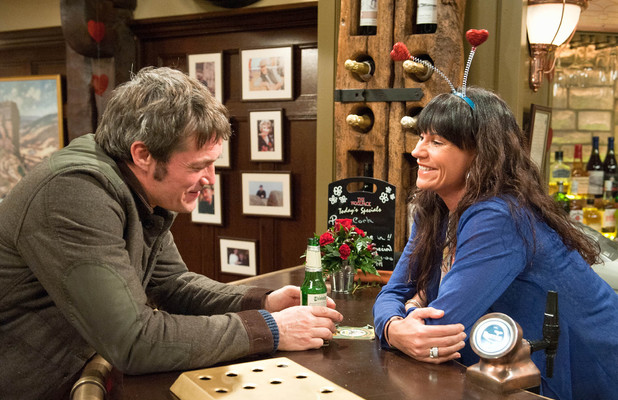 But she's disappointed when she discovers he's going to France on business, and is soon seething when she finds out Cain played a part in packing James off. Will she tell her brother to butt out of her love life?
Hollyoaks, C4, 6.30pm
Freddie struggles to hide his jealousy when he hears Lindsey spent the night at Darren's place, even though she insists it was strictly platonic and she slept on the sofa.
Darren's actually just helping her find a private investigator to track down Joe, giving her hope she might get her man back. But when Freddie sees them looking pretty cosy, he jumps to the wrong conclusion.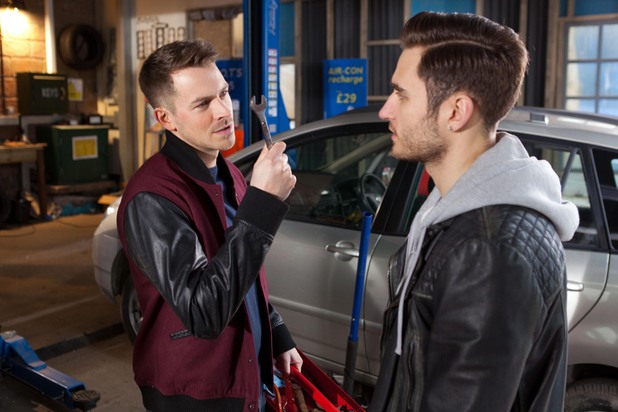 When Darren takes his car into the garage needing an oil leak fixed before the next day, Freddie refuses to do it. They have a row about Lindsey and Darren says he'll fix the car himself. He gets under the vehicle and Freddie lashes out, causing Darren to get stuck, but instead of letting him out, Freddie leaves him trapped. Will Darren be ok?
Wow! Try REVEAL Mag for FREE on Android tablets!!! Find out more here
Got an iPad or iPhone? Reveal Mag is specially designed to fit!