Britain's Got Talent will come back with a bang this year with returning judges Simon Cowell, Amanda Holden, David Walliams and Alesha Dixon on the panel.
Auditions kicked off last month and who better to give us all the backstage gossip than the show's hosts and our favourite Geordie duo Ant and Dec. They've told us all about Simon and David's love/hate relationship and why they're glad not to be on the judging panel. Stephen Mulhern, host of spin-off show
Britain's Got More Talent
, also spoken about the acts who have been auditioning this year. And finally, the judges give us the lowdown on each other, in a very frank discussion!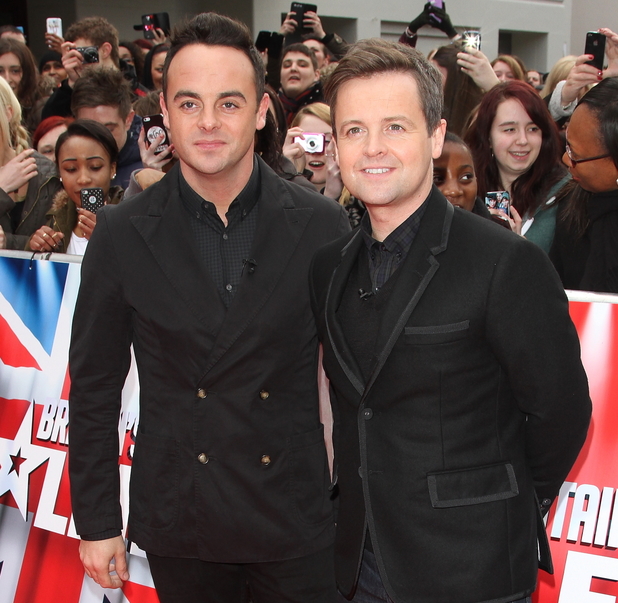 Ant and Dec:Tell us all about the judges - what's been going on?
Simon's being a bit of a grump. It might be because of his impending fatherhood. Or maybe he was afraid that he was going to become a bit too soft, so instead he's gone the other way just to reinforce his strictness. He's been quite harsh this year. David is giving Simon more of a hard time and Simon is a lot more grumpier with it. He's not really putting up with it as much, so their relationship has changed slightly, which is quite interesting to watch from the side of the stage. David's feeling a little jealous and un-loved! Speaking of Simon, we can't wait to see him walking around strapped to a baby carrier! We probably won't be babysitting because we charge a lot but we'll be on standby should anything happen!
How have the auditions gone in general?
Last year's winners Attraction have set the bar and we've seen more foreign acts, which we think is brilliant. It's flattering that they choose the British show because this is the one that they want to win. We also sat in the judges' chairs last week. We weren't keen on it! It's hard to critique and it's very hard to press that buzzer. It's awful.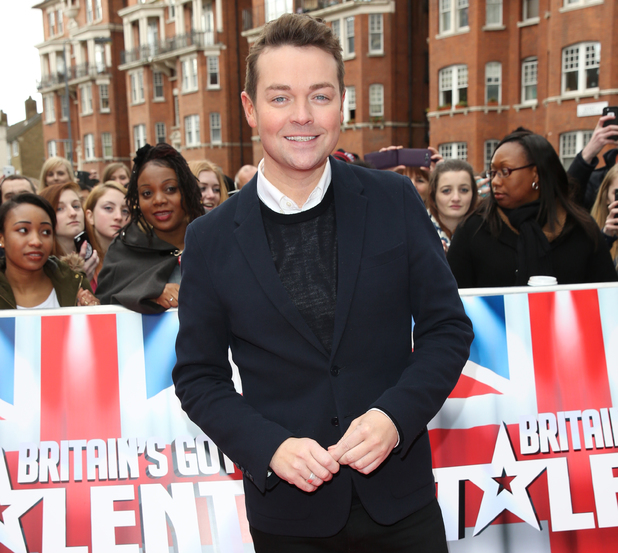 Stephen Mulhern:What's everyone talking about on the show this year?
The Golden Buzzer is amazing because everyone wants to be the one to get it. It's a new twist and each judge has the opportunity to press the Golden Buzzer once during the auditions. It gives the act an automatic place in the live shows without any further auditions! When the buzzer is pressed, the confetti drops and it's just a really lovely moment, so that's what everyone's talking about this year.
Have there been any standout acts?
We've had one woman who is just bizzare. She got a Golden Buzzer. She's from the UK and she's through already. I actually think she could win it.
Did you see Kym Marsh's daughter Emily audition?
"She was good actually but I think that's a big risk. Anyone who's in the public eye that puts their kid up to audition is risky. Kym was there in the wings waiting for her daughter to come off stage. I was hoping Emily would be good and thankfully she was, hence why you will not be seeing her on
Britain's Got More Talent
!
What have the judges been like on the panel?
Simon's a lot more strict with David this year. A lot more strict. I thought he was going to mellow out of it but he's very firm. I thought Simon would be softer, but with some of the acts coming out, he'll judge them before they've even done anything. Considering he's about to have a baby, you would have thought he would be more chilled out! I've seen Alesha's kid. She's such a good mum, you can just tell. During the break she'll go and feed her baby. Anytime she gets a break, she's off, which is lovely.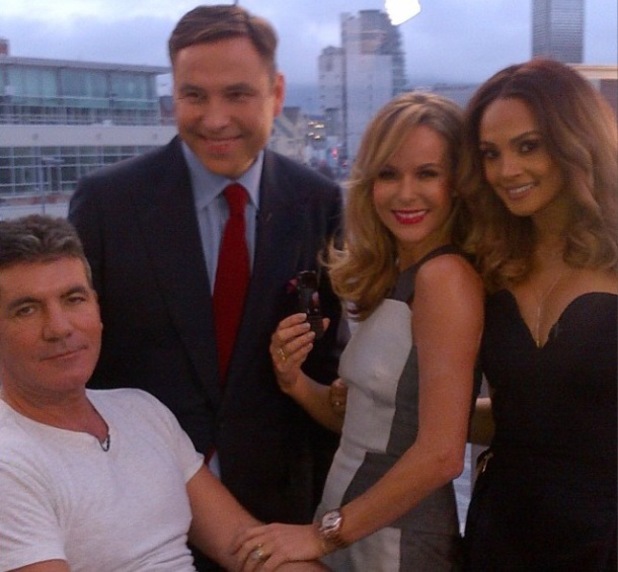 The judges give us the lowdown on each other:Simon says...
"David isn't being very funny this year. You know when someone wakes up and they just lose their sense of humour? So I've had to compensate for that. If he's not funny he hasn't really got a role to play."
Amanda says...
"Simon's been pumping - his chest is very worked out! He's like Superman I think. He's getting those arms ready for that baby. He's got a really good chest. He's peck man."
Alesha says...
"Simon's nice. He's always mean but in a good way. You get some acts that need that honesty. He has a brilliant sense of humour and he's had me in hysterics. I didn't know he was so funny. That's why people like him because he says what people want to say, but are too scared to say. We actually need to do
BGT
after dark. We think if the show went out later it would get double the ratings because the talk that goes on between the four of us is pretty funny. You wouldn't want to know, you'd never look at us the same!"
David says...
"Sometimes we see certain acts and you want to swear, and it'd be the best thing if you could just tell the truth, but unfortunately that might portray us in a bad light. If there was an after hours show, then that would be brilliant."
Are you looking forward to the return of Britain's Got Talent? Tell us below, as the best comment from across the website each week wins £50!