Jim Davidson has been named the winner of Celebrity Big Brother 2014.
The TV personality looked stunned when Emma Willis revealed on tonight's live finale (29 January) that he had topped the public vote to push N-Dubz star
Dappy
into runner-up spot.
Made In Chelsea
's Ollie Locke came third, while
The Apprentice
finalist Luisa Zissman scooped fourth place.
TOWIE
favourite Sam Faiers finished in fifth place, leaving glamour model Casey Batchelor in sixth.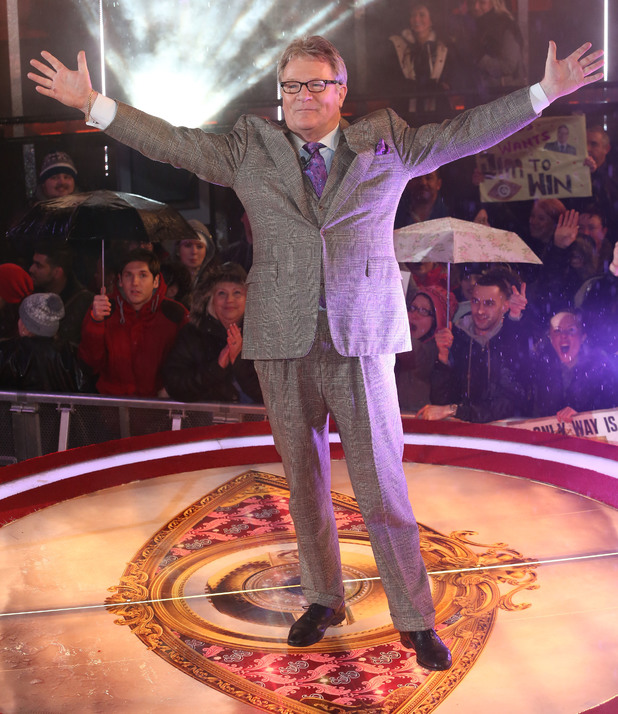 Emerging to a rainy night outside the CBB house, Jim said: "It's overwhelming, all the people cheering and soaking wet. It's overwhelming, it really is. I was nominated more times than
Gone With The Wind
!
"I never thought I'd get here in a million years."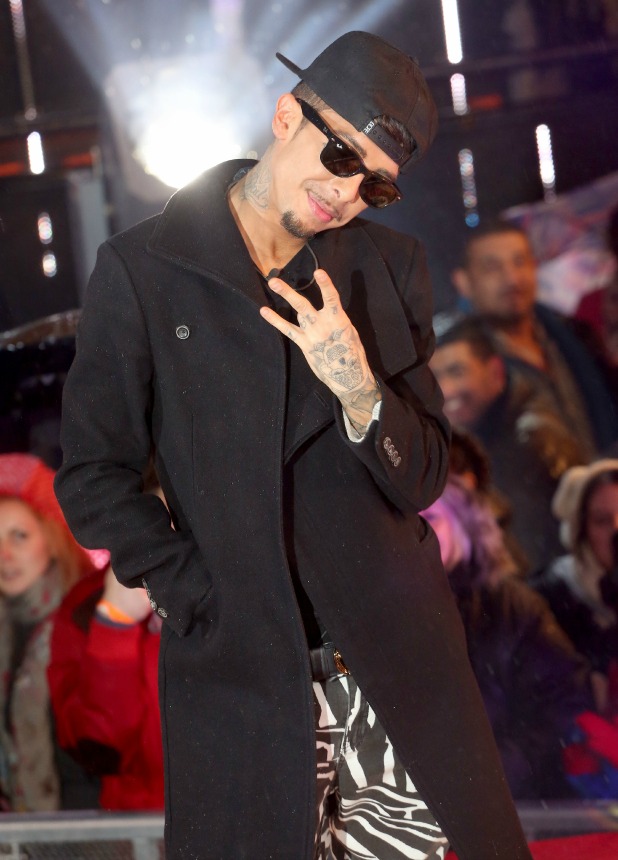 Dappy left the house to huge cheers from the crowd, which included his cousin Tulisa, who was beaming with pride. "Not in a million years did I think I'd come second out of twelve beautiful celebrities," said Dappy. "I mean, come on!"
The musician had nothing but praise for Jim, saying he'd seen him as a father figure. "I'm definitely going to be carp fishing with dad the rest of my life."
Ollie seemed stunned to make third place. "I couldn't believe it from the start. To be top three, I couldn't be happier!" Of course, his exit interview touched on Sam, who he is clearly smitten with.
"I adore Sam, I really, really do. I like her a lot more than a friend. We haven't really spoken about [what could happen]. I very much want to take her out for dinner. I want to take her on a South Bank walk in London, that's my favourite thing to do."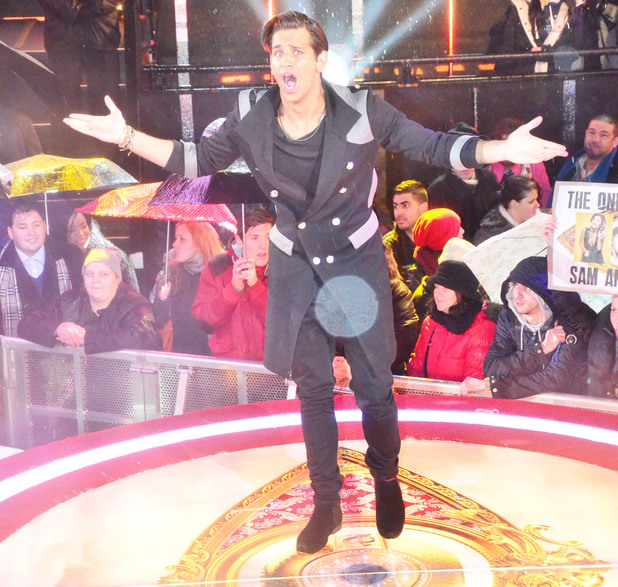 The Apprentice
runner-up Luisa Zissman secured fourth place and left the house to mix of screams and boos, the latter of which she seemed to quite enjoy!
"I thought I'd be out in a week, back at work and back with my daughter," she laughed. "But I stayed in, thank you!"
Feisty Luisa told Emma she didn't think she'd crossed the line during her time in the house but admitted she was "probably a bit harsh" on Ollie during their row. "He is really sensitive and wouldn't say boo to a ghost."
Overall, however, she openly said she didn't care what people thought of her and suggested the world would be a better place if more people followed her lead. "I'm very upfront. I know I get called aggressive but my mum says I'm assertive!"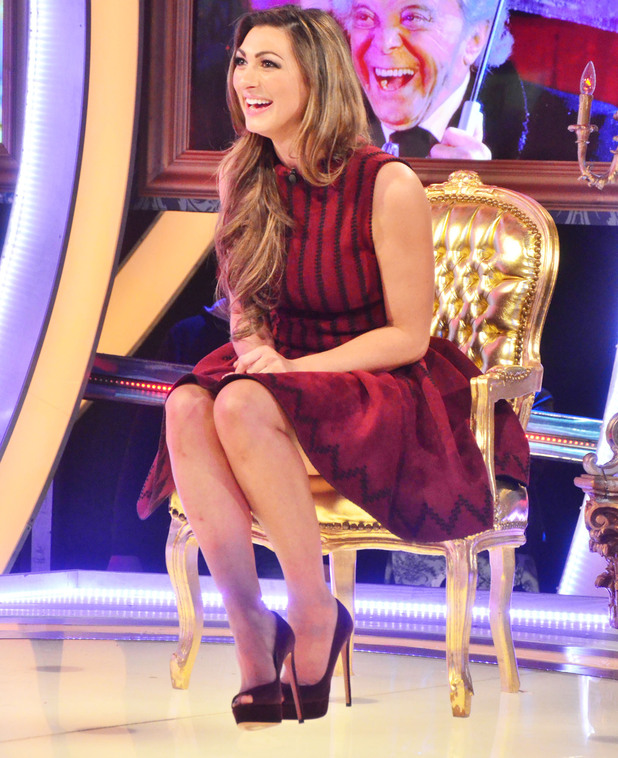 TOWIE
star Samantha finished in fifth place, much to the surprise of her housemates, who all seemed to think she'd go further than them.
Sam spoke about her mystery illness during her exit chat (which you can read about here)
and admitted she'd be up for a date with Ollie, who became smitten with her in the house.
"I'm genuinely really laid back. I said that before I went in. Obviously
TOWIE
is an edited show and they want the juice, arguments and romance and everything else. It's quite heightened. In here I was completely myself."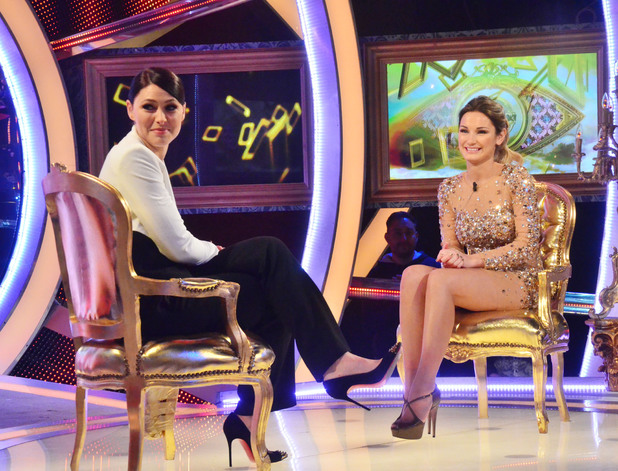 Glamour model Casey was the first celebrity to be evicted this evening, finishing in sixth place, which she was thrilled about. "My only goal was to get to the final," she said. "I really wanted to achieve that and change the perception of models."
Of course, she was asked about her love triangle with Lee Ryan during her exit interview. Casey admitted she had been "smitten" with Lee very early on, saying the fact they were cuffed together at the start of the show probably contributed to that.
"We get on really well and we have great banter. We laugh with each other, bounce off each other," she said.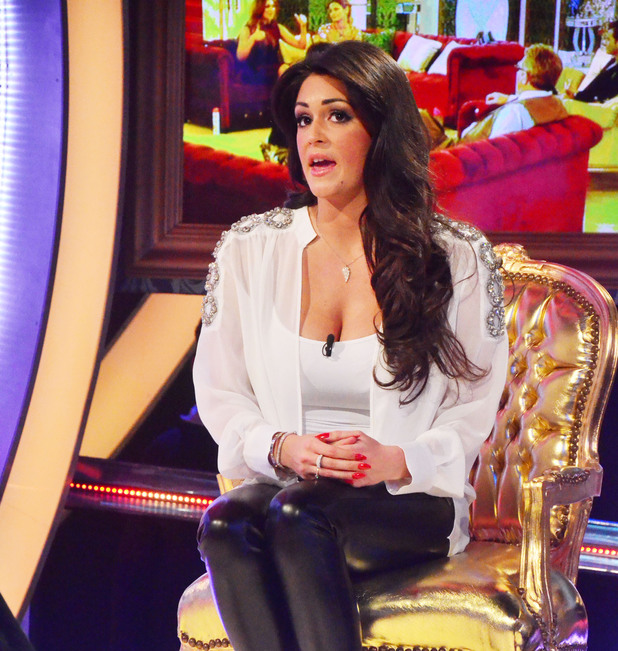 However, despite her initial feelings, she reassured viewers she no longer saw Lee in that way, thanks to his flirtations with Jasmine Waltz and the warning she received from her mum in the house. "The turning point for me was when my mum came in. Your mum will never steer you wrong."
She also explained why she went back to Lee after Jasmine was evicted. "It gradually happened. I think it's just because we get on so well as friends and there's nothing else to do. Affection is nice to have in the house and it gets you through the day."
Casey added that her "weak point" in real life is returning to people who have hurt her. "I'm definitely going to try and learn my lesson this time and try not to do it again... I'm really going to try to be stronger and never let a guy hurt me again."
This has been the most explosive, talked about series of
Celebrity Big Brother
yet, after
show bosses decided to extend the current series twice
due to high ratings of almost 2.5 million viewers a night.
From the beginning viewers were gripped by the housemates' racy antics, from
Luisa licking Dappy's nipples in the bath
to Big Brother's controversial X-rated task, which saw the
celebrities dressed in black PVC bondage gear while performing in an 'over 18s' room.
There was also plenty of arguments in the house and Jim had his fair share with Linda Nolan. The pair, who had a mutual dislike for each other before the show, appeared to be getting along in the first few days when they were handcuffed together, but as the weeks went on, their clash of personalites became more apparent.
Having had many spats, their most memorable
clash left Linda in tears and had the entire nation wondering what exactly happened in "Frank Carson's dressing room".
And who could forget
Lionel Blair's explosive argument with Luisa, in which he branded her a "selfish bitch"
after housemates got punished over contraband.
But perhaps the most gripping scenes have been a result of Lee's love triangle with Casey and Jasmine. At first, viewers saw
Lee share his first kiss with Casey in the house
after being handcuffed to her, but it all changed in a few days, when
Lee turned his affections to Jasmine.
The love triangle took a dramatic turn after Jasmine got evicted, as Lee appeared to be back in Casey's arms. But last week,
Jasmine re-entered the house to confront the pair, which left Casey in tears.
There have been happier times though, and plenty of new friendships have formed, from Luisa and Jasmine to the unlikely pairing of Dappy and Jim. Viewers also witnessed
Sam and Ollie's blossoming friendship
, which could possibly turn into a romance now that they are out of the house!
What have been your highlights from this year's Celebrity Big Brother? Tell us below, as the best comment from across the website each week wins £50!
This year's housemates in pictures:
Copyright: Channel 5