Simon Cowell's X Factor US may change its format if it returns to America for a fourth season.
The singing show, which airs on ITV2 in the UK and Fox in the US, wrapped its third series at the end of December, but so far no decision has been made if it will return to our screens for another year.
During a Q&A with journalists in Los Angeles this week, Fox boss Kevin Reilly said that decision will be made in the "next month", adding: "If the show were to come back, it would not be in the current format we have."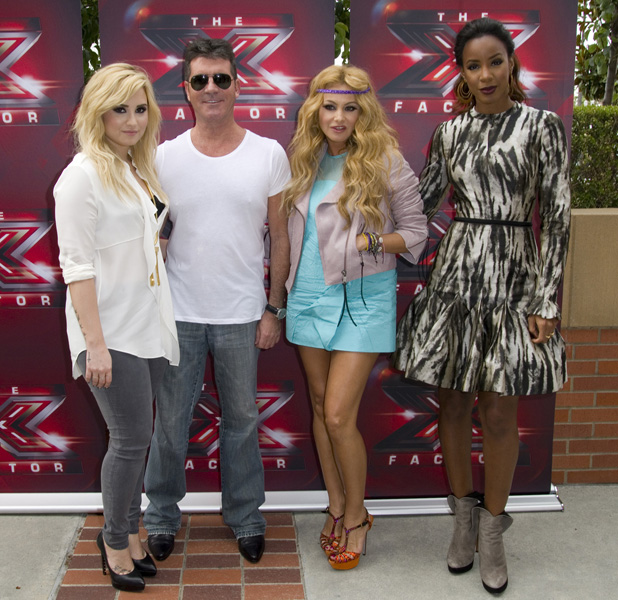 He also said he'd chatted with Simon about possible new format ideas and both had agreed some were "interesting"… We're intrigued!
Kevin, who was speaking during a panel session at the Television Critics Association winter press tour, added that ratings for the third series had "not been what we hoped" and said Simon would agree with him on that.
However, it appears Fox has not given up on the show (phew), with Kevin pointing out
X Factor
is still one of the most successful brands in the world and top in many international markets.
The third series of
X Factor
US featured Simon as a judge alongside Demi Lovato, Kelly Rowland and Mexican singer Paulina Rubio.
Demi confirmed recently she would not be returning as a judge
for a possible fourth series as she wants to focus on her music career.
"I started the show being a singer and a musician, and so I'm going to go back to that," she told
The Hollywood Reporter
. "It's been really great, but I'm so excited for 2014. I'm going to dedicate it completely and entirely to music – touring and making a new album."
Meanwhile, over here, the British series will be back later this year with a new-look panel following the departure of judge Gary Barlow and rumoured exits of Sharon Osbourne and Louis Walsh.