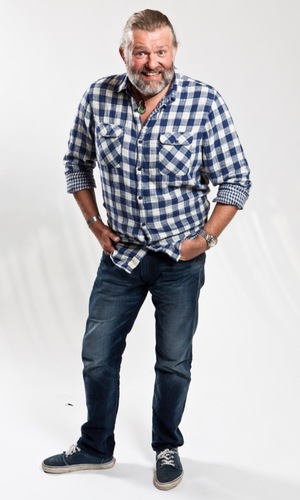 When The Hairy Bikers lost almost six stone between them, they proved that you can still enjoy your food and shed the pounds. Simon King, who's one half of the Geordie duo, caught up with us for a chat about healthier eating and tips for slimming down.
So, if you indulged a bit too much over Christmas (let's face it, who didn't?) and you're on a January health kick, then read on for some great weight-busting tips….
What do you eat on an average day when you're watching your weight?
I'll have a bit of fruit for breakfast cause I'm a big fruit lover. If I didn't fancy fruit, I would have one slice of toasted bread with no butter, a poached egg and smoked salmon or bread cut into soldiers with a dippy egg. For lunch, it would be a big tossed salad, with crème fraiche and harissa dressing and maybe some anchovies. In the evening, I'd have jerk chicken or tandoori chicken that I've marinated, with 50g of rice.
What would recommend you for those who have a sweet tooth?
The bottom line is, you can have desserts. In our
book
, we have warm nectarine tarts that are 173 calories per portion. We've got a spiced apple cake that is 196 calories per portion and a fresh fruit trifle that is 239 calories. There are alternatives, the most important thing to do is track of your progress because that's what keeps you going.
What are your favourite things to indulge in?
My big weakness are bread and cheese. If I was going to have something, it would be some fantastic wine, cheese and bread. Or alternatively, I really love my beer as well. I'll have two or three really, really great beers. Food is my life, I want to know what that tastes like and be able to comment on it and I still do. But then I'm very careful with how I eat for the rest of the week.
There's so many low fat products out there, what makes The Hairy Bikers' new sauce range different from others on the market?
It's about great food that happens to be less calories, we said right, okay, how do we make this dish less calorific? So it was first and foremost great food that happens to be less calories. And we've done it; in our opinion, they are the tastiest sauces.
How has your weight loss changed your attitude to food?
It's changed it completely. It's really odd in the sense that now I never ever eat butter, I've just lost the taste for it. What makes you fat is overeating and I try very hard not to overeat but I'll enjoy something. You're not going to deny yourself a big night out or a nibble of a chocolate bar. It's about moderation.
Simon's top 5 ways to cut out the calories:Ditch the butter.
'If you are having one slice of toast with a poached egg and smoked salmon, you don't need butter on that. If you really fancy a sandwich, try an open one. Put thinly sliced parma ham and rocket on a slice of sour dough bread. For the spread, just use half fat crème fraiche and harissa. It's really nice and not many calories.'
Change the balance of your plate.
'Make sure that carbohydrates are the lowest and smallest part of your meal. So you can have loads of vegetables and a modest portion of meat.'
Don't compromise on flavour...
'Using loads of fresh spices does make a difference. There's no change in flavour that way as there's very very few calories in spice. Get yourself some new spices and add all these fantastic flavours to your dishes.'
Watch out for the booze!
'That was one of the hardest things for me, the trouble with alcohol is that it has quite a lot of calories and after you've had a drink it also weakens your will power. I still enjoy a drink but I'll have a vodka and tonic or gin and tonic, because there's less calories.'
Be careful with oil.
'(Before) I would just chuck a glug of oil in. A tablespoon has about 80 calories alone, so I now use a pastry brush to paint the bottom of the pan with the oil. You've only got a tiny bit, but it works!'
Si and Dave, the Hairy Dieters, have recently launched five low-fat, Hairy Dieters, cooking sauces, based on recipes from their best-selling book How to Love Food and Lose Weight. The five flavours are Sausage Cassoulet, Chilli Con Carne, Beef and Stout Casserole, Chicken Casserole, Smoky Paprika Chicken. They are available to purchase in selected Morrison's stores with an RRP of £1.99.
Make your own lower cal meals with these delicious recipes:
Hairy Dieters' low calorie Doner Kebabs
Hairy Dieters' 267cal Chicken & Vegetable Pot Pies
Plaice Fillets with Leek & Cheddar topping
Lower calorie Cottage Pie recipe by the Hairy Dieters