Gemma Collins and Gemma Merna may be competing against each other when Splash! starts tomorrow night, but it will be a friendly rivalry after they bonded during the boot camp stage.
TOWIE
favourite Gemma C and
Hollyoaks
actress Gemma M are among the celebrities who will compete in the first heat of the Tom Daley diving show when its second series begins on Saturday, 4 January.
However, Gemma M – who plays Carmel McQueen on
Hollyoaks
- has said the pair struck up a friendship after discovering they had a similar fear of water: "[She] was scared like I was in boot camp but we bonded over that so she is not a rival. I hope that we both do some good dives."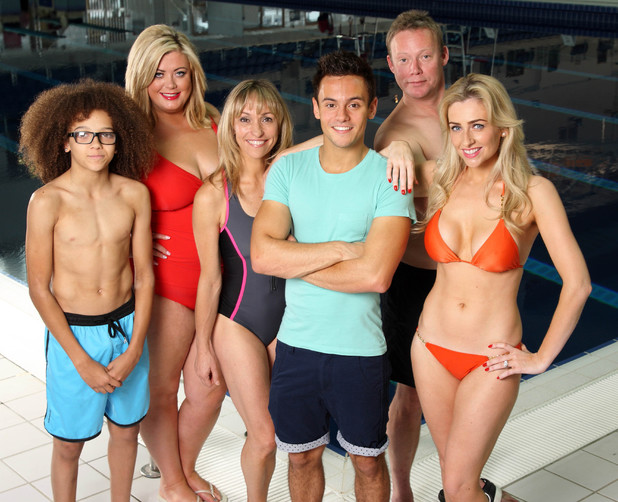 Gemma M says her fear began as a seven-year-old child when she was taking swimming lessons and her instructor pushed her into the pool.
"I didn't come up for ages and when I jump in now the noise of the water comes back to me and I panic," she explained.
Gemma M said she grew up loving swimming but was scared to put her face under water. She wanted to compete on
Splash!
to push herself out of her comfort zone.
"When I first stood on the diving board I could just about look off it, I couldn't go to the edge. I like to challenge myself and confront fears and get over them. If I just went along to the swimming pool I wouldn't swim underwater but on
Splash!
with other people around me, it was harder to back out and I feel like I have achieved every time I have gone to a session."
She added: "Jumping off the three metre board was scary because you get so used to being on the one metre. You hit the water so quickly but off the three metre you have so much time to think. The first time I completely panicked and un-scrunched my hands and smashed the right side of my face on the water. I had a bruise the next day. It hurt for a second but I got over it."
Splash!
returns Saturday, 4 January at 7.20pm on ITV.