Juliet Harbutt set up Jeroboams The Wine and Cheese Shop, reputably London's finest, offering over 250 mainly French and British artisan cheeses.
In 1994 she created the
British Cheese Awards
so we've asked her for advice on putting together the ultimate christmas cheeseboard to impress your guests.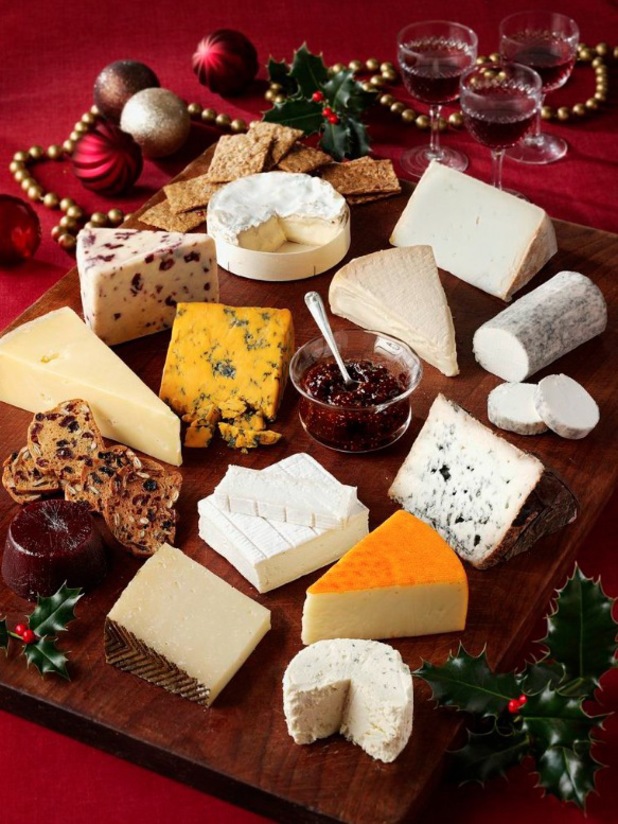 This is, admittedly a lavish selection. Your cheeseboards don't have to be this big - three different types are enough, but how about mixing things up a bit and choosing one of these lovely varieties to add to your existing favourites for a special Christmas treat?
Juliet advises: "Keep the cheeseboard light, using it as an excuse to finish off that last drop of red wine, or open up a bottle of Port or sweet wine to accompany the blues or strong, hard cheeses."
Port Salut wedge
[Semi-soft – Cow]
One of the best known and most popular of all semi-soft cheeses, its universal appeal is its mild savoury taste and irresistible, squishy texture that feels velvety smooth in the mouth.
Boursin with Garlic & Herbs
[Fresh – Cow]
This iconic cheese can be found across the world, and is loved for its subtle balance of melt-in-the-mouth light cream cheese mixed with garlic and finely chopped herbs.
Pablo Cabrito
[Aged Fresh – Goat]
Made in Shropshire it has a mildly goaty aroma, feels almost velvety in the mouth and as it melts yields up its nutty notes and gentle fresh acidity on the finish.
Tunworth
[Soft white – Cow]
Beneath the thin, white slightly wrinkly rind the almost runny interior feels luscious in the mouth, with a flavour like melted butter and mushroom soup with a dash of Sherry.
Capricorn Goat
[Soft white – Goat]
This popular goat cheese is slightly chalky when young becoming runny around the edges with age. The taste is mild like ground almonds and white wine.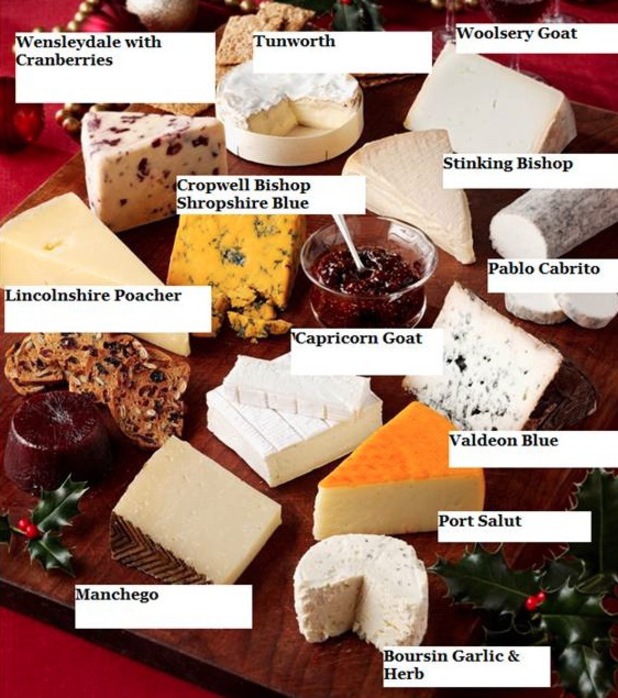 Stinking Bishop [
Semi-soft Cow]
Don't be put off by the name – this modern British classic is washed in fermented pear juice giving it a truly voluptuous texture and rich, meaty, savoury taste.
Lincolnshire Poacher
[Hard – Cow]
A cheddar-style cheese with a vibrant, lively complexity of flavours a hard, chewy texture and a green grassy savoury finish.
Woolsery Goat
[Hard –Goat]
One of nearly 30 hard British goat cheeses, it has an open texture and subtle but distinct goaty taste that hints of sweet, crushed almonds and pine nuts.
Manchego
[Hard – Ewe]
Beneath its distinctive ridged rind is a firm interior with an unmistakable taste of Brazil nuts and burnt caramel while slightly salty on the finish.
Cropwell Bishop Shropshire Blue
[Blue – Cow]
Similar but not as strong as Stilton, the blue streaks make a wonderful contrast against the orange interior and the flavour is meaty, delicious with hints of cocoa.
Valdeon
Blue [Blue – Cow, Goat, Ewe]
Valdeon is creamy, moist with blue green veins, a pungent aroma, salty bite and a clean piquant finish. Wrapped in leaves it gives any cheeseboard a rustic look
Wensleydale with Cranberries
[Flavour added – Cow]
The fine crumbly texture of the Wensleydale combines perfectly with the dried, bitter sweet cranberries and is the perfect Christmas cheese.
Try adding these extras for your cheeseboard:
Apples, Plum or Apple Chutney [not too spicy], Oat Cakes, Bread sticks baguette or rye bread
Check out portsalut.co.uk for more cheese tips and advice from Juliet.
Love cheese? Check out these recipes:
Cauliflower soup with melted Stilton
Deliciously creamy cheese & onion soup
Lancashire red pepper & onion tarts