EastEnders, Corrie, Emmerdale, Hollyoaks: we take a look at tonight's top soap stories…
EastEnders, BBC1, 8pm
Janine is panicked after her confession to David, but he calmly reassures her he won't tell anyone and sets about playing the dutiful step-brother.
When Phil reveals he's had a better offer for The Vic, Janine enlists David's help to raise the extra cash she needs to better the new buyer, and they sell everything she owns.
Pleased to have raised the money she needs, Janine cracks open a bottle of bubbly to celebrate with David, but he turns round and tells her the £250K they've raised is his.
Janine can't believe what she's hearing as he plays her recorded confession to her and he blackmails her into giving him the money or the recording will go to the police…
Coronation Street, ITV, 7.30pm & 8.30pm
Peter calls Tina and asks her to come to the flat so they can talk about child minding arrangements, but when she arrives, he tries to tell her they should stay away from each other.
But that agreement lasts all of about two seconds before they're unable to resist temptation and start snogging passionately.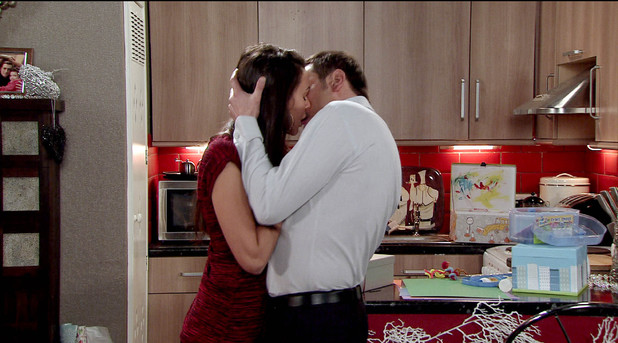 Suddenly they hear a key in the lock and spring apart. But Tina, who's been painting with Simon, has left splodges of paint all over Peter – how will he explain this one?
Emmerdale, ITV, 7pm
Paddy's not happy about playing Santa, and he's even more grumpy when little Arthur catches him out.
Arthur's instantly suspicious when he goes to visit 'Santa' when he catches the man readjusting his beard. And when Santa fails to recall what Arthur asked for for Christmas, the lad takes matters into his own hands and decides to get to the truth.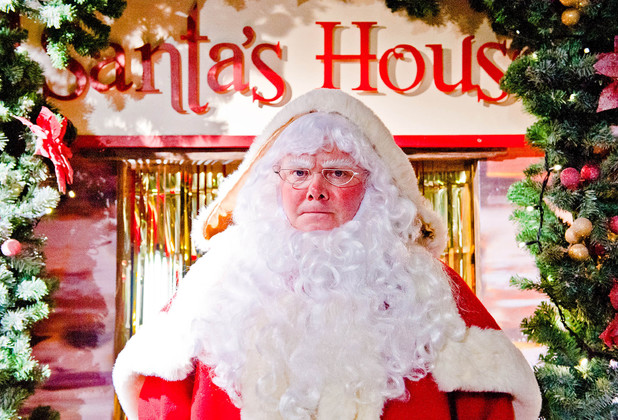 Pulling on Santa's beard to reveal Paddy, poor Arthur's crushed and refuses to tell anyone what he wants for Christmas. How will the grown-ups get round this?
Hollyoaks, C4, 6.30pm
Freddie is fuming when he spots Frankie and Fraser looking close – and when Fraser gives her a peck on the cheek, Freddie immediately concludes Fraser's cheating on his mum.
Rifling through Fraser's coat he finds a receipt for 200 red roses from Fraser to Frankie.
Confronting Fraser in the Dog in front of Sandy, Freddie reveals what Frankie and Fraser have been up to – what will Sandy say?